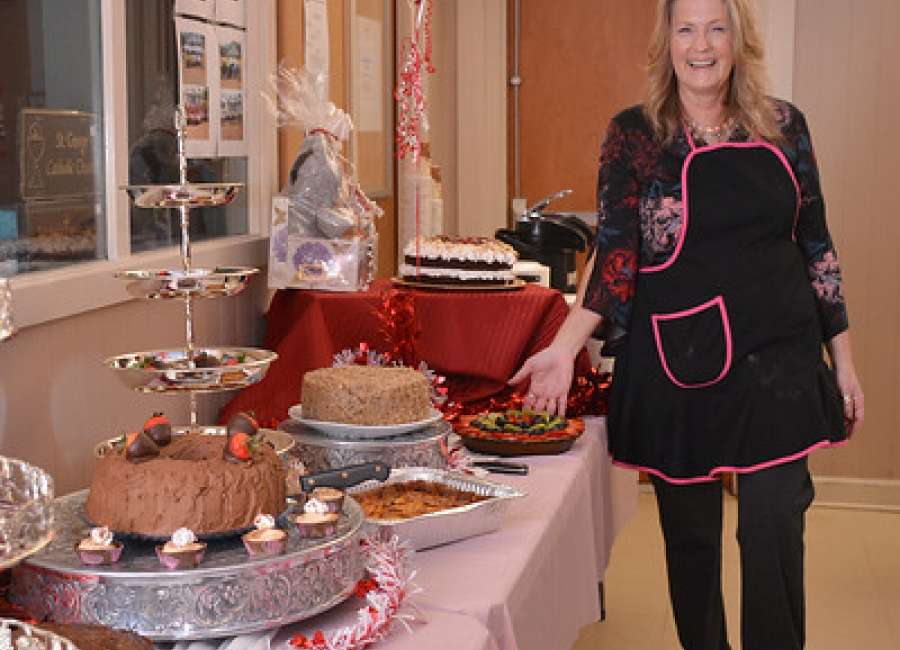 Losing a loved one is a devastating and overwhelming time for families left behind.
People must make funeral arrangements, greet out-of-town guests and still find time to grieve in the process.
One thing the hurting families at St. George Catholic Church do not have to worry about it is feeding people and cooking enough food.
Connie Cebulski takes care of that for them.
Cebulski leads the Mercy Meals Ministry at St. George.
The ministry provides a meal after a funeral at the church for the relatives and friends of the deceased.
Cebulski and her team sets up, prepares the meal, sends leftovers home with the family and cleans-up.
The Mercy Meal Ministry consists of 80 women and is the largest group within St. George Catholic Church.
Cebulski refuses to take all the credit for the ministry, insisting there are dozens of great chefs within the parish hall.
"The church will provide the ham or meat. Most of the women will cook dishes at home," Cebulski explained. "A couple of women will call others to tell them what is needed like, rolls or several gallons of freshly made tea."
Cebulski said helping people out during a difficult time interests her.
"I've been with several people when they died. They're in shock. You're never fully prepared when a loved one dies. It's a very sad time and it's a time when families need some relief," she explained. "It's a wonderful thing to be able to give them a little comfort.
"The families don't have to deal with preparing meals, instead they can focus on friends, loved ones and receiving visitors at the church. They can talk and eat in a comfortable atmosphere," Cebulski added. "It's a wonderful thing. I like it."
Before Cebulski took over the Mercy Meals Ministry, she used to cook and bake big batches of food for her husband and his coworkers at Delta Airlines, she said.
Cebulski is best known for her baking skills and infamous "dessert bar" at the annual St. George Valentine's Day dance.
"I usually make cheesecake, carrot cake, red velvet cake with cream cheese icing, a black forest brownie torte, chocolate cups with a peanut butter silk mousse and chocolate cups with cherry fluff," she said. "A lot of the desserts can be baked ahead of time and frozen. When you unfreeze the items, it receives more moisture, so the dessert will be more moist when you bite into it."
Cebulski said some of her other favorite desserts are butter pecan cheesecake and a chocolate cake covered in chocolate frosting with chocolate covered strawberries on top.
She said her husband sometimes helps decorate the desserts.
"It's all so simple to make," Cebulski said. "We just make it look more artistic than it really is."
Mercy Meals are only for parishioners and families that hold a funeral at the St. George Catholic Church.
For more information, visit www.stgeorgenewnan.org/mercy-meal-ministry.
Connie's delectable dessert recipes
By MELANIE RUBERTI
Connie Cebulski favors herself as more of a baker than a chef. Although she enjoys creating casseroles and dishes for the Mercy Meals Ministry at St. George Catholic Church on Roscoe Road, succulent desserts, candies and cookies are her niche, Cebulski said.
Here are a few of Cebulski's recipes that can also be found in the "Feast of Saint George" cookbook.
Chocolate Cheesecake Marbled Brownies
Ingredients:
1 pkg double fudge brownie mix
1 (3 oz.) pkg of cream cheese
3 T. butter or margarine
3 T. granulated sugar
1 lg. Egg
1 T. all purpose flour
½ tsp. vanilla extract
Recipe:
Preheat oven to 350 degrees.
Grease bottom of 8x8 inch pan.
(She usually doubles the cream cheese) Beat cream cheese and butter until smooth in medium bowl.
Stir in sugar, egg, flour and vanilla. Beat until smooth and set aside.
Prepare brownie mix according to package directions for "cake–like" brownies.
Spread half of brownie butter into a prepared pan. Spoon cream cheese mixture over batter.
Spoon dollops of brownie batter over the top. Swirl brownie and cream cheese mixture together.
Bake 36–39 minutes.
Chill for at least two hours before serving.
Peach Enchiladas
Ingredients:
2 (8 oz.) pkg. crescent rolls
2 sticks of butter
1 ½ c. sugar
1 tsp. cinnamon
4 lg. firm peaches, peeled and quartered
1 (12 oz.) can of Mountain Dew soda
Recipe:
Preheat oven to 350 degrees.
Melt butter, then add sugar and cinnamon.
Unroll crescent dough and place one peach quarter on each crescent.
Roll dough around peach from large end to small.
Place in a 12x10x2 inch pan.
Pour butter over rolls, then pour Mountain Dew on top.
Bake 45 minutes.
Peanut Butter Silk Pie
Ingredients:
1 (8 oz.) pkg. cream cheese, softened
1 c. confectioners sugar
¾ c. smooth peanut butter
1 (8 oz.) ctn. whipped topping, thawed
1 (9 in.) graham cracker crust
Recipe:
Beat cream cheese until completely smooth.
Add peanut butter and sugar, beat until smooth.
Mix in whipped topping, until smooth.
Pour mixture into pie crust. Chill at least 4 hours. Topped with shaved chocolate and whipped topping, if desired.