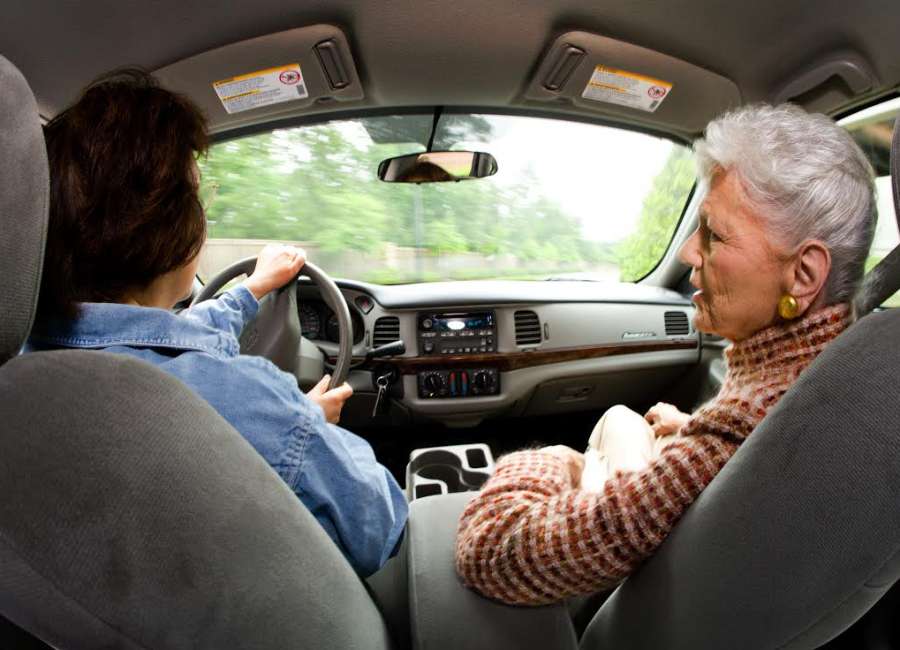 At least two times a week, Barbara Auw of Senoia helps patients receive life-saving treatments as they battle cancer.

Auw is a volunteer driver for the American Cancer Society's Road to Recovery program.
The Senoia woman provides free rides for cancer patients who may not have transportation, or do not have loved ones to take them to treatments.
Auw has been a driver with ACS for six years now.
"The amount of satisfaction you get from sharing your time with someone in need is amazing," said Auw. "It's filling and rewarding just to know you are helping someone who is at a low point in their life."
Auw said helping cancer survivors is a cause close to her heart.
She is also battling the deadly disease.
In 2009, Auw was diagnosed with a gastrointestinal stromal tumor, or GIST on her stomach.
She was able to have it removed surgically six months later.
But Auw said the cancer returned last year with two tumors – one on her stomach and one on her pancreas.
Doctors told her the GIST tumors are rare, inoperable and incurable.
The Senoia woman takes oral chemotherapy everyday.
Auw also shares her own personal battle against cancer with the patients she drives to and from treatments.
"Until you are told you have cancer, you don't really have an idea of what it truly means. Or the stress and anxiety you'll feel before your next scan," she said. "You're born into a 'unique' family the day you're told you have cancer."
Auw became an ACS volunteer driver shortly after moving to Senoia from the southern California area.
She said there is still a great need for more drivers.
An estimated 56,920 Georgia residents will be diagnosed with cancer this year, according to the American Cancer Society.
 The patients' biggest roadblock will be getting to treatment, ACS officials added.  
Volunteers with the Road to Recovery program donate their time and their vehicles to drive patients back and forth to radiation and chemotherapy at area hospitals, such as Piedmont Newnan, Piedmont Fayetteville and the Cancer Treatment Centers of America, said Pam Ashman, mission program manager with the American Cancer Society.
All volunteer drivers must complete online, virtual training and submit to a background and motor vehicle check.
Drivers also learn how to encourage and support patients, Ashman added.
"We get drivers comfortable with interacting with patients," she said. "Some patients may get in car and not say a word to you. Some people are very isolated. They don't live next to their families. You may be the only person they talk to that week. Some people still don't like to talk about cancer at all.  
"Others feel so appreciative and blessed to get into your vehicle," Ashman continued. "They know they wouldn't ever have completed their treatment without your help. You're saving their life."
Auw said she usually builds a rapport with people she drives on a consistent basis.
"One gentleman I drove him the entire time he had radiation. We spoke a lot during that time. He's still alive and doing well," she said.
"But there have been times we lose the patient we drive," Auw added. "I would play music on the CD player in my car. One day she told me that when she passed from this world, she wanted her kids to play that music at her funeral. She knew she was in bad shape, but she was taking comfort and control in something that was inevitable."
The ACS volunteer drivers are the eyes and ears of the Road to Recovery program too, Ashman said.
"Patients have to ambulatory. Many have canes. But the drivers notify us if there are any changes in patient status," she explained.
The American Cancer Society uses a "service match" tool to pair up drivers and patients.
Cancer patients must request a ride through the Road to Recovery program at least three days ahead of time, Ashman said.
A driver can accept or decline a transportation request and they can run errands or return home while the patient is receiving chemotherapy, she added.
The transportation trips are strictly from the patient's home to the hospital, and vice-versa. The ACS forbids drivers from making other stops for the patient, such as going the grocery store.
Ashman said the American Cancer Society has nearly 10,000 Road To Recovery drivers nationally, but the number of patient requests outweigh the number of volunteers able to provide rides.
"Due to the lack of drivers, these transportation needs can go unmet in many communities, especially rural areas," she said.
Ashman said she is hoping more people like Auw will step up and offer assistance to local cancer patients in need.
The Senoia woman says she plans to chauffeur patients and encourage them for as long as she can.
"This gives me a greater appreciation for life," Auw said. "I want my passengers to know there's a light at the end of tunnel and to never give up hope."
For information about the Road To Recovery program, call 1-800-227-2345 or visit cancer.org/drive.