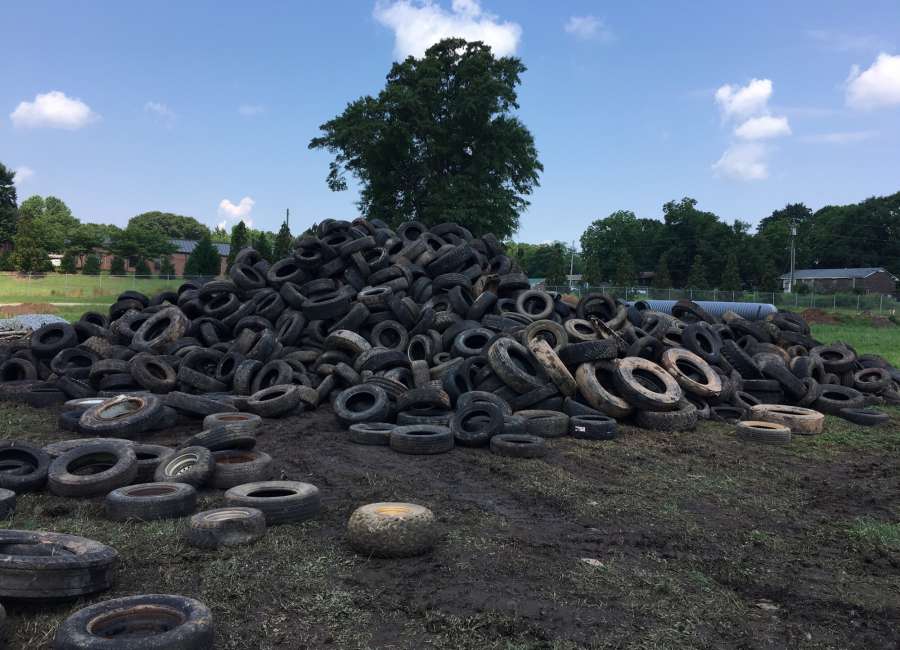 Saturday's tire amnesty event was successful beyond anything Keep Newnan Beautiful Director Page Beckwith could have imagined.

Beckwith had secured funding for recycling of 1,000 junk tires. Though the tire amnesty event was sponsored by Keep Newnan Beautiful, it was open to all Coweta residents, with no limit.
At the end of the event on Saturday, there were more than 2,400 tires collected.
"I had someone waiting for me at 7 a.m., which has never happened, with a trailer full of tires," Beckwith said. A handful of people brought one, two or three tires, and several had under 10, but "the majority of my drop off was anywhere from 20 tires and up. I was shocked," she said.
Monday morning, she reached out to the Georgia Department of Natural Resources for supplemental funding to cover the abundance of tires. "I feel like I will get the additional funding I need to dispose of all of them properly," Beckwith said.
"I'm grateful the Georgia DNR has a process where we can apply for additional funding. I'm so incredibly excited that we were able to help so many families get all of these tires out."
Clint Roughton and his wife recently bought her late grandfather's home, and brought in more than 150 tires from the property.
Roughton said they had been cleaning up the property, and had already hauled off several items. His mother-in-law sent him a picture of a notice about the tire amnesty event in The Newnan Times-Herald.
"I thought – this is my lucky day," Roughton said. He recently bought a house in East Newnan, and hauled 36 tires from that property, as well. Roughton said he'd been trying to figure out how to dispose of all the tires when he heard about the tire amnesty event. Some of the tires were huge ones, from heavy equipment.
Tires can be dropped off any time at the Coweta Transfer Station, but there is a fee.
"It saved us like $500," Roughton said. "That was worth a Saturday morning loading all of that up there."
Roughton said he usually works on weekends but he blocked off time to deal with the tires. He was a little worried he'd show up with so many tires and there would be restrictions.
"There wasn't any fine print," he said. "They were so nice, and generous."
Beckwith said two people who brought in tires own large tracts of property and people have dumped tries on them over the years.
"They said 'you would be amazed how many people dump tires on my property,'" Beckwith said. "It's more common than we would think, even in this day and age."
"I feel like we really did what we were supposed to do – when you see such an impact, such a huge response," she said.
"It was very successful as far as helping our county residents get rid of these tires they have been hanging on to for years."
Keep Newnan Beautiful holds a tire recycling event each year. The organization also hosts electronics recycling, paint recycling and paper shredding events. For more information, visit www.keepnewnanbeautiful.org