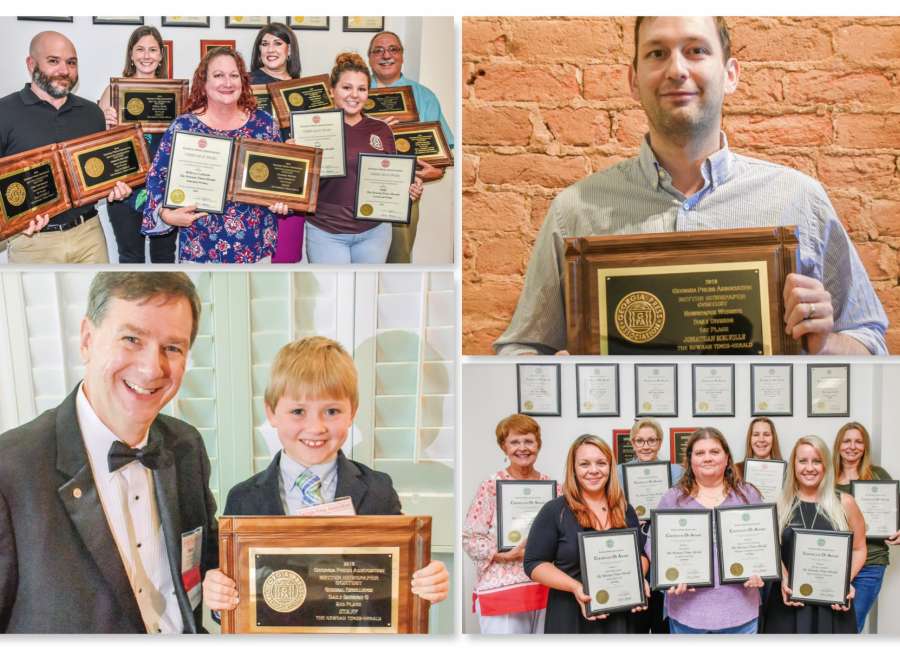 The Newnan Times-Herald has won 34 awards in the 2018 Better Newspaper Contest, including a second place award in the coveted General Excellence category.

The contest is sponsored annually by the Georgia Press Association. The Times-Herald won 18 first place plaques, eight second place awards and eight third place awards. 
Clay Neely, co-publisher of the newspaper, received the statewide Photo of the Year Award for a picture he took of grieving parents after their child drowned.
The newspaper also won a statewide award for best newspaper website.
Awards were presented in both editorial and advertising categories. First place editorial awards were – Headline Writing, Lifestyle Coverage and Best Website. Neely won first place awards for News Photograph and Best Web Photo for the photograph that went on to win the statewide award.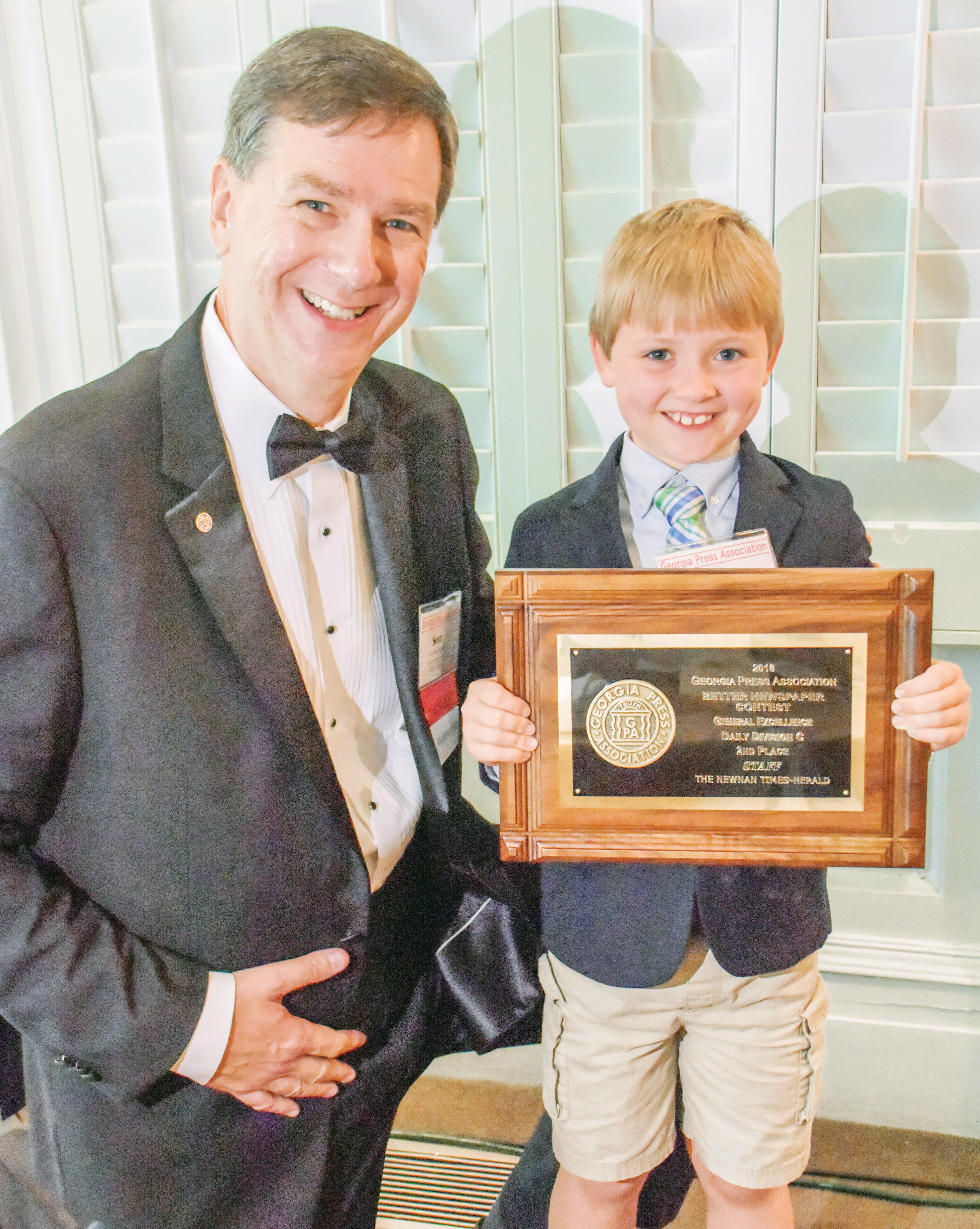 Charlie Neely, right, son of The Newnan Times-Herald Publishers Clay and Beth Neely, accepts the newspaper's General Excellence Award at Friday's award ceremony on Jekyll Island. Presenting the plaque is Scott Buffington, president of The Jackson Herald and outgoing president of the Georgia Press Association.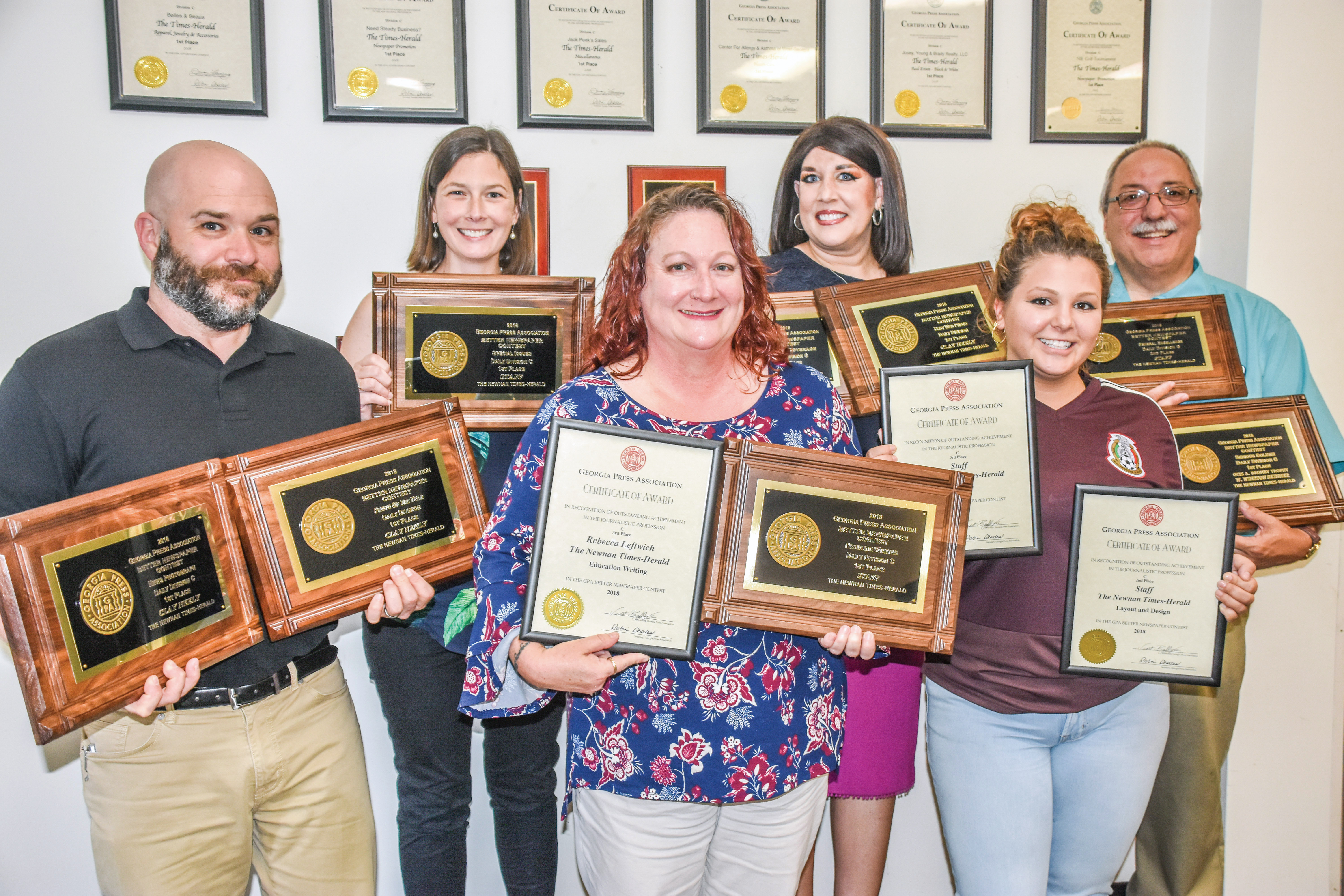 The Newnan Times-Herald won several first place Georgia Press Association awards in editorial categories, and several second and third place plaques. From left are, front, Clay Neely, Becky Leftwich, Emily Lasher; back, Beth Neely, Melanie Ruberti and Winston Skinner.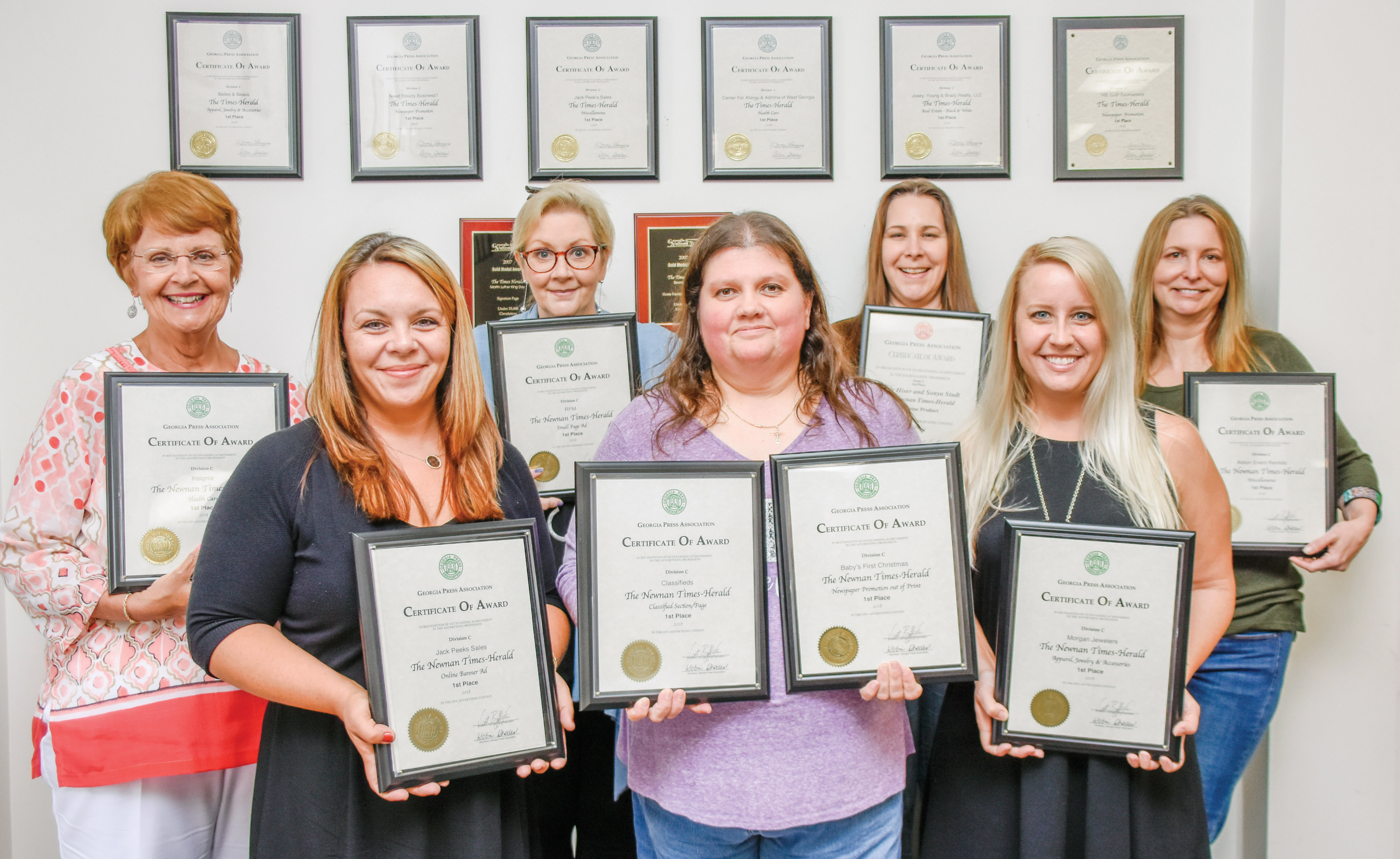 First, second and third place Georgia Press Association awards were won in advertising categories by The Newnan Times-Herald. From left are, front, Mandy Inman, Stacie Kittle, Katie Atwood; back, Debby Dye, Misha Benson, Sonya Studt and Sandy Hiser.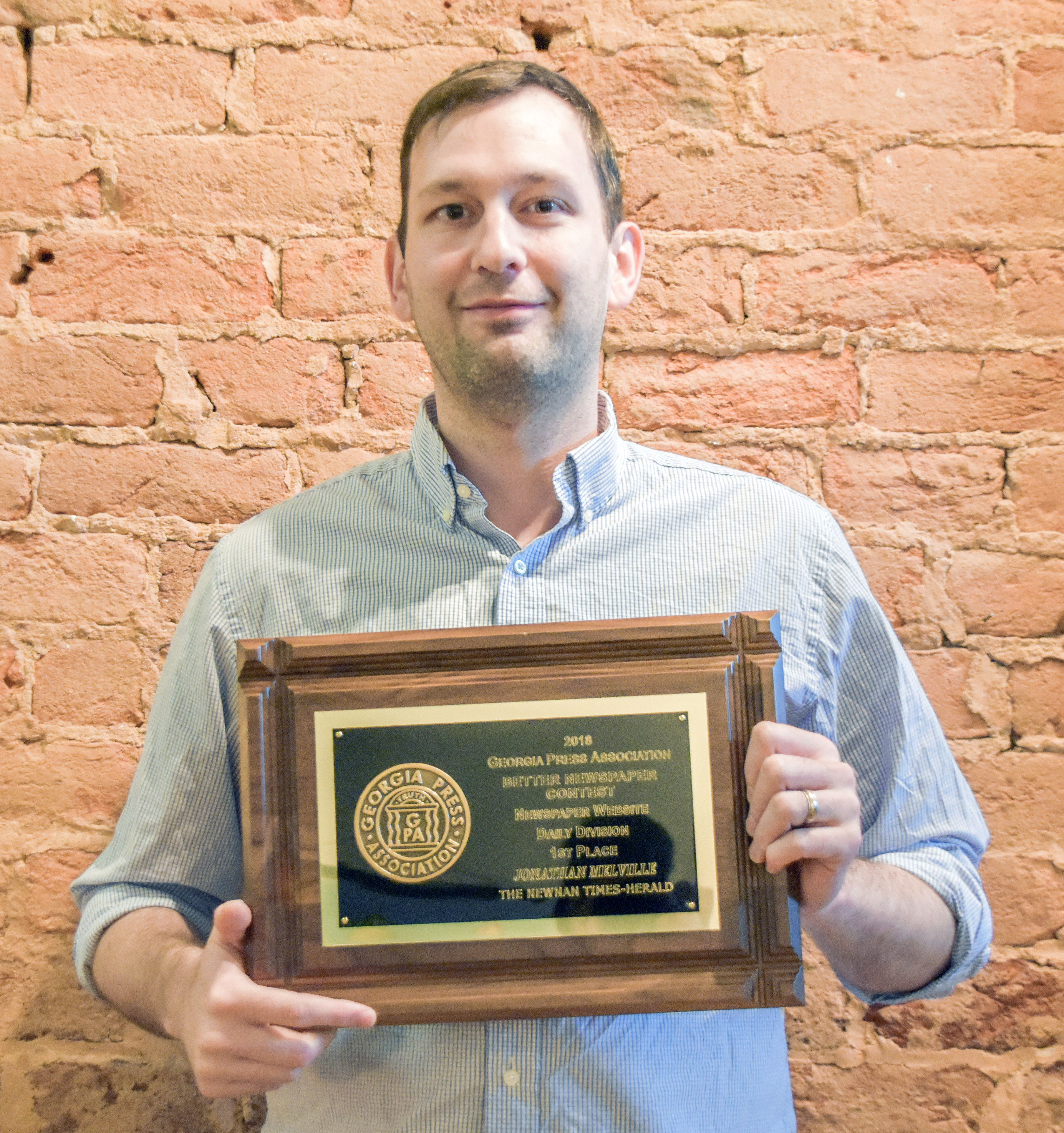 Jonathan Melville, IT consultant for the The Newnan Times-Herald, holds the plaque for the statewide award for the newspaper's website.
Winston Skinner, news editor, won the Otis A. Brumby Award for first place in serious column writing. The newspaper also won first place for Special Issues/Special Sections for the 2017 Vision issue.
Kandice Bell won second place for Business Writing. Other second place awards were for Layout and Design and Editorial Page.
Rebecca Leftwich won third place for Education Writing. Other third place awards were for Feature Writing, Page One and Spot News Photograph. The third place Magazine Product award was for the 2017 Coweta Living.
Advertising awards were given in several categories. First place entries were – Classified Page; Banning Mills Adventure, Full Page Ad; RPM, Small Page Ad; Jack Peek Sales, Online Banner or Tide Ad; Morgan Jewelers, Apparel, Jewelry and Accessories; Art & Jakes, Food; Insignia, Health Care; The Bedford School, Service/Institutional; and Alston Event Rentals, Miscellaneous.
Second place advertising awards were: Morgan Jewelers Plaid Friday, Small Page Ad; Lillian Gardens, Food; Antiques – Recycling the Past, Home Furnishings; and Newnan-Coweta Board of Realtors, Real Estate.
Advertisements for Kendra's and the Beverage Bank in Whitesburg won third place in Apparel, Jewelry and Accessories and Food, respectively.
The Better Newspaper Contest Awards were presented Friday at the Jekyll Island Club during the press association's 132nd annual convention. Beth and Clay Neely, publishers of The Newnan Times-Herald, and their children, Charlie and Anna, were present to receive the newspaper's awards.