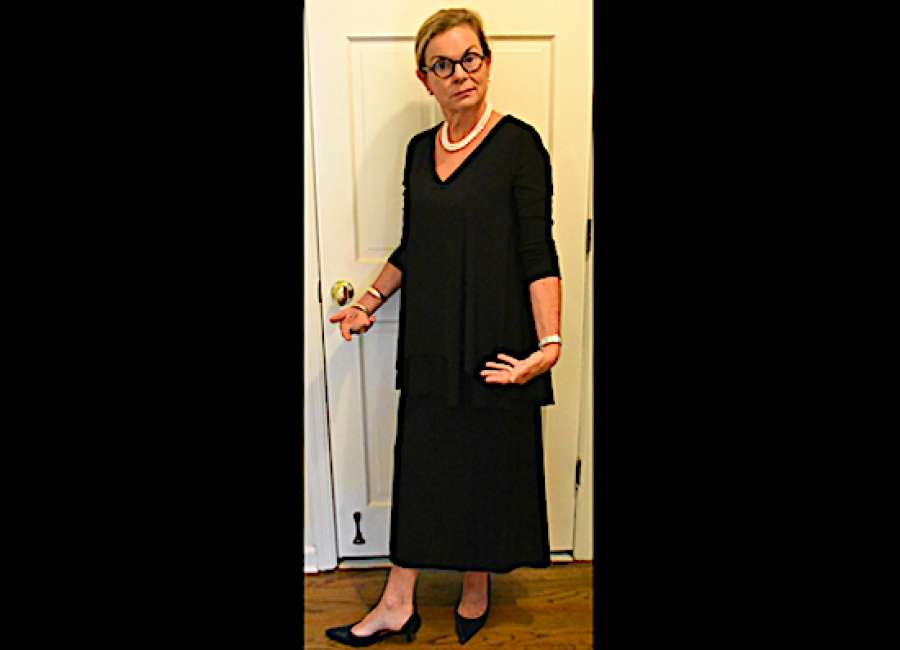 Miss Pearl has a lot to say about appropriate funeral attire, and if the number of Facebook views of her video rant is any indication, plenty of people out there want to to hear it.

The alter ego of Newnan resident Colleen Sprayberry, "Miss Pearl" – a paragon of Southern gentility – not only writes a weekly column for The Newnan Times-Herald but also addresses questions about manners and etiquette via Facebook video regularly.
Her latest video, "AFA: Appropriate Funeral Attire," had over 2 million views and more than 33,000 shares as of Saturday afternoon. Posted a week ago, the video is Miss Pearl's most popular yet in a year of twice-monthly chats recorded on Sprayberry's porch, often with her dogs frolicking in the background.
While this video strikes a chord with many viewers, it strikes a nerve with others.
"About 85 percent are on board, and about 15 percent want to quote scripture at you – they have no sense of humor," Sprayberry said.
And that's too bad, she said, because humor can be a great teaching tool for serious subject matter – like etiquette.
"Chain-yanking is an art in my family," said Sprayberry, the mother of two grown sons, about Miss Pearl's humorous but no-nonsense approach. "I don't want Pearl to preach, to be 'holier than thou' or judgmental. It's not about that. It's about reminding some people and exposing some people who have never been exposed to proper attire for certain occasions, to proper ways to communicate."
In Miss Pearl's viral funeral attire video, she admonishes ladies to leave their sequins at home and to wear proper undergarments to prevent a peepshow at sunny graveside services. When men put on that coat and tie, she says, it's important not to forget decent shoes to finish the outfit.
Otherwise, "What are you telling the family?" Pearl asks. "Half of you cared enough to show your respect and the other half didn't care?"
Sprayberry said the biggest difference between her and Miss Pearl is that Pearl is a bit more outspoken.
"Pearl is very comfortable saying what other people are thinking," Sprayberry said. "I'm not as comfortable saying those things out loud."
Sprayberry also is less rigid than her character, she said.
"I'm not as uptight as Pearl," she said. "I cut people slack where Pearl chooses not to. But there's enough of Colleen in there to make it believable."
The biggest thing she has in common with Pearl, besides their shared tongue-in-cheek approach, in an unwavering conviction that good manners and common courtesy are the easiest way to show respect for other people and for yourself, Sprayberry said. It's a great way to build bridges between people who don't have much in common – and perhaps disprove some stereotypes about Southern people in the process.
"Pearl is not judgmental or prejudiced," Sprayberry said. "She wants people to be encouraged to reach out to others even if they're different. You can always find common ground, just being polite to someone or holding door open for someone. Small things like that can facilitate conversation. It's a feel-good moment that can put a smile on someone's face. These things cross all barriers."
Sprayberry has received messages from Miss Pearl fans as far away as New York, Minnesota and California, which she said is a testament to the message behind her videos as much as the presentation.
"The content just hits home with so many people," she said. "It's not about tearing people down, it's about building people up. Making fun of people is not what Pearl's about. It's using humor to educate people."
Miss Pearl has begun spreading the word in person, as well, with speaking engagements at garden clubs, civic organizations and book clubs. Sprayberry has been contacted by the Huffington Post and has fielded inquiries about booking from as far away as Los Angeles. 
Requests for follow-up videos on proper attire for weddings, church and court appearances are flooding the inbox on her Facebook page, and she currently has around 5,000 "friends" on the social media site.
"I would be lying if I told you I didn't want to get speaking engagements out of this, because I love to speak," Sprayberry said. "I don't want to be a star, but I would love to one day write a book."
It would help counter the flood of bad examples coming out of reality television, she said.
"There are no boundaries, no rules," Sprayberry said. "Children speak to their parents in an awful way. Nobody has a job, but everybody lives like they're making $250,000 a year, and that's not reality. I do not begrudge anybody who has a bajillion dollars if they want to spend it on their kid's birthday, but it's like the worse they act, the more they're rewarded."
Miss Pearl may be branching out on her own soon with a YouTube channel and the launch of her own social media presence. But first, Sprayberry has to confer with her Gnat Line Girls – five women who she's known since fourth grade, when they were all being raised "below the gnat line" in South Georgia.
"We are still tight as ticks," Sprayberry said, noting the group soon will be headed for one of their annual beach trips to Hilton Head, S.C., where they will hash out plans for Miss Pearl's future endeavors.
Meanwhile, it's back to the one-woman – or maybe two-woman – war against the decline of polite society.
"I don't want manners and common courtesies to become extinct," Sprayberry said. "And if we don't teach them, they will become extinct."