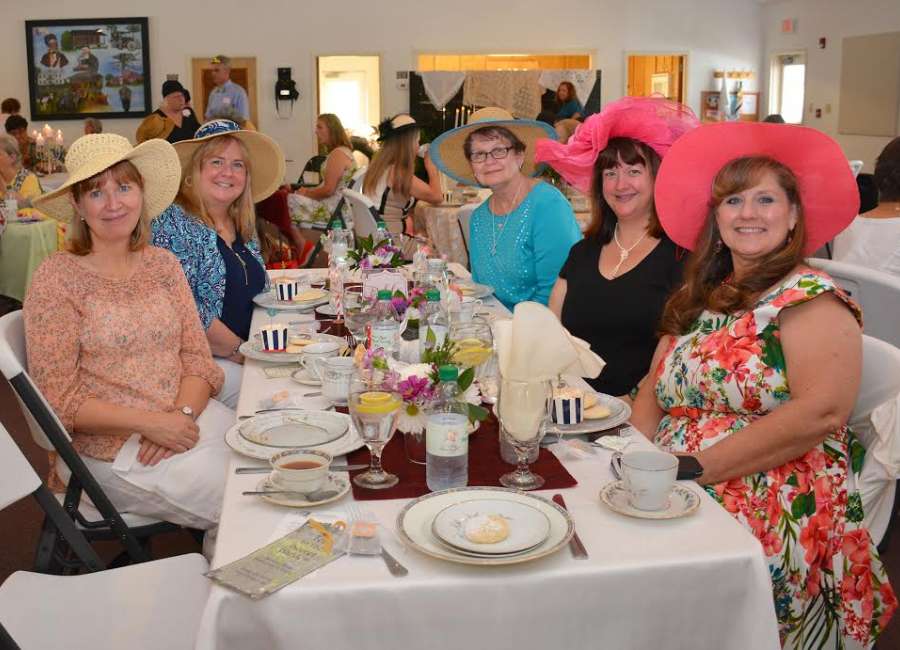 Tea in the Secret Garden had to be moved from the garden because of threatening rain, but the Senoia Senior Center welcomed women in festive frocks and a variety of hats.
The normally utilitarian meeting room was transformed into a Victorian fantasy with floral arrangements, elegant centerpieces, place cards and china plates and teacups. The Senoia Area Historical Society sponsors the event annually.
While the tea was moved from a garden at a Pylant Street home, participants enjoyed their company and the music and conversation. "When God gives us rain, we have to make rainbows from it," said longtime SAHS member Nancy Roy.
On the menu were scones with raspberry pecan amaretto preserves, cheese buttons, cucumber sandwiches, pimento cheese sandwiches, chicken salad sandwiches in filo cups and fruit-cheese skewers.
Iced raspberry tea and hot vanilla caramel tea were served. Dessert was Rich's style frozen fruit salad and tea cakes made using the recipe of the late Totsie McKnight, a community leader in Senoia for decades.
Roy welcomed the tea partiers. "Thank you for sharing tea with us today," she said.
Roy recognized a wide range of volunteers who helped with planning, decorating, preparing and serving. She also thanked keyboardist Gloria Duggar and Duggar's daughter, flutist LeAnne Sears.
"They do make beautiful music for us," Roy said.
A highlight of the tea each year is the hat contest. Judges for the contest were Angela McRae, Winston Skinner and Angela White. Skinner is news editor at The Newnan Times-Herald.
Hat wearers were recognized in several categories, and the grand prize went to Salli Rees of Sharpsburg. Rees wore a hat and gloves that originally belonged to her grandmother, Nettie Katie, who was born in Ideal in south Georgia in 1893.
Tea time treats
By MELANIE RUBERTI
A typical tea party serves a variety of teas paired with small, bite size appetizers. Hostesses usually prepare savory sandwiches, like cucumber and a dill mixture spread on rye bread or a cheesy mini-quiche.
Sweet treats are a welcome addition to any tea time menu to balance the salty or spicy sandwiches.
Mini– cupcakes, shortbread cookies and lemon tarts are just some of the goodies that help round out any tea time party.
Here are a few recipes to try for another tea time get together.
Mini Coconut Cupcakes with Passion Fruit Icing
Ingredients:
Cupcakes:
1 1/4 cups cake flour
1 1/4 teaspoons baking powder
1/4 teaspoon salt
1/3 cup unsalted butter, softened
1/3 cup white sugar
1 large egg
1/2 teaspoon vanilla extract
1/2 cup unsweetened coconut milk
1/2 cup sweetened shredded coconut
Icing:
1 cup confectioners' sugar
2 tablespoons passion fruit nectar
1 teaspoon heavy whipping cream
24 edible flowers (such as violets or pansies)
Recipe:
Preheat oven to 350 degrees F (175 degrees C). Line 2 mini muffin tins with mini paper liners.
Sift together flour, baking powder, and salt together into a bowl.
Beat butter, white sugar, egg, and vanilla extract in a separate bowl with an electric mixer at medium speed until creamy, about 3 minutes.
Beat flour mixture into creamed butter mixture, keeping mixer on low speed, until smooth. Add coconut milk and beat until batter is smooth; fold in shredded coconut.
Spoon rounded tablespoons batter into prepared muffin cups.
Bake on the center rack of the preheated oven until a toothpick inserted into centers comes out clean, 15 to 18 minutes.
Transfer cupcakes to a rack to cool completely, 20 to 30 minutes.
Icing:
Mix confectioners' sugar, passion fruit nectar and cream together in a small bowl until smooth.
Dip tops of cupcakes into icing, letting excess drip off.
Let icing set for 2 minutes; garnish with flowers.
(Recipe Courtesy: allrecipes.com)
Lavender Shortbread Cookies
Ingredients:
1 1/2 cups butter, softened
2/3 cup white sugar
1/4 cup sifted confectioners' sugar
2 tablespoons finely chopped fresh lavender
1 tablespoon chopped fresh mint leaves
1 teaspoon grated lemon zest
2 1/2 cups all-purpose flour
1/2 cup cornstarch
1/4 teaspoon salt
Recipe:
In a medium bowl, cream together the butter, white sugar and confectioners' sugar until light and fluffy.
Mix in the lavender, mint and lemon zest. Combine the flour, cornstarch and salt; mix into the batter until well blended.
Divide dough into two balls, wrap in plastic wrap and flatten to about 1 inch thick. Refrigerate until firm, about 1 hour.
Preheat the oven to 325 degrees F (165 degrees C). On a lightly floured surface, roll the dough out to 1/4 inch thickness. Cut into shapes with cookie cutters. Cookie stamps will work well on these too. Place on cookie sheets.
Bake for 18 to 20 minutes in the preheated oven, just until cookies begin to brown at the edges. Cool for a few minutes on the baking sheets then transfer to wire racks to cool completely.
(Recipe Courtesy: allrecipes.com)