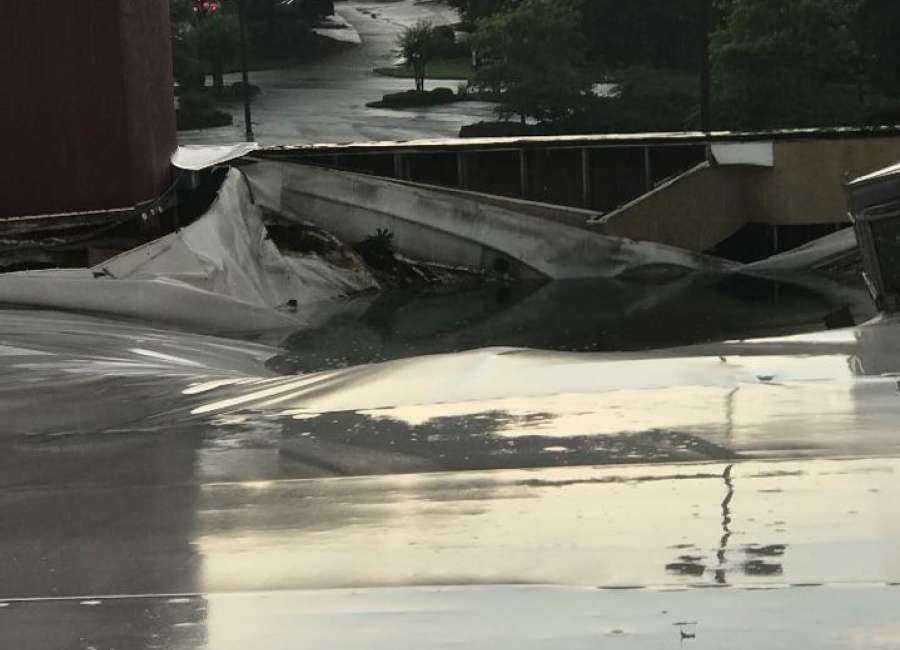 Crews continued to clean up the mess mother nature left behind Friday night at the Junction Lanes Family Entertainment Center at 141 Newnan Station Drive.

A small portion of the building's roof caved in during a heavy rain storm around 6 p.m.
Junction Lanes Owner Ryan Huber said the roof buckled under the weight of an excessive amount of rainfall.
The buckled roof also hit a sprinkler valve and broke it, causing more water to pour into the glow-in-the-dark miniature golf portion of the building Huber added.
No one was in the miniature golf area when the incident occurred, Huber said.
Staff and visitors who were in other parts of the facility swiftly exited the building after the roof caved in.
The Newnan Fire Department quickly arrived on scene to assess the damage. 
No one was hurt in the incident, according to NFD officials.
Huber said electric crews cut power to the building before a restoration company attempted to remove excess water from the roof.
The owner estimated the damage between $40,000 - $50,000.
Huber said an engineer will be on site Saturday morning to assess the building and look for any more structural damage.
Junction Lanes will remain closed until they are cleared by the engineer.
Huber said if the building is reopened, the mini golf area will still be closed to guests until the damage is fixed.
Huber said they will keep guests updated on their Facebook page, www.facebook.com/junctionlanes.