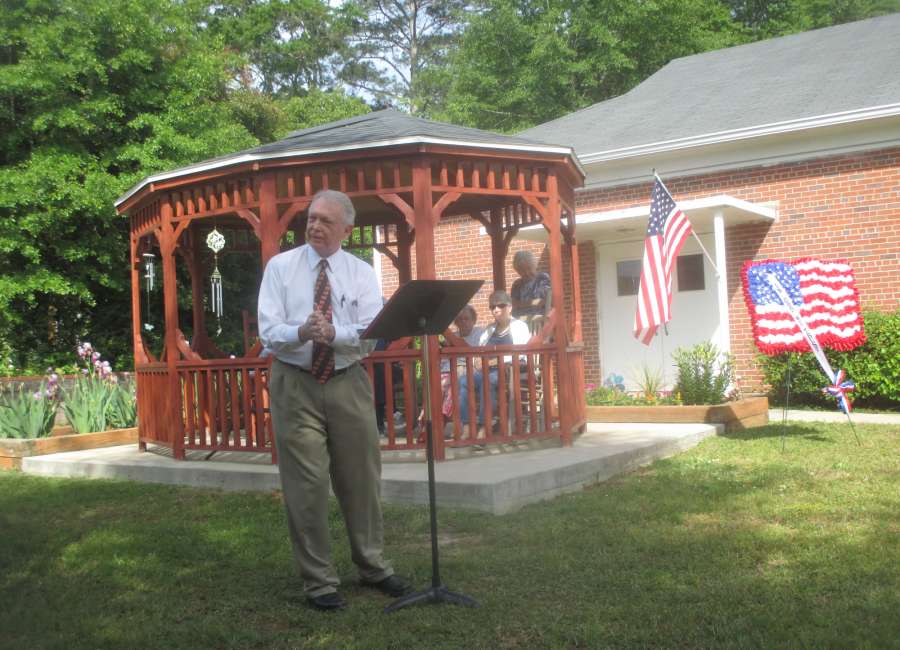 At churches across Coweta County, people pray each time the doors are open.

Once a year, members of many different churches gather to pray for the community, the nation and the world. The National Day of Prayer has been held annually since 1952.
This year's theme was "Pray for America – Unity," based on Ephesians 4:3.
Three events were held in Coweta County on this year's NDOP. There was a prayer breakfast, sponsored by the Newnan Kiwanis Club, in the fellowship hall at First Baptist Church in Newnan to start the day.
Outdoor services followed on the grounds of the Glanton Municipal Complex in Grantville and at Newnan's Greenville Street Park.
Michael McFarlin, pastor of Luthersville United Methodist Church and Allen-Lee Memorial United Methodist Church, was this year's speaker at the Grantville service. 
McFarlin has words of praise for the crowd of about 60 gathered on the lawn in Grantville. "You're taking a stand. You came out here. You came out here to be part of the National Day of Prayer," he said.
"The one reason you're here is because you care about our country and you care about the church," he said. "God doesn't intend for us to be divided."
McFarlin said when people in the church "have a heart of war … a heart of anger," there is dissension. "It's sad," he said.
"Unity does not just happen by itself. We have to work at it," McFarlin said.
"We are called to walk in the way of the Lord. We are called to live a life worthy of the calling we have received. It's all about us being in the spirit together – serving one God, one Father," the pastor said.
"We need prayer for unity," McFarlin said. "We all look different. We talk different. We serve one God, one Holy Spirit. We're supposed to be one."
He added, "Let's try to listen to each other with a heart of peace. We need to approach each other from hearts of peace." 
Avoiding pride is a key, McFarlin said. "Pride is quick to anger, quick to judge. Pride doesn't appreciate the differences between us," he said.
"The Holy Spirit leads, but we have to be willing to be led. We need to … do our part of keep the peace," McFarlin said.
"God has chosen us to be Christ's representatives on earth. Paul challenges us to be worthy of our calling," McFarlin said. "We're all in this – all of us."
BettyJean Bowers, a United Methodist pastor who lives in Grantville, organized the event and was the emcee. She talked about the importance of unity throughout the church's history.
"Paul did not want the early Christian movement to destroy itself from within," she said. "Paul encourages us to bear with each other in love, particularly in the community."
It is important to "bear with each other in love even if it might be difficult," Bowers said. "Do we ultimately care more about unity or disagreement? … We are one part of an entity unity together for good."
Also leading in prayer in Grantville were T.J. Boyd, pastor of Change Church, and Winston Skinner, a local minister who is a member at Allen-Lee. Skinner is also news editor of The Newnan Times-Herald.
David Kinrade, minister of music at First United Methodist Church of Newnan, led attendees at the prayer breakfast in singing "America" and "Sweet Hour of Prayer." Officer Clifton White of the Newnan Police Department was the speaker.
Others on the program at the First Baptist breakfast were Chris Carlyle, pastor of Purified Living Ministries; Nathaniel Russell, pastor of Mt. Zion Baptist Church at Sargent; Danny Hudson, pastor of Calvary Worship Center; and Newnan City Councilman George Alexander.