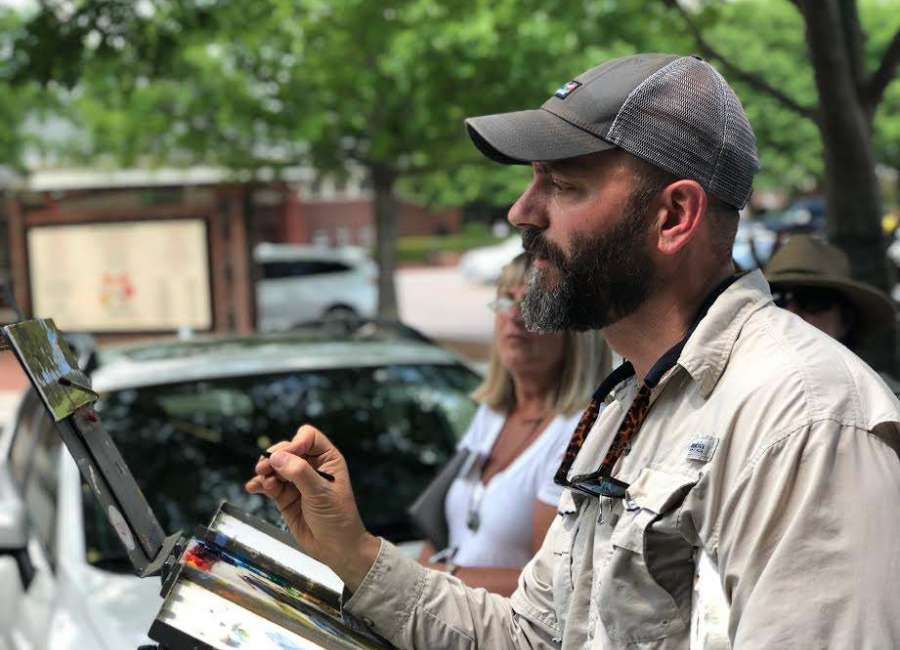 A small, unobtrusive black-framed sketch of a rural, desolate dirt road hangs on a wall in a quiet corner of the Boyd Gallery at 14 E. Washington Street.
The seemingly simplistic pen-and-ink drawing creates the illusion of the dusty old road waning off in the distance as it slightly slopes uphill, surrounded only by grass, clumps of trees and possibly a few sun-faded and splintered wooden telephone poles.
The black-and-white landscape artwork is almost eerily reminiscent of the Robert Frost poem "The Road Not Taken."
While not presented with two choices, the piece shows a well-worn, yet lonely road – destination unknown.
While the canvas may look understated and simple, the sketch speaks volumes about its creator, David Boyd Jr., and his own journey into the world of art.  
Although his work now hangs in galleries across the globe and in downtown Newnan, the adventure actually began when Boyd was a child and given free reign by his parents to draw, paint and sketch on the four white walls within his own bedroom.
His father, David Boyd Sr., was becoming a living legend in his own right during that time, creating political cartoons for The Newnan Times-Herald and illustrating popular caricatures for Jeff Foxworthy and his colorful cast of 'redneck' characters up until the mid-1990s.
Boyd soaked up valuable techniques and skills he learned from his father, but also discovered a new way to interpret the world around him.
"I drew cartoons for a little bit, but one of my art teachers taught me how to draw by looking at objects, buildings and landscapes from a new perspective. It changed my life," Boyd said.
The then-Heritage School graduate initially thought a career in architecture was in his future.
That quickly changed in the early 1990's when Boyd arrived on the campus of the Savannah College of Art and Design in Savannah.
After learning the architecture program was not the typical creative field Boyd was used to, he decided to follow in his dad's footsteps and majored in illustration and art history.
Four years later, Boyd returned to Newnan and started a painting business, but his canvases were the outside and inside walls of area homes. The jobs left little time for him to dabble in his studio and create his own works of art.
But that changed in 1997, when Boyd accepted a position as the art teacher at his alma mater, The Heritage School.
It was a job he said he truly loved.
"I liked explaining things to students and seeing that spark in their eyes," Boyd said. "I wanted to bring more students into the arts. Some were being told a career in the arts, 'wasn't cool.' But I wanted to show them if you've been given a gift, do something with it."
Boyd left The Heritage School in 2015. His last three years at the school were fraught with personal battles, when the then-33-year-old man's health began to fail.
Boyd suffered from kidney stones and was told by doctors to quit smoking  – which he did.
But instead of feeling better, Boyd said he felt worse.
"I suddenly found I had all this time on my hands. I was depressed," he said. "I dabbled in art but didn't have a clear direction anymore."
That all changed in 2012, when French artist Francois Gilot was invited to showcase her work at the Donald W. Nixon Centre.
Boyd helped hang some of her artwork and met the then-90-year-old painter and former lover of Pablo Picasso.
Someone asked the elderly artist if she still painted every day. Her answer six years ago still inspires Boyd today.
"She said, 'Well, don't I breathe every day? Art is real and very much alive.' She painted every single day," Boyd said. "That made me want to do the same. So I did."
His artwork caught the eye of friend and fellow artist Millie Gosch. She invited him to a plein air workshop that brings artists together from all over the world to paint in a designated outdoor area.
Boyd said the invitation changed his life.
"That really put me on the path to doing what I really wanted to do. My paintings were awful, but people started buying them," he said with a smile.
"I had multiple failures, but I learned that you need to keep moving forward and learn from your mistakes. It changed my whole way of thinking."
The Newnan native began painting every day and blogging about his work.
A self proclaimed "urban landscape painter," Boyd's artwork suddenly took on a life of its own.
He would find the beaten paths, now desolate and rundown, that were once a part of a bustling and thriving community. Boyd would usually set up shop near railroad tracks, back alleyways and the rustic countryside of rural Georgia.
Each brush stroke created an ornate and thought provoking landscape: whether it was an old, vacant, dilapidated building or a rusted out, beat up truck sitting in its final resting spot in someone's front lawn.
"I only paint things that make my heart race," he said. "I gravitate towards finding the beauty in the most unconventional places, like how light falls and creates shapes and patterns. That draws me in."
Boyd's unique perspective and talent with oil paints soon told the stories behind the lush and barren landscapes on canvas.
Boyd's reputation as a talented and masterful artist soon spread beyond the city limits and gained traction across the nation. His paintings were being sold online almost as soon as the images were posted.
His artwork was hung in Newnan galleries and around the country.
Some of Boyd's paintings won national accolades and he earned memberships and signature status into some of the most elite artistic groups in the country, such as the Oil Painters of America, American Impressionists Society and the Laguna Plein Air Painters Association.
Despite Boyd's success, he still said he felt there was a missing element that would lend more credibility to his talents, and to Newnan's burgeoning ability as a bustling art community.   
With his parent's blessing, Boyd turned the historic building at 14 E. Washington Street, once the elder Boyd's office and the family printing business known as The Print Shoppe, into an art gallery.
The Boyd Gallery officially opened its doors in September 2017.
"I put all my eggs in one basket," Boyd said. "I wanted to be the master of my own domain. I really wanted to own a gallery with my own name on it, and I can't think of a better space to do that than in building and town where I grew up."
The gallery showcases the artwork of Boyd Sr. and Boyd Jr.
It also features delicate watercolor paintings from Boyd Jr.'s sister Rosalyn Moore McKoon – plus the decorative stylings of Bonne Bedingfield, the third Boyd sibling.
Bedingfield bakes cakes and transforms them into ornately designed delicacies. She holds cake tastings and receptions inside the gallery.
Boyd said it's been a whirlwind year filled with events, such as pop-up art exhibitions featuring nationally renowned painters and live painting demonstrations each month.
Boyd Jr. also has his own studio inside the gallery where he works and teaches up and coming artists.
Boyd admits he's learned valuable lessons over the past year, but it is giving him a clearer picture of the future  – and more things to come for himself and the community.
"I want people to come, drink my scotch and look at the art," he said. "I want to elevate the game and bring in artists from across the world and locally to paint and take classes here … and hold more live events.
"I love being in Newnan," Boyd continued. "I'm a big believer in 'blooming where you're planted.' I don't think I'd want it any other way. My family and I have always been supported here. Newnan's been good to me and I want to he good to them. I'd be a fool to walk away."
A walk that began for Boyd on a road less traveled by other artists, but has made all the difference in his life and the community.