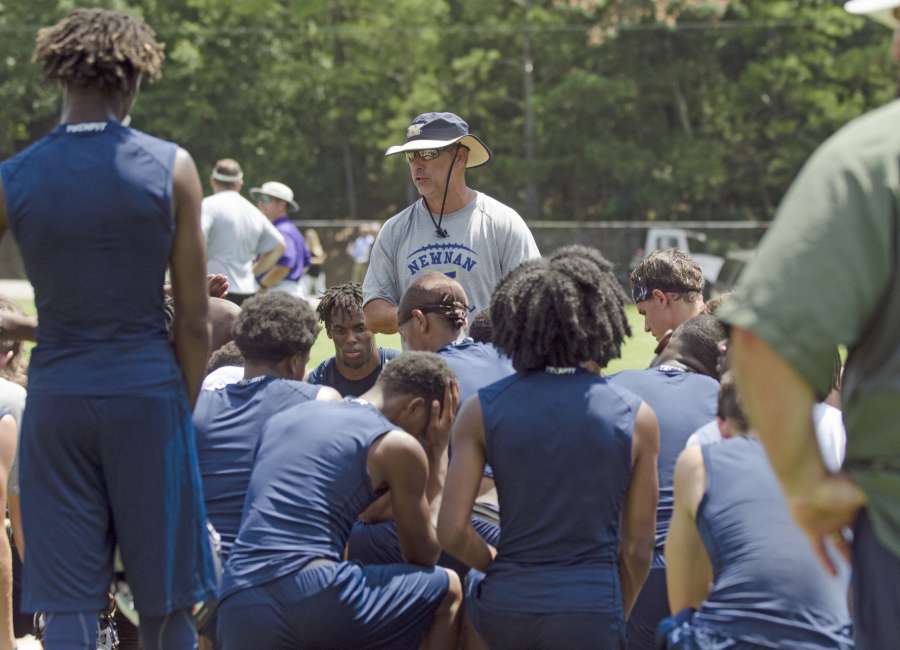 The 2018 high school football season is still two months away, but the Newnan Cougars summer workouts are already gathering steam.
A year ago, Newnan made it to the first round of the playoffs despite finishing 4-7.
Second-year head coach Chip Walker is confident Newnan  has the talent to go deeper into the playoffs.
"Everybody knows what we expect now and it's much easier the second time around," Walker said.
Tuesday morning  Newnan stepped away from the traditional summer weight lifting and conditioning for a 7-on-7 passing session against Villa Rica.
"This is just more about seeing somebody different and to see different looks" Walker said. "It's probably more beneficial for them than it is for us, because I don't think we will see a wing-t team all year."
The 7-on-7 camps are conducted in shorts and helmets and very little contact is a loud.
Walker said there is a couple of reason for scheduling  these 7-on-7 passing sessions.
"It gives the kids a chances to compete and I think that's something they really enjoy," Walker said.
Newnan comes into the season looking for a new quarterback, so these passing drills can be beneficial.
"It's like I told our kids, I am looking for them to throw the ball to the right person and the right place, Walker said.
Defensively, the Cougars were also helped by participating in the Tuesday's 7-on-7 drill.
"Out of the first couple ball games, we are going to see the same defense that Villa Rica runs when we play Northgate and Alexander."
Walker admitted players have to be careful not to pick up bad habits during 7-on-7 drills.
"Sometimes these 7-on-7 can be a little bit unrealistic," he said.
Newnan will also participate in a series of padded camps starting the first week in July.
"I really like those camps because that's more like football," Walker said.
The Cougars will host one padded camp, go to Callaway, and then Sandy Creek for sessions with the Patriots and Union Grove.
"We know what we want to accomplish. We are all there for the same goal and that is to work on things and to get better," Walker said.
Newnan opens the season with two home games, including Chapel Hill on Aug. 17 and against Northgate on Aug. 24.
It will be the first time Newnan and Northgate have played in a regular-season football game. It will also mark the return of former Newnan head coach Mike McDonald to Drake Stadium.
McDonald is in his first year as head coach at Northgate.
During Tuesday's 7-on-7, former Newnan assistant coach and athletic director Jeff Bryant returned to campus as an assistant coach with Villa Rica.
Bryant stepped down as the Cougars' athletic director in May in order to return to coaching.