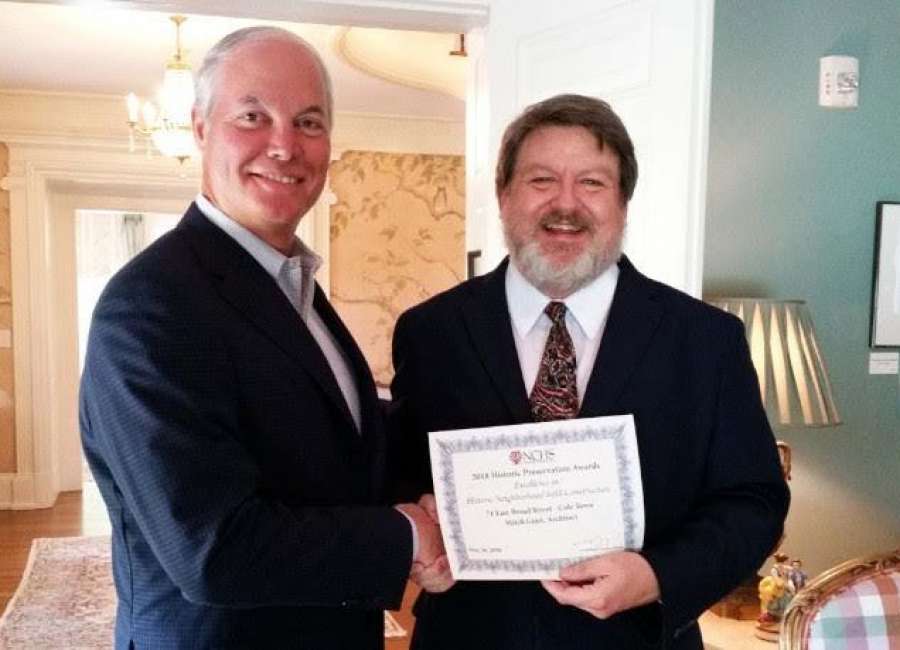 The Newnan-Coweta Historical Society honored groups and individuals for efforts to preserve Coweta County's architectural heritage as part of National Historic Preservation Month.
The ceremonies were held Saturday, May 26, 2018, at the McRitchie-Hollis Museum.
"At NCHS we are working to preserve the past and to recognize those local partners, both private and public, who have invested time and money into helping preserve the community's unique historic character," said Jeff Bishop, NCHS Executive Director, who emceed the awards presentation.
Honors among the 2018 Historic Preservation Awards range from governmental and commercial projects to individual efforts.
Recognized were: Mitch Ginn, 71 East Broad Street home in Cole Town Historic District, for Excellence in Historic Neighborhood Infill Construction. Welden Financial, 38 Spring Street, for Excellence in Commercial Restoration. The Joe and Sandee Crain home, 198 Jackson St., for Excellence in Residential Restoration. The Cellar restaurant, the Murray Printing Building project creating apartments on Spring Street and The City of Newnan  for the Howard Warner School project, for Excellence in Adaptive Re-Use. Mike and Pat Strain, 52 College Street home, for Excellence in Historic Landscaping. Coweta County, park development at the Brown's Mill Battlefield site, for Excellence in Preservation.
Recognized for Friend of Historic Preservation Awards were Dorothy Pope, for her work with the Newnan-Coweta Historical Society; and Elizabeth Beers, for her work on a restoration project at Newnan's Oak Hill Cemetery.
Nominations were sought for historic structures, facades, landscapes and more that have been rehabilitated. The projects had to have been completed sometime during the last three calendar years.
The Preservation Committee this year consisted of JoAnn Ray, Beth Headley, Courtney Harcourt, Georgia Shapiro, Jessie Merrell and Jeff Bishop.
Each winner will receive a plaque that can be placed on the exterior or interior of the building in recognition of the achievement.