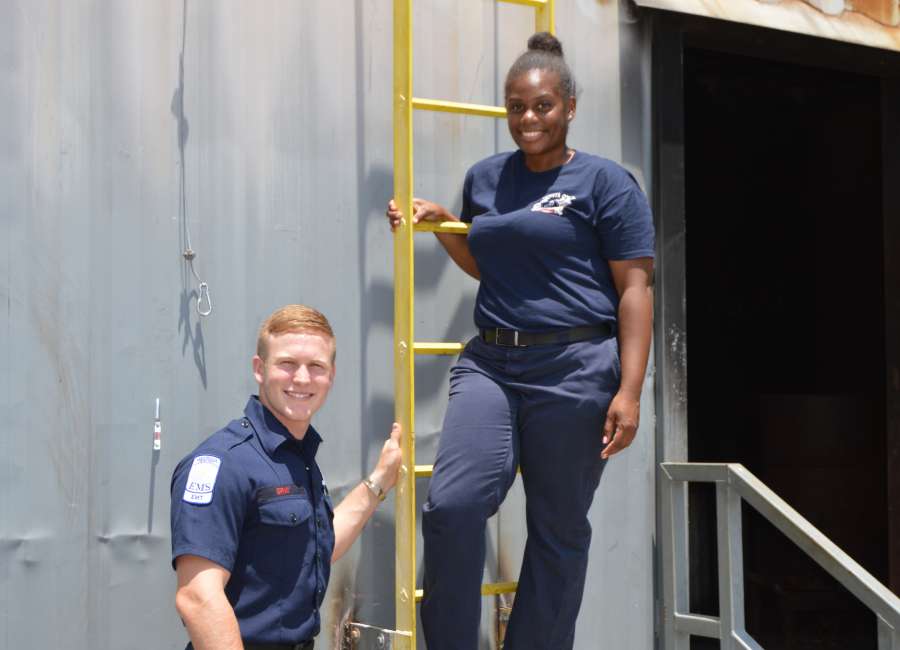 John Gray, 20, of Paulding County, knew as a child he wanted to be a first responder.
Gray grew up surrounded by family members who worked in law enforcement and public safety vocations.
While Gray wanted to continue the family tradition, he decided to take a different route. He became an EMT after graduating from high school and  applied to become a firefighter for Coweta County Fire Rescue.
In February 2018, Gray joined Jazzmin Bryant, 29, of Columbus, Ga., as a new recruit and began almost four months of training.
"I wanted a new career to support myself and my daughter," Bryant said. "I wanted to do something new, something that would actually make a difference and make me a better person."
Both Bryant and Gray achieved their goals on June 1. The duo were pinned by family members during a special ceremony and officially became  firefighter EMTs with the Coweta County Fire Rescue.
"I knew that the good Lord wanted me to be here," said Gray. "The atmosphere and the people are great. I can't imagine doing anything else."
"You want to work in a happy environment with people who care about you," Bryant said. "I'm happy to come here everyday. Everyone is so sweet and supportive. It feels like your home away from home."
Bryant and Gray's accomplishments also helped the fire department make history that day.
The pair were two of 38 men and women to be sworn into Coweta County Fire Rescue. It was the department's largest ever recruit class.
According to CCFR Chief Pat Wilson, 17 folks were sworn in as firefighters, while 21 recruits received their EMT certificates.
The EMTs will soon begin training to become official CCFR firefighters, Wilson added.
Training was a challenge for both Gray and Bryant.
"This is a very physical job. At times, I wanted to quit, but I pushed through it. I'm happy I didn't leave," said Bryant.
The recruits trained five days a week and learned basic firefighting skills. The also continuously conducted exercises on search and rescue, car extrication drills, and water rescues, plus learned how to assist other agencies during weather-related events, such as cutting up and removing a tree that has fallen across a road.
"The training officers let us know how we were doing, both good and bad," Gray said with a smile. "They yelled at us a bit, but it was only to make us better. We received a lot of good feedback."
"They wanted to see us succeed," Bryant added. "We were like a big family and they wanted us to win and cross the finish line in the end."
While Bryant and Gray are just beginning their careers with Coweta County Fire Rescue, both have already set future goals.
Bryant plans to take paramedic classes and become an officer within the department.
Gray is already enrolled in paramedic school. He eventually wants to be apart of the rescue truck and become a battalion chief in the future.
Gray and Bryant said they will continue to commute from their homes to their new jobs in Coweta County. Both said being a CCFR firefighter is worth the long drive.
"I love the people here and the pace," said Gray. "I wouldn't want to go anywhere else. I love it here."