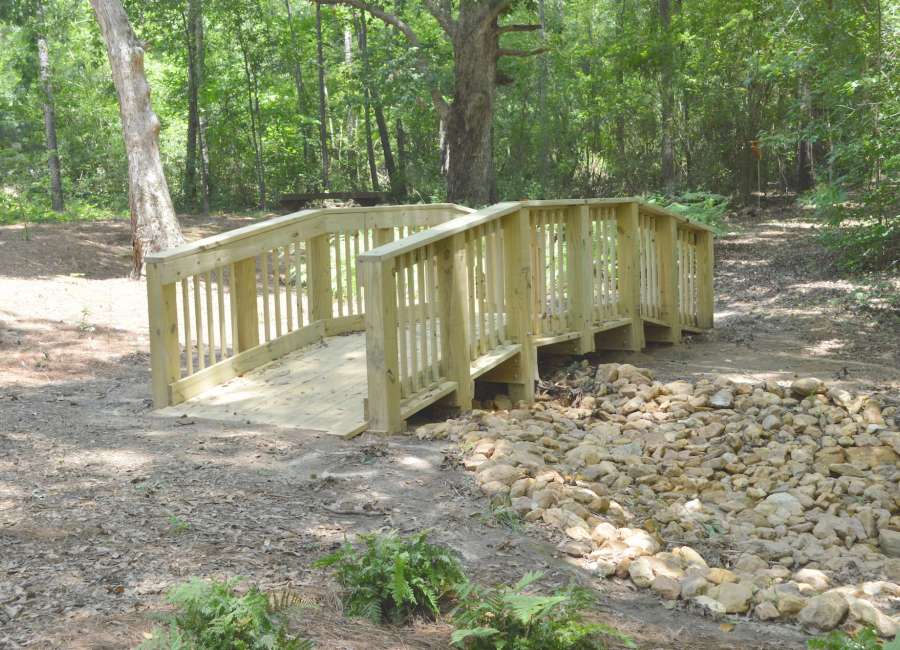 A local scout's Eagle project is the latest improvement at the McGuffey Nature Center at the Coweta County Fairgrounds.

For the past three years, the Coweta County Master Gardener Extension Volunteers have been working on a restoration project at the little-known park.
The nature center and park include several short nature trails – totaling 0.8 miles, a small pond, two outdoor classroom areas and the nature center itself, which has benches and educational signage. There are also various benches and picnic tables, and the "farmer's garden" site. One nature trail is the .12-mile paved trail for handicapped visitors.
"It's one of those little-known treasures," said Dale Senko, co-chair of the James E. McGuffey Nature Center Restoration Project for the Coweta Master Gardeners.
The organization has worked to remove invasive plants and replace them with native species, and done some trail restoration. There have also been stormwater and erosion issues.
And that's where Boy Scout Evan Goembel comes in. Goembel is a Life Scout with Troop 2193, which meets at Cokes Chapel United Methodist Church, and just finished up eighth grade at East Coweta Middle School and the Eighth Grade Charter Academy at the Central Educational Center.
Goembel was looking for an Eagle Scout project that would also qualify for the Hornaday badge. Hornaday badges and awards focus on conservation.
Goembel said he was talking to one of the adult leaders in his scout group, whose son had done a Hornaday project. The man suggested he contact the master gardeners.
He contacted Senko, and they discussed some of the needs at the nature center.
One trail near the nature center entrance was having major erosion problems. "It happened to be the biggest project at the time that needed doing," Goembel said.
So he got to work figuring out the best way to fix the erosion issue. He contacted Coweta officials and was told to work with Jon Amason, an engineer and assistant director of development review with the Coweta County Community Development Department.
It was decided to dig a wide and shallow trench to channel rainwater, and build a bridge over the trench, which would fix the erosion problem and give a stable trail surface.
Amason helped him with the design of the bridge itself, and Goembel worked with the Georgia Utility Contractor's Association. GUCA representatives came out with heavy equipment to dig the trench and donated 10 cubic yards of field stone to line the trench.
The project took six work days and a lot of planning. There was also help from fellow Scouts.
"No Eagle project I can ever think of has been a one-man job," Goembel said. "We all work together to help each other. It's all done to show leadership, so that everybody learns how to be a leader," he said.
But coming out with friends to build the bridge is the easy part, he said.
"You have to come up with the ideas. You have to come up with the money. You have to work out every possible problem you can – that's the hard part," he said. "People think you can go to Home Depot and pick up a couple of 2 x 4s and a box of screws and you're good to build a bridge – I had to work out a $1,600 materials list, down to the final screws," he said.
During those work days, family members of his fellow scouts were often on hand, including Jack Montequin, brother of Goembel's fellow troop member, Ben. Montequin, 8, is in a wheelchair, and Goembel built the bridge to be wheelchair accessible.
Goembel decided to name the bridge in Jack's honor, and Jack was the first person to cross the completed bridge.
"Jack is involved with all things scouting. He is just a ray of sunshine at our troop meetings," Goembel said.
"Evan was marvelous," said Senko. "It was quite an undertaking."
The bridge looks wonderful, she said. "Hopefully it will do the trick so that it is safe for people who walk that trail to walk over it and not slip and slide all over the place."
The McGuffey Nature Center is located next to the horse arena at the fairgrounds on Pine Road. It is open from 8:30 a.m-5 p.m. Tuesday through Saturday, and 1:30-5 p.m. on Sunday, according to the county's website.