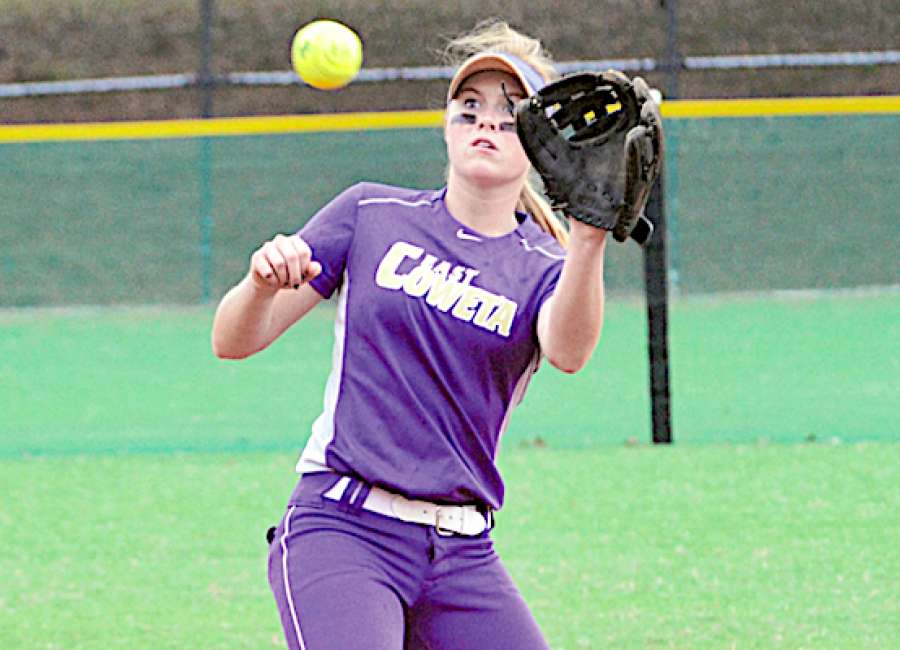 Every college athlete has the same goal from the moment they sign their letter of intent—winning a national title.

In the end, however, it's something few will achieve.
Former East Coweta softball player Dani Morgan can check  National Champion off her wish list after helping the Florida State Seminoles win the crown last week with a sweep over the University of Washington at the College World Series in Oklahoma City.
"It's so surreal because you dream about this growing up," Morgan said. "To be on that stage and actually experience it is great."
Several East Coweta softball alumni have played in the College World Series, but Morgan is the first to win the ultimate prize.
Morgan spent her only  season at East Coweta, moving to Georgia with her family from Illinois during  her senior year, but she quickly carved out her place at the school, also becoming a standout 3-point shooter on the Lady Indians basketball team.
"It was an amazing experience to play for such a great program," she said. "I made so many great friends,and they accepted me right way.
East Coweta head coach Franklin Deloach said he will also be grateful for what Morgan meant to the school's softball program in her only year with the team.
"We read a few things about her, but we really didn't know at first what a great player she was going to be until she arrived," he said.
Morgan had several options when it came to signing her letter of intent with the Seminoles after also being recruited by Alabama and Michigan, but once she stepped on the campus in Tallahassee, she knew she found her softball home.
Morgan has had a big impact on the FSU softball program over the past two years.
That includes taking care of business in the classroom.
During her freshman season, she was named to the All-ACC Academic team.
On the field, she put up some big numbers during her freshman season, including being named the ACC Tournament MVP and earning a spot on the All-ACC Freshman team.
The East Coweta coaching staff might have been just as excited as Morgan about their former star player winning the national championship.
Deloach and East Coweta assistant coaches Mark Boles and Brandon Blair texted Morgan with their congratulations.
"To sit there and watch it on television and see someone who played for us win a national championship at the highest college level is very exciting," Deloach said. "She is such a great athlete, she can play anywhere on the field."
Deloach is right about Morgan's versatility as a softball player. Although she played in the outfield during the postseason, she has also played other positions for the Seminoles.
She has also inspired several of her former East Coweta teammates to dream of also winning their own national title.
East Coweta pitcher Kelley Lynch, who will return for her senior season in the fall before moving on to play at Auburn, watched the game on ESPN with some of her teammates from a local eatery.
"We were yelling and getting so excited and loud at times the waiter kept coming over to check on us to see if everything was alright," Lynch said. "It's so exciting to see one of your former high school teammates win it all."
Along the way, the Seminoles became the Cardiac Kids often surviving must-win situations just to keep their title hopes alive.
Morgan said she and her teammates never doubted themselves even when they had their backs to the wall.
"It's happened so many times to us," Morgan said. "I think it just shows the love and the fight we have for each other."
After winning the ACC title, Florida State swept its way through the NCAA Regionals with two victories over Jacksonville State and Auburn.
From there, Florida State moved on to the NCAA Super Regionals beating LSU in three games.
It didn't come without a little pressure.
The Seminoles lost the first game and had to win the next two games just two stay alive.
The Seminoles beat LSU 8-5 in 11 innings in the second game and then punched their ticket to the College World Series with a 3-1 victory in the third-and-deciding game.
Once Morgan and her teammates got to Oklahoma City, they were again on the brink of elimination, falling to UCLA in the first game before rolling off six wins in a row.
Against Washington, FSU won the first game 1-0 before falling behind 3-0 in the top of the first during the nightcap.
The Cardiac Kids again lived up to their reputation, coming from behind to win the game and the title.
Morgan said even after the Seminoles got down 3-0 in the second game there was never much worry in the dugout.
"We had a next pitch mentality," she said. "I don't think anybody doubted that we could come back. The nerves got to us in that first inning, but it was the bounce back that was important."
Base stealing was one of the Seminoles' biggest offensive weapons throughout the postseason, with Morgan setting a College World Series record with seven seven stolen bases.
The former Lady Indians didn't even know about the record until after they clinched the title.
"I had no clue about the record," she said. "I just want to do what's best for the team."
Morgan knows Florida State will have a bullseye on its back next season as it tries to repeat as national champions, but that's too far in the future."
"We just have to play hard and go out and do what we always do, but I am not even thinking about that right now," she said.
Morgan is grateful her parents Keith and Marsha were able to witness their daughter win a national title in person .
"They are so excited and I am so happy they could be there," she said. "They have sacrificed so much."
•••
Dani Morgan file:
Year: Sophomore
Position(s): Utility
High School: East Coweta
Honors: 2017 ACC All-Tournament Team, 2017
2017 All-Academic Team, 2017 All-ACC Freshman Team
Records: Most stolen bases in College World Series with seven