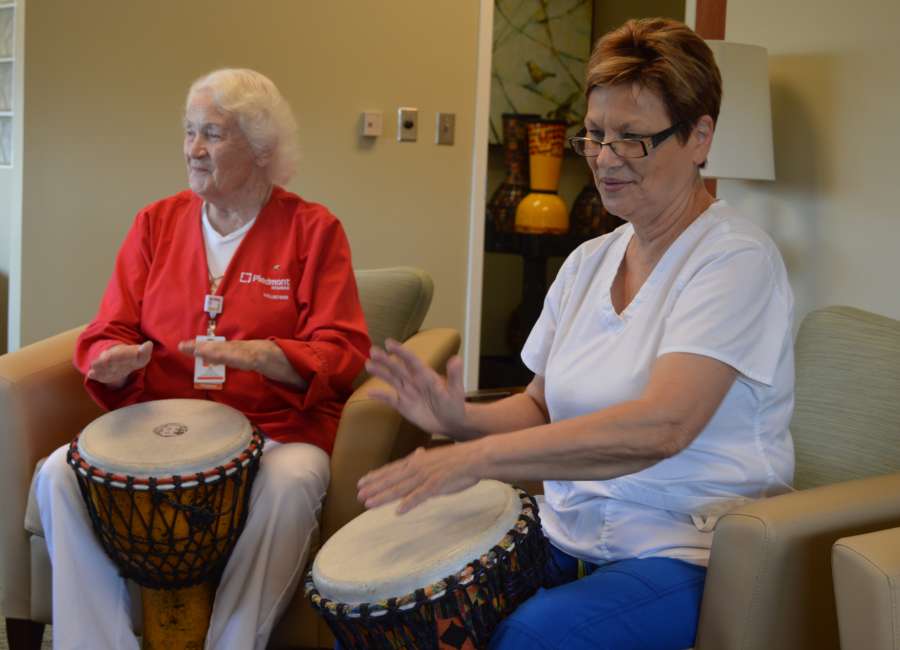 For some, the sound of people playing drums for more than an hour can be frustrating and annoying.
But for cancer patients at Piedmont Newnan Hospital, the rhythmic reverberations can be soothing and stress-relieving.
That's especially true when the patients are the ones keeping tempo and pounding out cadences during the One Hour Drumming program inside the hospital.
Peter Marino leads the cancer wellness group every Tuesday at Piedmont Newnan, supplying patients with drums called djembes to use in their therapy. The djembe originates from West Africa and is a rope-tuned, skin-covered goblet drum played with bare hands.
Marino said he believes the power of percussion is a potent factor in helping patients fight cancer and other diseases, and that his program is backed up by scientific research.
"Playing the drums for just one hour a week raises a patient's T-cell count (works with the immune system) to help them fight the disease," Marino said. "It combats stress and depression."
Marino claimed the program is a form of exercise and can relieve pain by producing more endorphins within a person's body.
"Don't get me wrong, the doctors here are amazing. But I honestly believe this class has an immediate, positive effect on those who come here," Marino said. "A cancer diagnosis can cause patients to isolate themselves. But here, it's a group dynamic. People socialize and connect with each other. That social interaction is equally important as treatment in terms of survival."
Patients aren't the only ones who seem to enjoy the group. Some Piedmont Newnan volunteers and staff attend the class, too.
"It's a stress reliever and it relaxes me," said Karen Jackson, a massage therapist with Piedmont Newnan. "I love it."
"I'm hoping this is will bring my blood pressure down," said volunteer Virginia Aycock with a smile.
No musical experience is necessary to attend the class, said Marino.
"The way I teach is a word play system, speaking rhythmically, so it corresponds with the hand movements on the drums," he said. "It makes it easy for folks to learn."
Marino shows patients how to use their hands on different areas of the drums to create music. He changes beats and tempos to engage folks in both African and Latin sounds.
"It's like a party. People have a blast when they're here," Marino said. "I like engaging with people of all ages. I make the class 'light' and fun. It seems to bring a sense of joy to people when they're here."
Marino started the program in the early 2,000's while he was living in Philadelphia. The class was mainly for children with special needs such as autism.
The musician received such a great response, he continued the One Hour Drummer program when he moved to Georgia.
Marino regularly visits senior citizens centers, plus hospitals in Newnan, Fayette and Stockbridge.  
The program is one of many cancer wellness services offered by Piedmont Newnan.
For more information, visit www.piedmontcancerwellness.org.