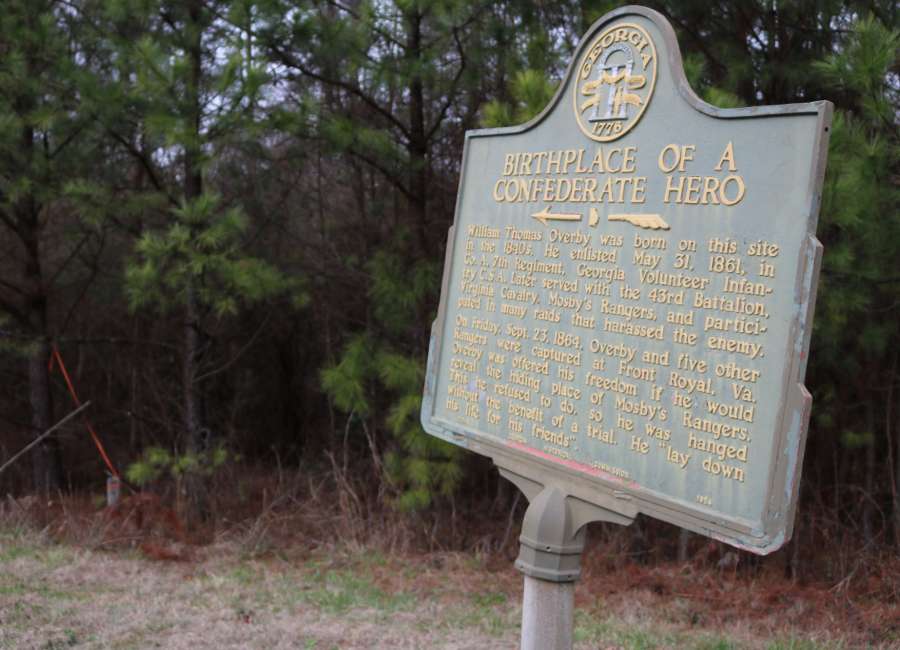 The Georgia Historical Society has made plans to change the inaccurate William Thomas Overby historical marker, but the sign will not be changed in a blink of an eye.
The sign, that sits just outside of Newnan city limits on Hwy. 34 East, describes the area as the "birthplace of a Confederate hero."
However, Overby was born in Virginia in 1840. Overby moved to Georgia as a youth with his family.
"That particular marker is not a danger to people like some are," said Pattye Meagher, director of communications for the Georgia Historical Society. "Some are in really bad shape. We will register this marker with the people that run the marker program. And it will be one that we eventually get to but because it's not a danger, it won't be eminent."
A marker is considered "a danger" if it can physically injure someone visiting a historical site.
There is no timeline for when the marker will be corrected.
The GHS was unaware that the sign was incorrect until a local reporter recently called about the error. The organization has only been in charge of historical markers for the state of Georgia for the past 20 years.
The marker was erected by Georgia Department of Natural Resources in 1956. The DNR was responsible for state historical markers before the GHS.
Two years ago, the state transferred responsibility for the 2,500 historical markers that the DNR put up to the Georgia Historical Society.
"We are going through each marker. We're dealing with those that are a danger to people or that are completely missing," said Meagher. "So, I've spoken with the marker team here. They are now aware of the inaccuracy. And it will be dealt with in time."
The sign was added to the GHS's list of older historical markers in need of work on June 14.
Local resident Mike Christie would like to have more than the error fixed. Since February, Christie has been on a mission to also find out if graves of enslaved people lay underneath what was the 1800s Overby family plantation and to have the enslaved people remembered on the historical marker.
According to Meagher, citizens wanting additional people remembered on a marker should apply for a new marker.
"If what they are looking for is a reinterpretation of the site, then my recommendation would be to apply for a new marker," she said. "We encourage people to apply for new markers all the time. Historical markers are one of the ways that we teach residents and tourist alike about Georgia history. So we highly encourage people to apply for new markers."
For information on applying for a reinterpretation of a marker or a brand new marker, visit GHS's website, www.georgiahistory.com.
The organization accepts applications throughout the year with a Sept 1 deadline. After the deadline, the marker committee takes the applications under consideration.
"We love the marker program," said Meagher. "We're very proud of it. We were very excited to be given responsibility for maintenance of older state markers. We are doing what we can to make sure that all of Georgia historical markers are available and accessible to visitors and tourists that come to our state."