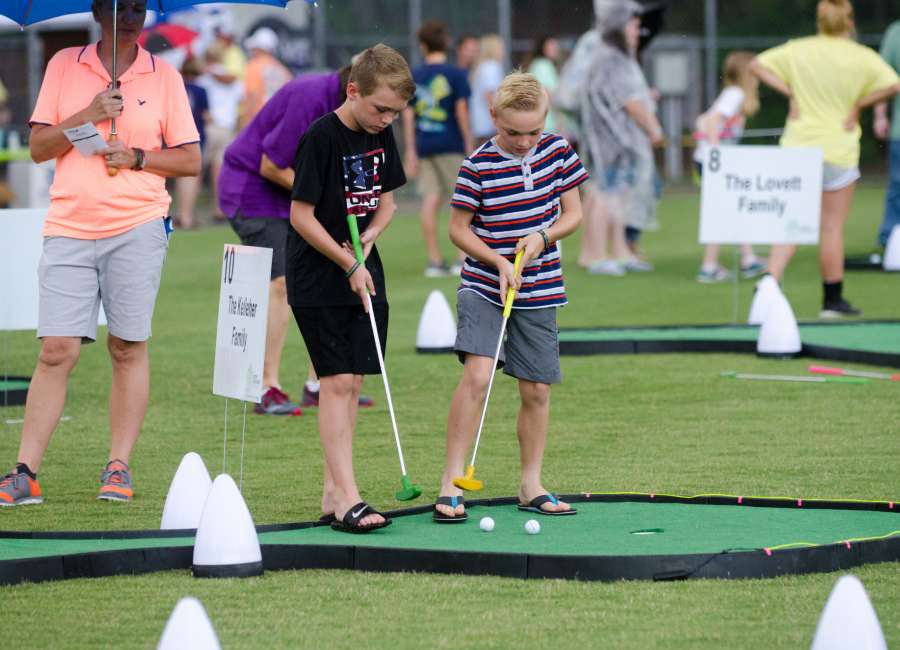 The second annual Hunter Scarbrough Foundation Glow Golf Extravaganza drew large crowds Thursday for a night of fun and fellowship on lacrosse practice fields at Newnan High School.
Despite some scattered rain and thunderstorms early, the weather cleared allowing those in attendance to play mini-golf, cornhole and other games while eating a variety of food.
Water and popcorn were also provided free of charge thanks to help from sponsorships led by Newnan Utilities Fountation and Brent Scarbrough & Company. 
The Groove Gypsies band entertained those in attendance with classic rock and roll.
The Hunter Scarbrough Foundation was established in memory of 14-year-old Hunter Scarbrough who passed away on Nov. 16, 2016 .
The foundation gives a scholarship to a boy and a girl at Newnan, Northgate and East Coweta.
"I want this to be for the kids and the community," said Todd Scarbrough, Hunter's father. "The community has stepped up even more than last year with sponsorship and wanting to be a part of it."
span class="Apple-converted-space"> 
"This is something that's for the kids," he said. 
span class="Apple-converted-space"> 
"This is a chance for them to have some fun," Todd said. "For $10 they can play and we supply the water and popcorn. It's something for them to do."
Todd estimated that this year's event raised between $25 to $30,000. 
In order to receive the scholarship,  a student as to be a member of the Fellowship of Christian Athletes or in their Youth Group at their local church, two things that close to Hunter's heart.
They also must have good grades and submit an essay.
"All the names are blacked out when we receive the essays so we don't know who it is," Todd said. "We then pick who we think is best and from there we check their social media accounts to make sure they are not living another side of life. We want to give away money, but we also want them to be good people like Hunter was."
Hunter's mom Jodi sister Hannah and uncle Brent also helped establish the foundation.
The 2018 scholarship winners from Newnan include Garrison Morgan and Addie Andrews, Northgate's Robyn Clarke and Kyle McLaren, and East Coweta's MaKayla Graham and Jakin Buckalew.
The foundation, however, goes beyond helping future college students.
In addition to being an excellent student and multi-sport athlete, Hunter was known as someone who offered comfort and encouragement. 
span class="Apple-converted-space"> 
span class="Apple-converted-space"> 
A post on the foundation's Facebook page read, "It's about spreading the message of hope, love, kindness and letting everyone know there is always someone here to help in whatever circumstances," 
For more information about the Hunter Scarbrough Foundation and the Hunter Scarbrough leadership scholarship see hunterman.org.
(Chris Goltermann contributed to this story)