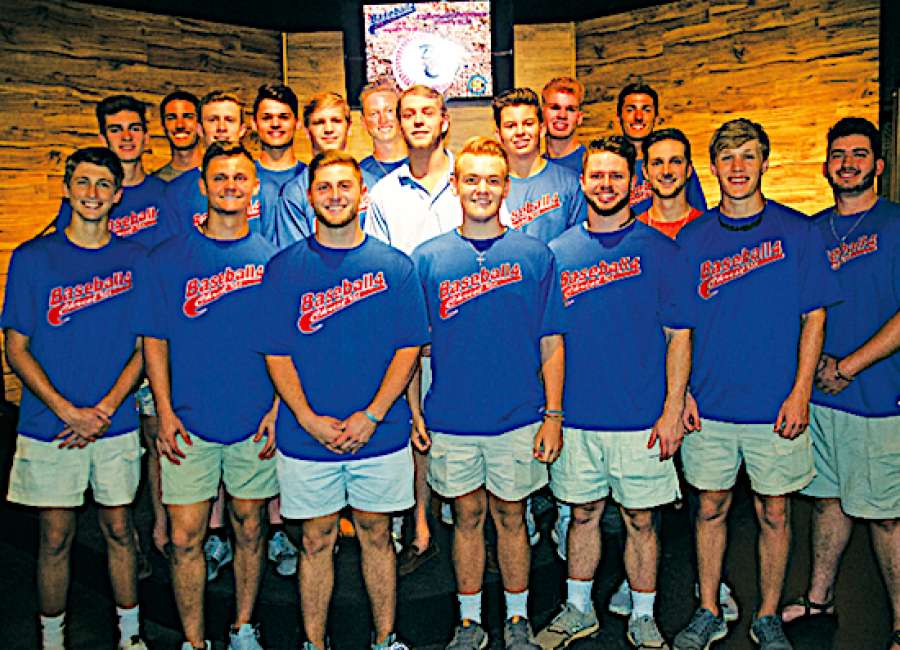 When friends Mike Winslett and Brian Morgan came up with the idea to start a Christian mission nearly 10 years ago focusing on their love of baseball combined with spreading the gospel, "Baseball4Christ" was born.

Since that first trip in 2010, it's turned into a life-changing ministry. 
Baseball4Christ sends local high school players to the Yucatan Peninsula in Mexico to play games, conduct clinics for local children and work with churches in some of the most poverty stricken parts of the country.
Winslett and Morgan had plenty of unanswered questions before launching what has now turned into an annual mission trip.
For one thing, they weren't sure there was enough interest in this type of ministry.
Jump ahead almost 10 years, and the annual mission has turned into something both Winslett and Morgan are proud of, and with good reason.
"The relationships we have developed with the people of Mexico are so special," Morgan said.  
Winslett is quick to give God credit for the growth of the ministry.
"God has made it so easy for us," Winslett said. "No matter what obstacles we came across, they melted away."
Although the Baseball4Christ mission team has access to Spanish speaking translators during the trip, the language barrier has never been a problem.
"Our Spanish is terrible, but it doesn't matter, because baseball becomes the common bond. It's almost better not knowing the language, because you work harder at understanding each other," Morgan said.
Baseball4Christ has become a big fraternity with players make lifelong friendships with each other and with those they minister to during the week-long trip.
More than 200 players have been apart of the annual mission trip with some going  on the trip more than once, including Carson Balliew, who returns a graduate assistant this year.
"I have shared stories, but for the guys going on the trip for the first time, it's something they have to experience for themselves,"  Balliew said.

Winslett and Morgan still stay in touch with most of the players who have gone on the trips over the years.
In addition to Winslett and Morgan, long-time baseball coach Tim Lowrey and pastor Rhodes Skinner have made every trip with Baseball4Christ.
Baseball4Christ goes through a stringent selection process with baseball ability being just a small part of the decision making process.
Players are nominated by their high school coaches and pastors and must turn over all access to social media as part of the selection process.
This year, players from East Coweta, Newnan, Northgate and GISA state champion Trinity will make the trek.
Representing East Coweta are pitcher/catcher Ryan Dyal,  pitcher/third baseman Dooley Bunn, outfielder Nick Danel, outfielder Bailey Psaithas, and pitcher Liam West.
Newnan first and third baseman Jacob Blair has been named team captain for this year's Baseball4Christ team. 
Other players from Newnan going on this year's Baseball4Christ team are outfielder Nick Bowie,  pitcher Jaxon O'Neal, shortstop/pitcher Elliott Schubert and twin brother outfielder Hamilton Schubert and third baseman/outfielder Will Willbanks.
Northgate will be represented by infielder/pitcher Donovan DeVane, outfielder Connor Fortner, pitcher Will Queen, and shortstop Chase Bevil.
Trinity's Kyle Riesselmann  will also make the trek.
For many, Saturday's plane ride and trip to Mexico will be the first time they have been out of the country.
That has elevated the excitement for many of the players.
DeVane,who is going on his first mission trip. said he got the urge to attend after talking to former Northgate teammate Parker Baxter, who went last year.
"He spoke real highly about it," DeVane said. "I am really excited about playing against other teams and working with all the little kids. Parker talked about how they treat us like superstars and just love being around us."
The Baseball4Christ team flies out of Atlanta Saturday morning and plays its first game at 3 p.m. that afternoon against the Bon-Fil Tigers.
They also have  baseball game against a local university team at Cancun Pro Stadium on Monday.
After mission work Tuesday morning, the squad goes on a two hour bus ride to play against a Mayan team in Puerto Carrillo.
The Baseball4Christ squad plays its last game on Thursday against Isla Mujeres.
Winslett and Morgan want the Baseball4Christ squad to win the four games, but those contest are just a small part of the mission trip.
Most of the week will be filled with mission work, baseball clinics and spending time with residents, especially the children.
 One of the goals is also to have a rotation so one the local high school head baseball coaches can make the trip each year.
This time, Northgate head coach Todd Herrington is going with the team.
"I am really looking forward to it," he said. I hope I can change some lives. I know it is going to change me."