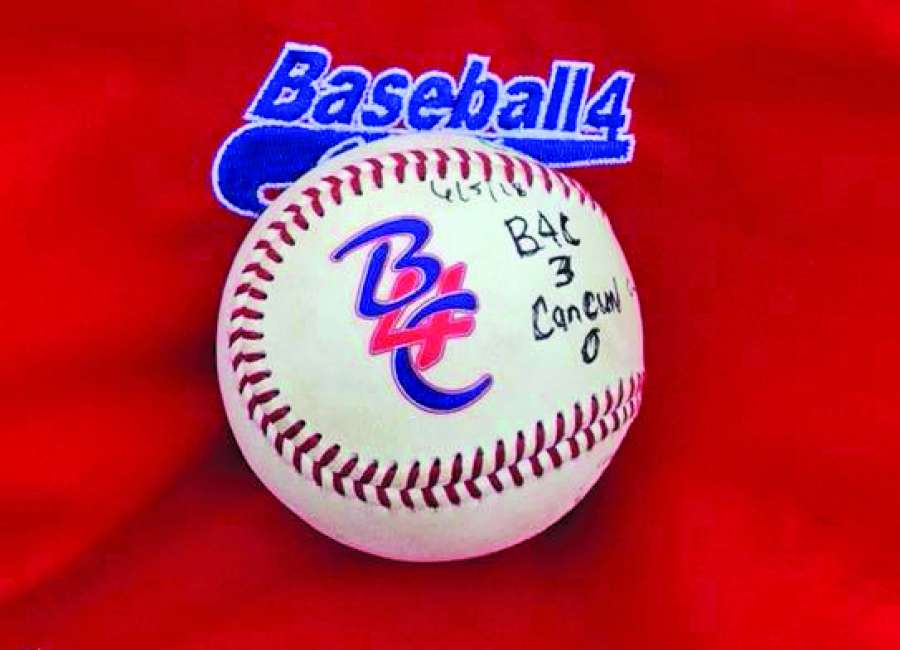 By CHRIS GOLTERMANN
CowetaScore.com
The name of the mission begins with "Baseball," but for the first time in recent memory, it may have only felt like a game to a group of high school and college/level players who have made it an everyday part of their lives.
But on Baseball4Christ's annual trip to the Yucatan Peninsula in Mexico earlier this month, it was secondary.
Instead of plays and at-bats, most of memories from players over the week-long mission came off the field through their interactions with local children as well as their fellowship with one another.
Some of it was expected. Other moments were drawn only from experience.
"I had heard from everybody else how it was amazing and they were talking about it was going to test your strength," said recent Newnan graduate and 2018 All-County Most Valuable Player Will Wilbanks, "I thought, 'aah this is going to be easy. But it really did touch you. It made you strive to keep growing in your faith. It really is life-changing."
They weren't the only ones who were inspired, however.
"The best part of the trip for me was seeing these guys pour their hearts out. It warmed my heart to see those young guys give themselves up. You could tell that it touched their lives," said Northgate head baseball coach Todd Herrington after participating in his first Baseball4Christ mission. "Seeing them be excited about helping others inspired me. They helped me way more than I helped them."
The interactions between Baseball4Christ's athletes and area children on the ninth annual mission from June 3-9 was as much a highlight of one of the smoothest and arguable most successful trips.
This year's team went undefeated over four games including one that ended in a walk off victory.
"The first three teams we played were good and the fourth one wasn't bad either," said Northgate graduate Donovan DeVane, who recently signed with Shorter to continue his career in college. "It was everything I expected and more for sure.
A year after heavy rain caused some schedule changes and at least one rainout, any headaches were minimal over the course of the week outside of a brief scare when recent Newnan High graduate Elliott Schubert was hit in the face during a game.
After receiving treatment, both Elliott and twin brother Hamilton returned to the U.S. a few days early but not before both became two of the 10 players along with DeVane that were baptized during the mission after giving their testimonies.
"We saw more emotion in these kids. They were closer as a group probably than any we've ever had," said co-founder Brian Morgan, who again joined Mike Winslett to lead a mission following an idea the friends had prior to 2009 before making it a reality. "They were less competitive, but they won as many games [as any other]."
Baseball remained the common bond in many situations, especially when it came to hosting multiple clinics that were held following the four games played on the mission. All of which ended in victories for a lineup that included players from East Coweta, Newnan, Northgate and Trinity Christian. Herrington and Tim Lowery, who has coached all nine Baseball4Christ lineups, were equally joined by a trio of graduate assistants in Sam Sowerbrower (Columbus State; Newnan), Thomas Leone (Chipola; East Coweta) and Carson Ballew (West Georgia Tech; East Coweta).
"Every time is different. Right away we all got along. Everyone seemed to know each other," Ballew said. "It just took a little bit for the guys to open up and say why there were there and what it meant to them."
The process got a boost, however, when the group was split into three smaller meeting groups after getting back to their rooms while implementing something new on this year's mission trip.
"We gave them small groups and they would meet in addition to our big group. That seemed to go amazing. They were able to grow together and in a small group it made it even easier," Morgan said. "That was a win for us to do it that way."
Growth was a theme throughout the trip. Spiritually, it was obvious through the 10 baptisms starting with the Schuberts before flying back while escorted personally by Winslett to make sure they returned home safely. Morgan conducted the others in the Caribbean Sea with others watching from the beach.
"That was a cool moment, going to down to the beach, people watching," said recent Northgate graduate Will Queen, a shortstop/pitcher for the Vikings this past spring. "It was definitely a great trip."
For those like Lowery, who were familiar with the area over the course of nine visits, growth also came in seeing some of the progress that's been made in impoverished areas. One that has been long known to the group as "Cardboard City" due to the frail materials used as housing, had gone through changes.
"A couple of years ago when the houses were just made out of cardboard, now they're concrete structures inside this little village," Lowery said. "Last year we put a tin roof over a shack. This year, it was a concrete building."
It was still as much an eye-opener for the first-timers, one that wasn't lost among a week of baseball games.
Whether a foam ball in years past or a piece of candy, the children of the area seemed to welcome the group again with open arms.
"Just seeing all the smiles on the kids faces. That was awesome. They were just so grateful for anything we could give them. Their faces would light up," Queen said. "We went to Cardboard City, going through there. Six kids would come out of a 10 foot by 10 foot house. We would come out and they'd be so happy."
Equally, the relationships between the mission group and its hosts in the Cancun area have equally matured. Last year's team pledged to aid a church that the group's longtime interpreter Fermin Catzin had started in his home country of Belize, coming through with their promise of $200 per month to help fund the ministry.
"Most of the adults try to sit together. But he always makes a point to sit with the kids. He gets to know every kid there. He wants them to know his story, but more importantly, he wants to know their story," Lowery said. "He does a sheet of paper every year where the kids write their names on. And that same sheet of paper will be in his Bible the next year."
Jerseys are often exchanged between players along the way, with most opponents also grouped as local all-star teams. Leone made sure to give his to interpreter Mendoza Juan Carlos and the group joined in with a signed baseball.
Lowery also had an opposing coach offer to exchange his jersey, but with an added request.
"The coach was taking his team to a big national tournament and he says I want you the jersey and have you pray for my kids," said Lowery.
The team also held vacation bible school in the squatter's village while also visiting with children at area schools where they were greeted with smiling faces as well as a familiar greeting.
"There's a language barrier, but you don't even feel like it's there," Queen said. "They all come up to you and try to talk to you. When they come up to you they give you a high five and then a fist bump. That's like their greeting and they all do it, even the two or three year olds."
Fortnite and video games have become the norm for American children, but for those without a Playstation 4, a laptop or even a TV, there were other games of skill to share while also singing songs together including ones used by the group every year.
"Our song we sing down there [is] 'I've got joy," Lowery said. "You go to the school and here's kids four or five years old that come up to you and want to play rock, paper scissors. I don't think I had that coordination at four or five to play rock, paper, scissors."
"Smiles and hugs" were as much an alternative to communicating to the children through language according to DeVane. Varsity teammate Connor Fortner, who also graduated this year, agreed after equally making his first mission trip with Baseball4Christ.
"Being honest I really didn't know what to expect going down there. I didn't know the amount of poverty that we would be seeing," Fortner said. "The kids who did VBS with us, they were always so open, so happy and smiling. It was a great experience. It's as much for a mission as it is for people going on the trip. Seeing how powerful that is, being around Godly people."
A future goal for Baseball4Christ heading into its 10th anniversary continues to be growth. Winslett continues to look into the possibility of a mission house that could allow players and coaches like Lowery to visit regularly and hold clinics or do mission work.
"All Mike would have to do is tell me when to get on the plane," Lowery said.
This past year, Baseball4Christ sponsored a team in Quintana Roo while continuing to see its roots grow and expand.
"It's relationships," Winslett said. "The relationships in Mexico, the relationship with the players, parents, coaches. Even mine and Brian's. Everything gets stronger each year it goes by."