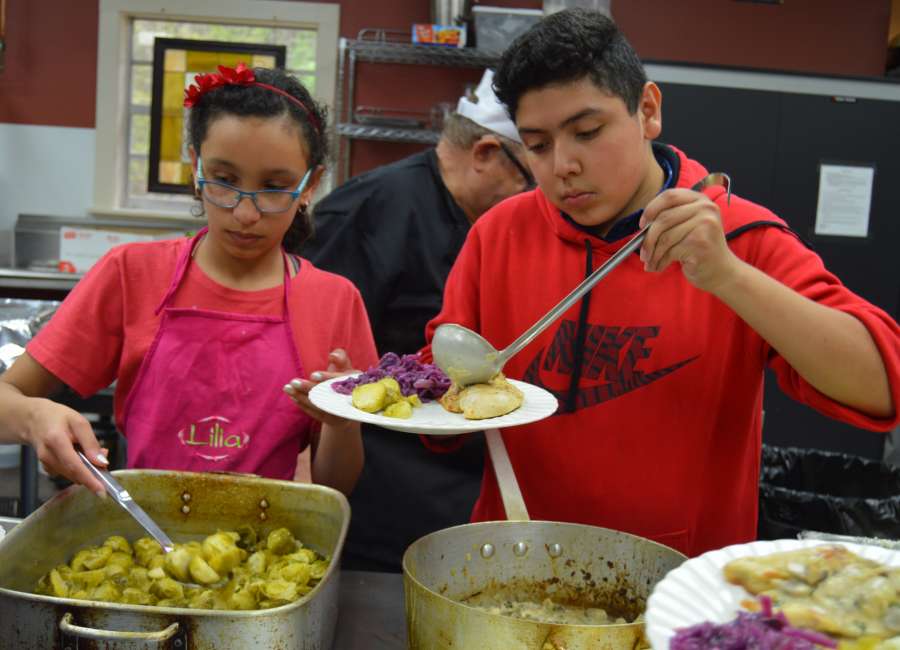 The smell of fried, sauteed, baked and fresh foods will fill the kitchen and dining hall of St. George Catholic Church at 771 Roscoe Road this July.
It won't be adults cooking up a storm, but local children chopping, tossing, cooking and whipping up delectable delights from soup and salads to baked chicken and cakes.
The students will be participating in the third annual St. George Catholic Church Culinary Camp for kids.
The courses will run from July 16 through July 27 and are for students ages 11 years old to 17 years old.
"It will be a very busy kitchen," said Scott Eldred, head of the Culinary Camp. "They'll learn knife skills by cutting up a lot of vegetables, chicken, and beef. They'll see the results of their hard work and learn that 'leftovers' can make a big, nice pot of soup for dinner."
Kids get to sample their creations, and are allowed to take some flavorful bites home to their parents.  
Eldred said campers also learn a lot about nutrition and cost.
"We use fresh products and teach the kids the benefits of eating quality food at a low price, using fresh vegetables versus canned vegetables. Each meal we make is $2 or less per serving," said Eldred. "We learned a lot of our campers now help their parents pick out groceries from the store."  
The culinary students will learn how to read a recipe and try different cooking techniques, like sauteing and baking, from a variety of guest instructors.
"The kids will have to make a wedding cake from scratch; no boxed ingredients," said Eldred. "Then they'll bake it, ice it and have a piping tool to decorate the cake.
"We have a lot of fun and the kids seem to learn a lot," he added. "Children don't learn unless there's a certain level of fun to the lesson."
Once campers reach a certain comfort level, Eldred sets up a 'restaurant style' environment. Students will be paired off into groups, with a supervisor, and be in charge of slicing, cooking or baking one element of a meal.
The lesson includes showing campers how to create plates with a good 'eye appeal' and aroma.
The pint-size chefs will wrap up camp by learning how to flip burgers and skewer different meats and vegetables over a charcoal and a gas grill.
Eldred is head of the Culinary Ministry at St. George Catholic Church. In addition to the summer culinary camp, he and his wife, Donna, run a winter camp beginning in February.
He said he enjoys watching each camper grow and learn.
"I'm so very proud of these kids," Eldred said. "I love watching them focus on recipe, make the recipe and then sit down and eat something they created. Plus, they're making friendships along the way."
For more information on the Culinary Camp for kids at St. George Catholic Church, contact Scott Eldred at 770-295-9789 or email him at dsel65@gmail.com.
Creative cuisines for children
Even young children can get in on some baking fun in the kitchen – supervised by an adult, of course.

Here are a few simple desserts, cookies, candy and snacks that kids will be begging to create over and over again.
(Recipes Courtesy: Feast of Saint George cookbook)
Jello Popcorn Balls
Ingredients:
1 c. light corn syrup
½ cup granulated sugar
1 small Jello, any flavor
11 cups plain popcorn, popped
Recipe:
Combine syrup and sugar in a saucepan; boil until clear. Remove from heat.
Add Jello and mix until dissolved.
Pour over popcorn and mix well.
With butter coated hands, roll gobs of the popcorn mixture into a ball.
Wrap each ball individually with clear plastic wrap and set.
(Courtesy: Caroline Savoie)
Chewy Chocolate Cookies
Ingredients:
1 ¼ c. butter, softened
2 c. sugar
2 eggs
2 tsp. Vanilla extract
2 c. all – purpose flour
¾ c. baking cocoa
1 tsp. baking soda
½ tsp. Salt
2 c. (12 oz.) semisweet chocolate chips
Recipe:
Preheat oven to 350 degrees.
In a large bowl, cream butter and sugar until light and fluffy.
Beat in eggs and vanilla extract.
In another bowl, whisk flour, cocoa, baking soda and salt. Gradually add it to the creamy mixture.
Stir in chocolate chips.
Drop by teaspoonfuls onto lightly greased baking sheets. Bake 8-10 minutes.
Cool on pans 1 minute
Place cookies on wire racks to cool some more. Then serve.
(Courtesy: Donna Eldred)