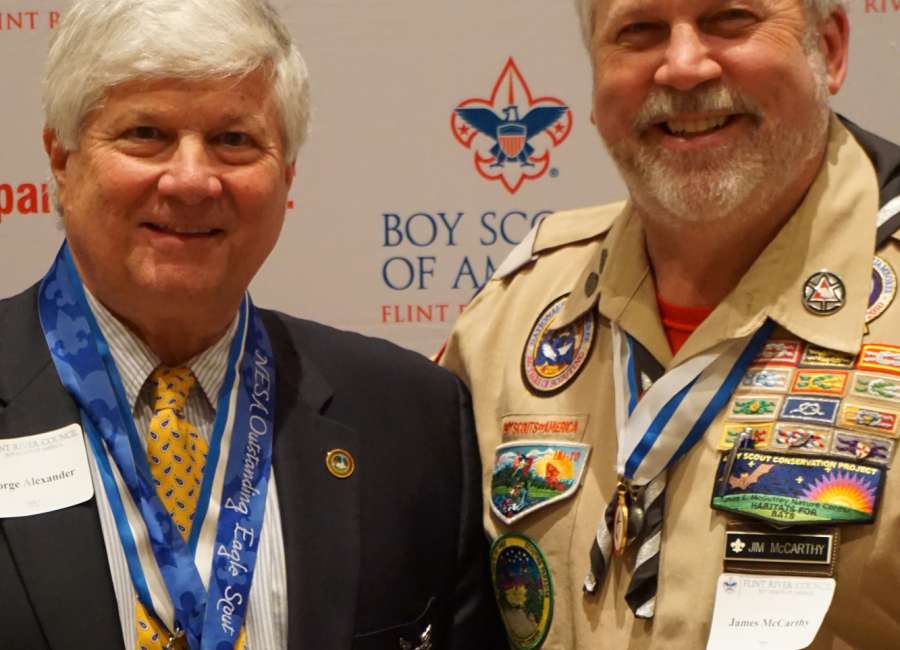 Jim McCarthy, longtime Boy Scout leader at Cokes Chapel United Methodist Church near Sharpsburg, has been honored by the Flint River Council for his dedication.

McCarthy and George Alexander, Newnan city councilman and Coweta District Scouting chairman, were both honored at the Flint River Council Adult Recognition Dinner.
At the dinner, it was announced that the Coweta District earned the Silver Level in the Journey to Excellence. That award was accepted by Mickey Goodwin, Coweta district executive, and Alexander.
Alexander was honored by receiving the Outstanding Eagle Scout Award. The prestigious recognition is granted by the local council's National Eagle Scout Association committee to Eagle Scouts who have demonstrated outstanding achievement at the local, state, or regional level.
McCarthy, assistant council commissioner and charter representative for Scouting at Cokes Chapel, was honored with the Hornaday Gold Badge at the March 29 banquet. The Hornaday award is given to recognize an adult's volunteer service by a council for influence the nominee has had on youth and educational programs.
The Hornaday award carries with it an emphasis on sound stewardship of natural resources and environmental improvement, and recognizes impact during a period of at least three years.
The district recognition banquet was held at Oak Hill Baptist Church at Williamson.