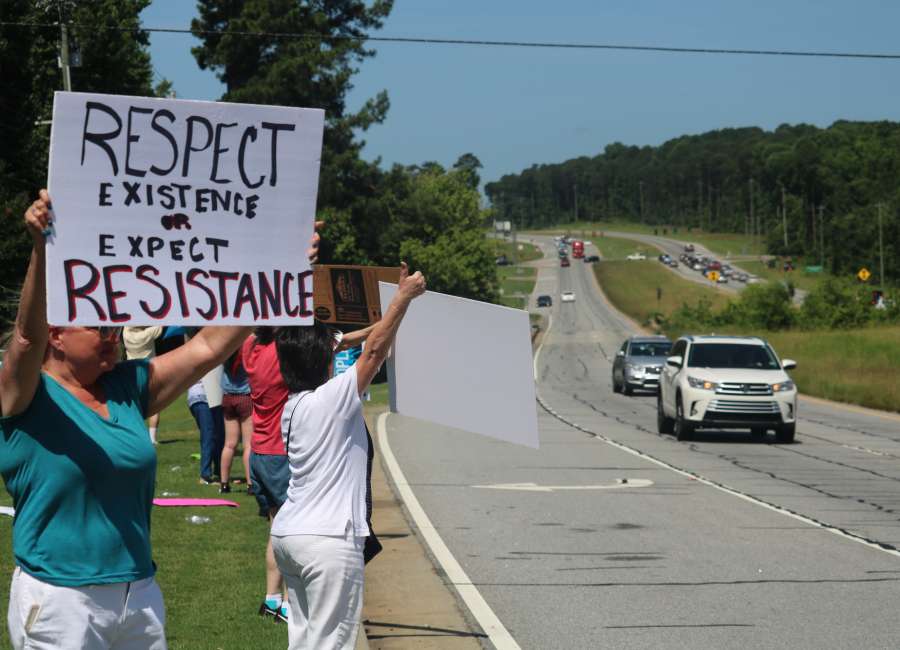 ---
In the wake of a large public outcry about the zero tolerance immigration policy, locals came together to protest the separation of children from their parents on Wednesday.
"We've come out here in support of real policy change," said Sasha Kay, secretary for  Indivisible GA-3rd. "There is no law that mandates separation of children. This is the Republicans policy. They have come up with this. They're trying not to take blame for this. But the truth is this is what they've always wanted."
Members from Indivisible GA-3rd, Coweta County Democrats, Refusefascism.org and others stood outside congressman Drew Ferguson's office with their signs wanting their questions answered and concerns heard.
"I've been very disturbed about what's happening in our country," said Janice Meadows, zero tolerance protestor. "We want to know what Ferguson's position is on this and what he's going to do. Or if he's going to do anything. Is he going to stand up to Trump?"
Ferguson was not in Newnan to personally receive the protesters, however, his aides were there to collect all concerns and grievances to send to Washington D.C.  
Ferguson's team did not have an official statement regarding the protest.
"People like Ferguson have not even made a peep about this," said Kay. "They don't want to have to admit that what they're doing is wrong."
The protesters were also able to sign a petition to stop the policy that was also sent to the country's capital.
Chuck Enderlin, the Democratic candidate for Georgia's 3rd congressional district, who will be running against Ferguson in the upcoming November midterm elections, made an appearance to support the protest.
"This is what our leadership is supposed to do," said Enderlin about supporting political causes. "They are supposed to have courage."
Enderlin believes leaders are doing the wrong thing, and that means standing up and saying things are wrong.
"I can't believe that our leadership can be doing something so immorally wrong and then be silent and sit on the sideline," he said. "Being there let's the public know that they are being heard and it encourages people.
Enderlin said leadership is about being present for the people that they serve. "It's very easy to get discouraged when leadership doesn't listen," he said.
President Donald Trump signed an executive order, that would allow families to not be separated but detained together, late Wednesday afternoon.