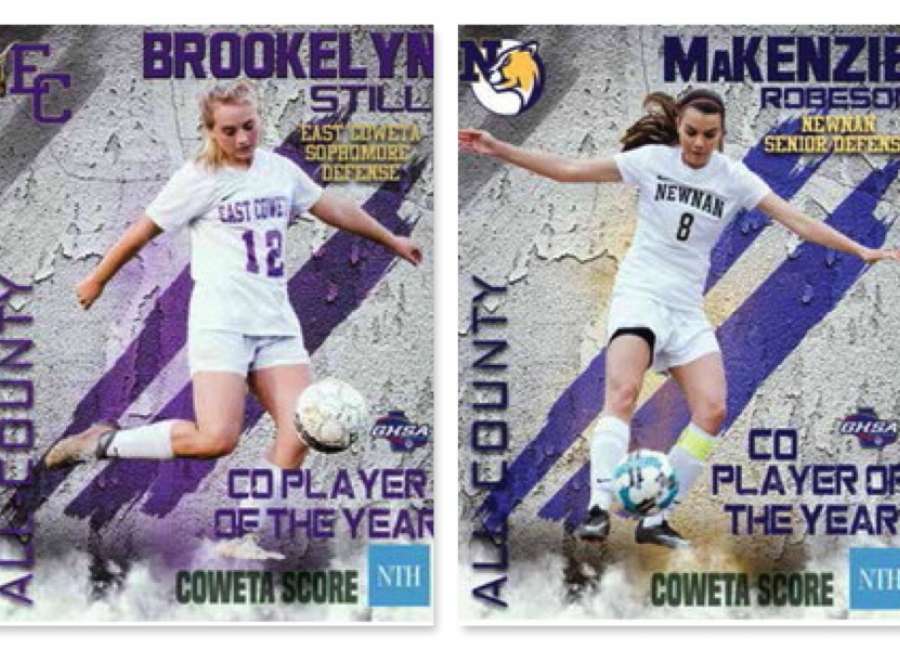 By definition, the 2018 girls soccer season will go down as a success for teams in Coweta County.

The Trinity Christian Lady Lions made it all the way to the GISA Final Four with their only loss to Augusta Prep at Mercer University
East Coweta  advanced all the way to the Class 7A Sweet 16, while Northgate made it to the Class 6A Sweet 16.
Newnan also made it to the first round of the Class 7A playoffs.
Teams won with a combination of potent offense and stingy defense.
This year's All-County Girls Soccer Team is also a blend of both upperclassmen and younger players.
East Coweta leads the way with 10 players on the first or second team. Eight players were selected from Newnan, seven from Northgate, six from Trinity and three from Heritage.
The Trinity Lady Lions used a potent offense on their way to the GISA Final Four with their top two scorers earning Co-GISA Player of the Year honors.
Senior forward Abby Bragg led the way with 47 goals and 28 assists, including a stellar performance in the playoffs.
Senior defender Chandler Hendrix proved she could score too, putting the ball in the back of the net 27 times and assisting on 20 goals.
Bragg opened the playoffs with three goals and three assists and had two goals and one assist in the second round. She finished the year with nine hat tracks.
Defensively, Hendrix stepped it up in the playoffs, helping the Lady Lions hold first-round opponent Monsignor Donovan to no shots on goal and Bulloch Academy to just four shots in the second-round.
Two defenders from rival school's share GHSA Player of the Year honors.
Senior defender Makenzie Robeson and East Coweta sophomore defender Brookelyn Still were named the Newnan Times-Herald/Coweta Score Co Players of the Year.
Robeson finished her high school career as the Lady Cougars' second leading scorer while helping them to a 15-3-2 record.
Still scored two goals and had five assists while helping limit the shots from Lady Indians' opponents as a lockdown defender.
Also making the first-team from East Coweta was junior goaltender  Abbie Chaves (98 saves, 11 shutouts), sophomore forward Emily Darnell (9 goals, one assists), senior defender Lexi Foley (team captain, solid defender), junior midfielder Adriana Garcia (11 goals, 5 assists), sophomore defender Megan Rainey and junior  midfielder Ellie Watson (9 goals and 8 assists).
Earning first-team honors from Newnan were junior midfielder Maddie Cramer (12 goals, 10 assists), junior defender Ryanne Hart (13 assists, 1 goal) and  sophomore forward Alice Marsh Willems (15 goals and 10 assists).
Earning First-Team honors for Northgate were sophomore forward  Emily Adamczyk (Offensive Player of the Year, 15 goals and 2 assists), defender Maddie Amundson (7 goals and three assists), junior midfielder Ryanne Smith (11 goals, 15 assists), sophomore forward/defender Hannah Sutherland (8 goals, 8 assists), senior midfielder Hannah Swenson (10 goals, 5 assists), senior defender Caroline Yarbrough (Northgate Defensive Player of the Year).
Trinity freshman midfielder Olivia Loris (15 goals, 11 assists) also earned First Team honors.
Three players from East Coweta earned All-County Second Team honors including midfielder Haley Cox (2 goals, 1 assist), senior  midfielder Brittany Dunnavant (4 goals, 2 assists) and senior defender Scarlett Steadman.
Three players from Newnan also earned Second Team honors including junior midfielder Alyssa Brauchier (4 goals, 3 assists), senior midfielder Hannah Marriaga  (6 goals, 2 assists), sophomore goaltender Maddie Miller (allowed just five region goals).
Northgate's  Madison Cathey also made the second team.
Twin sisters Caitlin and Callie Ledford also earned Second-Team honors from Trinity after standout junior years. Senior Lady Lions goalkeeper Cheyenne Teems (53 saves) finished with 16 shutouts.
Three players from Heritage, senior forward Keera McDonald, and junior midfielders Tricia McDonald and Carissa Vazquez earned Second-Team honors for the Lady Hawks.