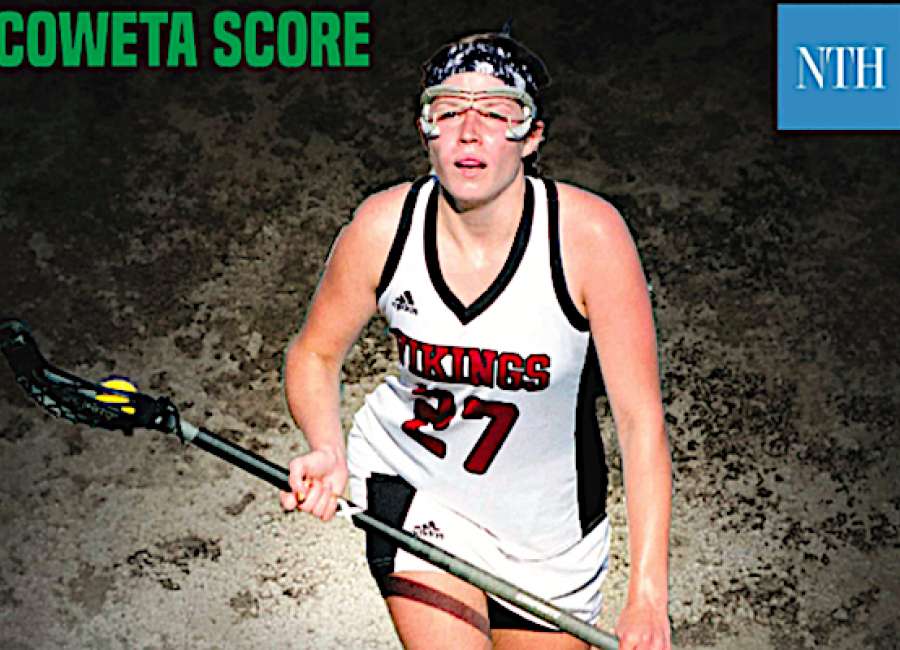 By CHRIS GOLTERMANN, CowetaScore.com
One has to learn to walk before they can run.
And Coweta County girls lacrosse has gone from a jogger's pace to the start of a hard trot in the nine seasons since varsity play began in the same area where the Creek Indians played the earliest versions of the game.
In those same terms, Northgate midfielder Sydney Tuttle spent the 2018 season in a full-on sprint while helping lead the Lady Vikings toward clearing future hurdles as it gets ready to close its first decade.
Tuttle took her first steps in Northgate's program as an eighth grader at a time where the sport - a hybrid that includes the stamina of cross-country, the hand-eye coordination of soccer or softball and the speed and offensive IQ and techniques from basketball.
Five years later, she leaves as one of the most talented players to ever put on a Lady Vikings jersey as this season's All-County Player of the Year as selected by Coweta Score and The Newnan Times-Herald.
Tuttle was a centerpiece of Northgate's success while not only her team's top scorer with 62 goals but as a specialist on the draw, finishing with 111 wins in just 17 games that included a game-high of 13. The senior graduated this spring after a 12-5 season that included a fifth straight Coweta Cup, an Area 1-6A/7A title and a trip to the state playoffs for Northgate, which also had plenty of help while leading this year's All-County team with 12 selections including both this year's Player of the Year and a Co-Defensive Player of the Year in senior goalie Kayla Hamlett.
Hamlett, who will play at Life University in Marietta, posted 152 saves in her final year led by a game high of 19 in an Area 1-6A/7A win over Campbell.
This year's All-County selections were split among First and Second
teams, with Northgate garnering 12 honorees, eight of which came between Player of the Year or First Team designations.
East Coweta won 11 games in the most successful season in program history while also finishing over .500 for the first time in its nine varsity seasons.
For their efforts, the Lady Indians finished with 10 All-County selections.
Along with three players named to the First Team, East Coweta had players that shared Offensive and Defensive Player of the Year.
Joining Northgate's Hamlett with Co-Defensive accolades was Lady Indians senior midfielder Katie Morganroth.
A versatile can-do standout at both ends, Morganroth provided balance with 8 interceptions and 19 takeaways on defense, won 26 draw controls at center, netted 15 ground balls and also had 10 goals and 7 assists on offense.
The other half of East Coweta's top honorees among a pair of senior midfielders was Co-Offensive Player of the year Caitlyn Moore. She was also a leader in nearly every statistical category with a team-high 44 goals to go with six assists on offense.
Moore also finished with 39 draw controls, 7 ground balls and 6 takeaways.
Newnan also reached the Class 6A/7A state playoffs in the first year that all three girls programs went to the postseason simultaneously. The Lady Cougars won 10 games and had eight players represented on the All-County Team.
They were led by Co-Offensive Player of the Year Mallory Williams, who finished with 60 goals and 11 assists. The senior, who signed with Lenoir-Rhyne, also posted 12 takeaways and four interceptions on defense to go with a team-best 84 draw controls.
Seniors dominated First Team selections with recent graduates making up seven of the 12 players honored.
In her final season, Tina Sierra scored 36 goals and seven assists this spring while among three Lady Viking first teamers on attack. Chaelyn Brewer and Chandler West also combining for over 30 goals.
Sophomores Callie DuBose and Kennedy Halpin seemed ready to take on a larger role in the offense starting next season, each finishing with double-digits in scoring including a 20-goal effort from Halpin.
DuBose also picked up 15 ground balls to rank second on the team behind only Tuttle.
Junior Morgan Robertson finished second among Northgate players with 22 draw controls at center to go with 9 goals.
The Lady Indians were represented by three defenders in senior Lauren Chaves along with juniors Rebecca Ghyzel and Summer Watson. The trio combined for 15 goals, 26 takeaways and 18 ground balls.
Newnan had three First-Team honorees. Sarah Dougherty, who signed with Brenau, scored 53 goals and added 6 assists.
Defensive midfielder Kandace Benefield equally stepped up while posting 43 goals and 7 assists to go with 24 ground balls while signing with Shorter.
Senior Savannah Cochran also closed her varsity career with strong numbers that included 22 goals and 5 assists. Her
31 ground balls ranked third for Newnan.
All three state playoff teams also had at least three representatives on the All-County Second Team, led by five Lady Indians. All but two are underclassmen.
They include East Coweta junior Maura Ann Ray (20 goals, 4 takeaways, 46 draw controls) and sophomore Kaitlynn Alford (23 goals, 2 assists, 2 takeaways).
Senior Adelyn Ryan, signed with Life after scoring 25 goals this season, while sophomore Anna Robbins also finished with over 30 goals and 4 assists on attack.
Junior goalie Katie Owens provided a boost at the other end of the Lady Indians' lineup with 66 saves.
Newnan senior goalie Joyce Fowler also earned a Second Team nod, making 147 saves and allowing less than 8 goals per gam.
She was joined by Newnan juniors Sadie Smith (22 ground balls, 6 takeaways), Kailey Laudicina (11 goals, 20 ground balls) and Angelica Powell (20 ground balls, 5 interceptions, 5 takeaways).
Northgate had four All-County Second Team defender in juniors Olivia Sims, Sarah Cook and Sara Herda along with sophomore Franci Hainley.
The All-County team was selected between sports staffs of The Newnan Times-Herald and Coweta Score following a nomination process by coaching staffs.