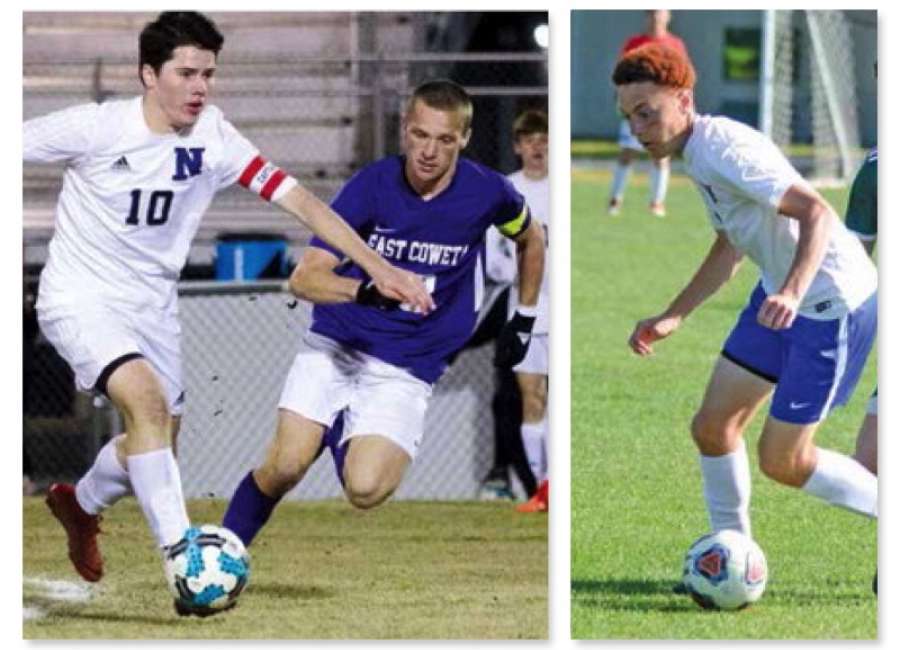 Balanced might be the best way to describe this year's Newnan Times-Herald/Coweta Score Boys All-County Soccer Team, and with good reason.

All five schools are represented on both First and Second Teams among 31 combined athletes during a 2018 season that had each lineup competing for state playoff berths this spring.
Among the highlights were East Coweta's return to the state quarterfinal round for the first time since 2013, doing it as a No. 4 seed out of Region 2-7A after battling Newnan to the finish for the final playoff berth. The Cougars still managed to win 12 games, the most for the program since winning a dozen during a state playoff year in 2012.
Northgate also held on to finish fourth in a competitive year in Region 5-6A where the Vikings held off Tri-Cities for the final playoff berth.
The county's two GISA programs also moved on to the postseason, led by Heritage School's return trip to the GISA Class AAA Final Four before falling to five-time state champion Westminster-Augusta. Trinity opened the playoffs with a loss to Westminster in the first-round after finishing as the No. 4 seed in a region that included two of the eventual state semifinalists in both Heritage and Fugees.
Three standout seniors helped lead the way individually while earning top accolades on the All-County Team.
East Coweta's Baylor Asher and Alex Glomba share this year's GHSA Co-Player of the Year honors, while Heritage senior midfielder Zach Robinson was named the GISA Player of the Year.
Asher helped the Indians win 12 games including a pair of upsets in the Class 7A state playoffs. the senior midfielder finished with a team-high 13 goals while adding nine assists.
Glomba, also a senior midfielder for the Cougars, concluded his high school soccer career with 10 goals and 10 assists as the Cougars also won 12 games.
Heritage's Robinson finished his career with two straight trips to the Final Four to earn this year's All-County GISA Player of the Year. Robinson finished with 14 goals and 13 assists for the Hawks while earning All-State and All-Region accolades.
Joining Asher with first-team honors for East Coweta are senior defender Ismael Aguirre (7 goals), senior goalkeeper Sam Briggs (115 saves), junior forward Francisco Duarte (8 goals, 7 assists), and senior defender Peter Walker (5 goals, 8 assists).
Also earning first-team honors from Newnan are senior defender Giovanni Enriquez (3 goals and 5 assists), sophomore forward Dean Goad (11 goals and 3 assists) and junior forward Angelo Sanon (11 goals and 8 assists).
Northgate was represented on the All-County First Team by three seniors that earned All-Region 5-6A First Team honors. They included top defender Nick Faulkner and forward Stephen Anderson, along with keeper Kyle McLaren.
Senior forward Hays Burns (14 goals, 3 assists), senior defender Christopher Gmeiner (8 goals, four assists) and senor goalkeeper Jack Hunt (75 saves) were named to the All-County First Team from Heritage.
Senior midfielder Trinity's Cristian Loris (GISA All-Region and All-state honors) was named to the first team for the Lions.
Earning All-County Second team honors from East Coweta were sophomore midfielder Matthew Allen (2 goals, 4 assists), senior midfielder Ty Anderson (5 goals, three assists), senior defender Wyatt Palmer (5 goals), senior midfielder Ezra Rubenstein (4 goals, 1 assists).
Junior midfielder Tanner Bassett (4 goals, 5 assists), junior defender David Ponce (great defender), junior defender Marek Schulz (4 goals) and junior goalkeeper Rad Wyatt (68 saves, 33 saves in region) earned All-County Second-Team honors for Newnan.
Senior defender Brian Chae and newcomer Erek Graham, who jumped right into the Vikings' lineup up top as a freshman, were named All-County Second Team from Northgate after also being named to the All-Region 5-6A Second Team.
Junior defenders Peter Nell and Gridley Pendergrast (1 goal, 8 assists) earned All-County Second-Team honors from Heritage. Both were among Heritage's All-Region selections in GISA 1-AAA.
Trinity's forward Luke Anderson and goalie Sean Davis earned All-County Second Team honors.