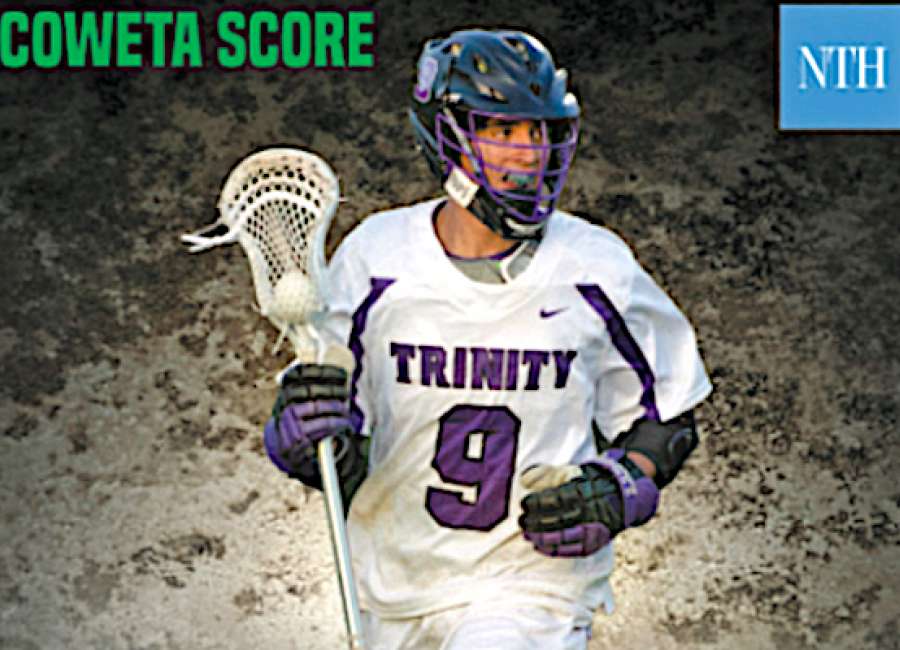 By CHRIS GOLTERMANN, CowetaScore.com
The 2018 season was both a timeout and a time-in when it came to boys high school lacrosse. One school scoring record was rewritten at East Coweta in a year when the Indians hosted a GHSA state playoff game for only the second time in program history.
At Trinity Christian, a blank page became filled with school records that immediately set the bar for the Lions' program in its inaugural year while immediately shining a spotlight on a surefire state playoff contender when the 2009 season arrives following a non-region schedule.
Even with Newnan com-ing just shy of making the state playoffs this spring and Northgate taking a brief timeout while opting to play a JV schedule, there should be a lot to look forward to in Year No. 10 of high school lacrosse locally when looking at standards set in 2018.
In just its first varsity season, newcomer Trinity Christian led a balanced All-County Boys Lacrosse Team this spring as selected by Coweta Score and The Newnan Times-Herald.
Eight Lions were included among the 21 total honorees this year in Trinity's inaugural season, which was pushed up a year while playing a non-region schedule.
It still generated an solid 15-2 record against GHSA programs including efforts over Class 7A opponents Brookwood and Lanier as well as one over First Presbyterian Day, a state playoff team out of Area 4 in Class 1A-5A where Trinity will likely be grouped next season. 
The charge was led by a pair of All-South Metro First Team selections in sophomore Tanner Price and junior Zach Jones.
Price's scoring prowess put him among the top players in the country en route to earning All-County Player of the Year honors. His 92 goals and 83 assists ranked him as the No. 1 scorer among players listed on MaxPreps.com.
Even without the possibility of a state playoff game this spring, Price only missed the state scoring record held by Nate Soloman (188 points/22 games) in 2014 by 11 points. Yet he did set a new state mark with a 10.3 points-per-game average.
Jones was among a pair of local midfielders in the county that thrived when it came to a scorer's touch. The junior, who emerged as an All-County football safety last fall in Trinity's GISA state runner-up finish, closed the lacrosse season with 82 goals and 22 assists.
East Coweta senior Madison Duffessy equally left his mark on the Indians program in 2018. In his final varsity season, the North Greenville signee set a new single-season scoring record at ECHS with 61 goals. The standout midfielder also had 10 assists and totaled 50 ground balls en route to All-South Metro First Team honors with Price and Jones.
For their efforts, Jones and Duffessy shared Co-Offensive Player of the Year accolades on the All-County team.
In all, the Indians had seven players honored on this year's All-County team in a year that included a head-to-head victory for the Coweta Cup with Newnan.
Both teams closed the spring with winning records at 9-6 and 8-6, respectively.
The Cougars have six representatives on this year's All-County team, led by defensemen Ben Wagner and T.J. Hill. Wagner was named to the All-South Metro First Team lineup last month after finishing with a team-high 21 takeaways.
Both Wagner and Hill, who was included on the All-South Metro Second Team, finished with 60 ground balls, most among Newnan defensemen. Hill also had two goals to go with his 18 takeaways.
East Coweta and Trinity Christian also had defensive players represented on the All-County Team.
Both East Coweta senior Tanner Schmeider, who anchored the Indians back line, and Trinity junior Zach Seymour, who had 49 ground balls, were named to the All-South Metro honorable mention.
Lions junior Jayson Marx gave Trinity another long pole on the All-County list after posting 59 ground balls while assigned to each opponent's top player on attack. He also made the honorable mentions on the All-South Metro squad.
Goalies on both lineups equally benefited from the efforts while equally making impacts of their own individually.
Freshman Logan Lundy immediately stepped in for Trinity to win 15 games and making 109 total saves.
On the other end of his varsity career, East Coweta senior Devin McCarragher was equally a catalyst for the Indians play- off season. Prior to an All-County distinction, the Brevard College signee was named to the All-South Metro honorable mention list after making 118 stops with a .560 save percentage this spring.
All three schools still managed to have their share of scoring depth this season. East Coweta had four other All-County selections finish with double digits among goals to go with four more from Newnan and three more from Trinity Christian.
The Cougars had a trio of middies included from the above list led by senior Tristan Daly's 27 goals. A versatile player who is capable of playing anywhere on the field according to coach Joshua Cyprian, Daly battled through a dislocated shoul- der early in the season but finished strong in a year that also included seven assists and 34 ground-ball scoops.
Junior Jack Carroll and freshman Jack Johnston were also named to the All- County team among Newnan's deep midfield. Carroll scored 18 goals and added 15 assists in addition to 74 ground balls with a "never quit attitude" according to Cyprian.
In his first varsity season, Johnston had 16 goals and 9 assists along with 67 ground balls.
Newnan's All-County players also included senior Clayton Garmany on attack after scoring 13 goals and adding 6 assists. East Coweta's honorees also included a pair on attack and two more midfielders in addition to Duffessy.
Junior middie Christian Barnes closed the spring with 18 goals, 3 assists and 24 ground balls at the position, while senior Jackson Elliot had 15 goals and 2 assists.
Up top on attack, seniors Bailey Brogan and Nick Daliet finished the year with 22 and 12 goals, respectively. Brogan added 5 assists and had 20 ground-ball scoops. Daliet added 8 assists.
Trinity's honorees included three additional standouts that scored at least 11 goals including a pair on attack. Junior Ben Easley had 35 goals to go with 8 assists, while Alex Seymour had 25 goals and 3 assists.
Midfielder Danny Baird also paced the Lions offense with 11 goals and 15 assists. But the freshman was even more valuable in the faceoff circle, winning 72-percent of his draws and finishing 159 ground balls.