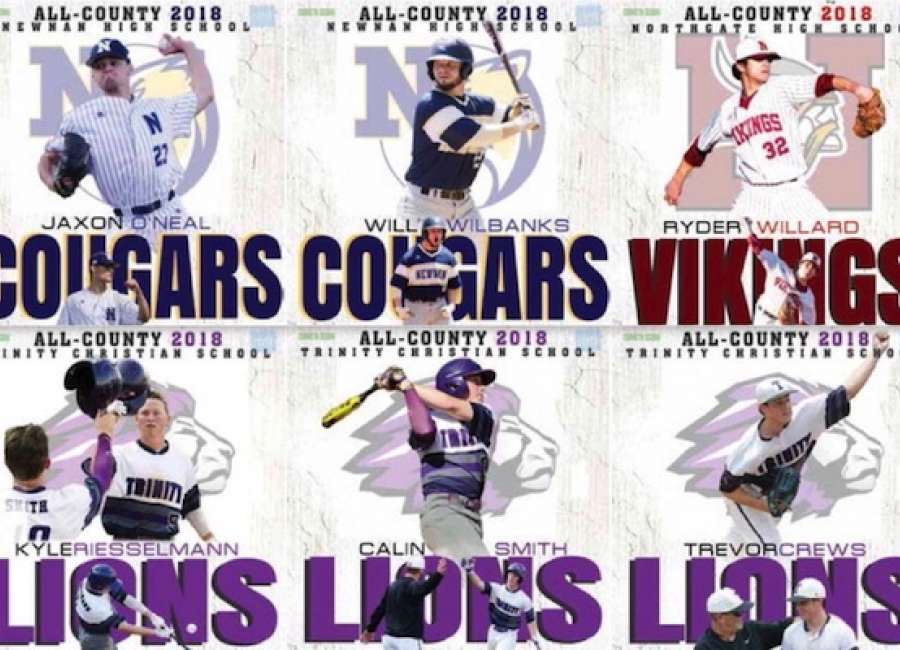 The 2018 baseball season was pretty special in Coweta County.
It produced a GISA state champion in the Trinity Lions and a run to the playoffs for Newnan, East Coweta and Northgate.
Each team is also well represented on this year's Newnan Times-Herald/Coweta Score All-County Baseball Team.
Newnan and Northgate lead this year's team with nine players selected to either the first or second teams.
Defending GISA state champion Trinity Christian put eight players on this year's first or second All-County team, while East Coweta had six players and Heritage had one player selected.
Newnan senior outfielder Will Wilbanks was named Player of the Year among local GHSA teams after leading the Cougars to a 25-11 record and trip to the Sweet 16.
Wilbanks flexed his offensive muscles with a .435 batting average, five home runs and 50 RBIs. He also had five doubles and one triple.
Newnan left-handed pitcher Jaxon O'Neal and Northgate sophomore right-handed pitcher Ryder Williard share GHSA Pitcher of the Year honors.
O'Neal finished with a 7-1 record with 1.46 ERA in 62 innings, including 80 strikeouts and just 12 walks.
Willard earned Co-Pitcher of the Year honors after leading Northgate to a 23-9 record and a trip to the first round of the playoffs before falling to Class 6-A runner up River Ridge.
Willard finished with a 6-0 record and a 2.0 ERA. He finished with 74 strikeouts and 14 walks.
After its successful state championship run  three Trinity players earned the top accolades in the Lions' final year in GISA.
The Lions hit more than 50 home runs as a team this year and displayed plenty of offensive firepower in other way en route to a 24-2 season.
Junior Trinity teammates Calin Smith and Kyle Riesselmann share Co-Player of the Year honors.
Smith headed into the state title series with Frederica batting .558 with 10 doubles, 12 homers and 42 RBIs.
Riesselmann batted .567 with a team-leading 13 homers and 43 RBIs.
The Lions' Trevor Crews earned GISA Pitcher of the Year honors after stellar performances throughout the Lions championship season .
In a 5-0 victory over Frederica in the best-of-three opener, Crews pitched a complete game shutout with 10 strikeouts.
Three players from East Coweta earned First-Team All-County honors after helping lead the Indians to an 18-13 record and a trip to the first-round of the Class 7A playoffs, including junior catcher Ryan Dyal (.292, 28 RBIs, 7 double, 3 triples, 5 homers), junior second baseman Tony Player (.347, 37 runs scored, 24 stolen bases, 27 walks) and sophomore pitcher Austin Bunn (5-4 record, 1.78 ERA, 73 strikeouts).
Four  players earned first-team honors from East Coweta, including twins Elliott and Hamilton Schubert.
Elliott  (.319,1 homer and 11 RBI, 9 stolen bases, 35 run scores) played  shortstop for the Cougars, while Hamilton (.333, 12 RBIs, 1 homer, 23 runs scored) patrolled the outfield.
Newnan junior pitcher Jake Martin (2.75 ERA, 5-5, 50 strikeouts, 12 walks), junior outfielder Woody Waters (.484, 30 hits, 11 RBIs, 24 runs scored) and senior first baseman Jacob Blair (.312, 24 RBIs, 11 runs scored) all earned All-County first-team honors for the Cougars.
Four players from Northgate are also represented on the All-County first team including senior Alex Cawood (4-1, 2.30 ERA, 46 strikeouts, 12 walks), sophomore pitcher Reid Fagerstrom (5-2, 56 strikeouts, 23 walks), junior catcher Connor Mask (.439. 14 RBIs, 10 runs scored, 5 doubles, 13 stolen bases), junior infielder and Shawn Ragan (.386, 14 RBIs, 6 stolen bases, 14 runs scored).
Trinity placed three players on the All-County First Team including junior second baseman junior  Brenan Burks (.468, 8 doubles, 24 RBIs), senior third baseman Shep Hancock (.369, 8 homers, six doubles) and sophomore catcher Alex Williford  (.420, 9 doubles, 6 homers, 33 RBIs)
East Coweta's junior outfielder William Kelley (.287, 19 RBIs, 24 doubles, 5 triples and 1 homer) and junior pitcher Peyton Ramey earned second-team honors for the Indians.
Heritage's senior catcher Chandler Retsky (All GISA Region 1-AAA) earned All-County second team honors for the Hawks.
Newnan junior pitcher Logan Hudson (4-2, 2.25 ERA, 38 strikeouts, 10 walks), sophomore third baseman Thomas Collins (.292, 12 RBIs, 16 runs scored)  honors, and senior second baseman Lucas Mapp (.250, 8 RBIs, 17 runs scored and four stolen bases) were named the second team.
Five players from Northgate earned second team honors, including  senior outfielder Noah Aaron (.285, 18 RBIs, 14 runs scored), junior pitcher Dalton Brooks (5-0, 43 strikeouts, 15 walks), junior outfielder Sam Jennings (.286, 12 RBI, 12 runs scored), junior second baseman Robert Smith (.316, 15 RBIs, 3 stolen bases) and senior William Queen (.250, 17 RBIs. 7 stolen bases).
Earning All-County second-team honors from Trinity are senior first baseman pitcher Jake Estes, junior shortstop Maury Weaver, and pitcher Chase Metcalf.