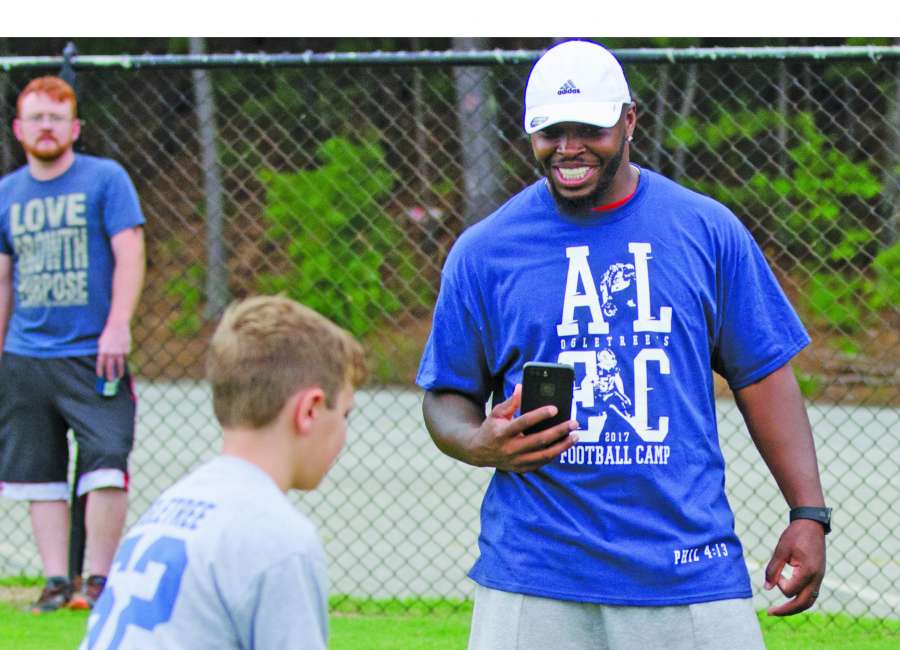 Former Newnan High School standout  linebacker and current New York Giant Alec Ogletree will conduct a free football camp on Saturday on the practice fields at Newnan High School.
 The camp will run from 9 a.m. to noon and is open to football aged 7-17.
Registration begins at 8 a.m.
  Ogletree played college football at the University of Georgia and was drafted by the Rams as the 30th pick in the first round in 2013. 
After spending his first five seasons with the Rams, they traded Ogletree to the New York Giants for two draft picks.
Ogletree has 501 tackles and six interceptions during his five five years in the NFL.
Trinity boys basketball team to hold golf tournament fundraiser: span class="Apple-converted-space">  on Aug. 25 at 1 p.m. at Summergrove with all proceeds going to the International Student Fund and boys basketball program.
Last season, All-County standout Erick Valdez was able to attend Trinity Christian before landing a Division I scholarship offer at Gardner Webb. 
The golf tournament fundraiser will be a four-person scramble format. Entry fee is $400 per team or $100 per individual. 
Sponsorships are also available for the event. 
For info, email Trinity Christian head boys basketball coach Will delaCruz at william.delacruz@tcslions.org
 Fleckenstein pitching in independent league: Former Northgate and LaGrange College pitcher Jonathan Fleckenstein is in his second season as a pitcher in the independent Pecos professional baseball league.
After playing last year with the High Desert Yardbirds, Fleckenstein signed with the Bakersfield Train Robbers this season.
The right-handed pitcher has compiled a 3-1 record with a 4.43 ERA with one save pitching primarily out of the club's bullpen.
In 24.1 innings pitched, Fleckenstein has struckout 23 and walked seven.
The Pecos League currently has 12 teams located in California, New Mexico, Arizona, Colorado, Kansas and West Texas.
Two alumni from the league have played at least one game in the majors with  Jon Edwards making his debut with the Texas Rangers in 2014 and Chris Smith getting called up by the Toronto Blue Jays in 2016.