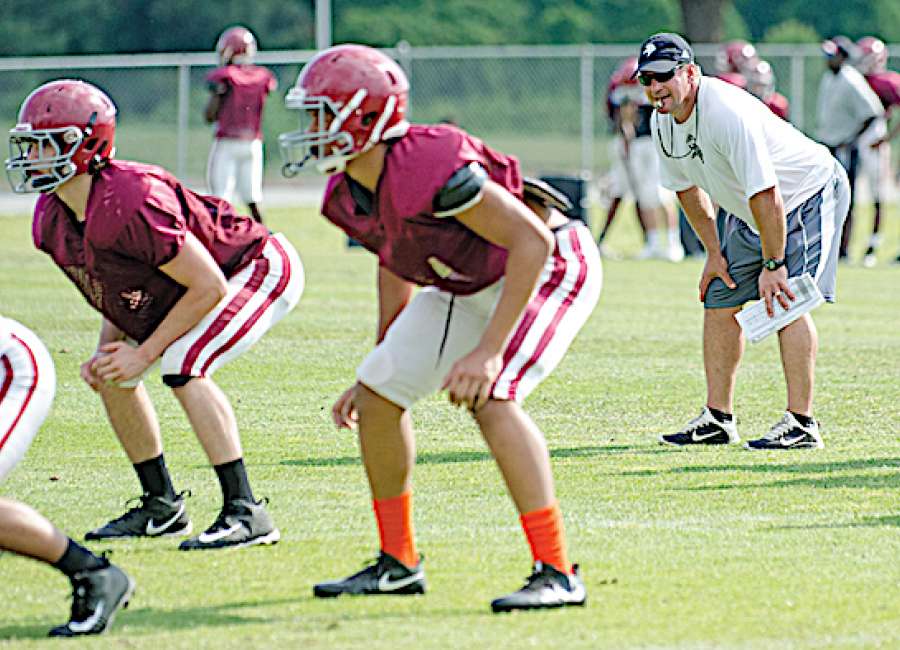 By CHRIS GOLTERMANN, CowetaScore.com

In the 24 seasons that Mike McDonald has been a football coach, the majority of which while leading a high school program, there's only been one occasion during spring practice where he felt confident enough to immediately line up for a game had the calendar read August instead of May.
That group at Newnan High was bound for the first of two straight GHSA Class AAAAA semifinal appearances back in 2008 with a certain current NFL middle linebacker playing safety in his junior year.
'We came back from '07 in '08 that we were able to go out there the first day of spring and we could have lined up and played a game,' said McDonald, at the time a defensive coordinator for Cougars prior to his promotion in 2009. 'We pretty much had everybody back. Twenty four years now, that's only happened one time.'
So a decade later on Tuesday while wearing an 'N' of a different Coweta County program on the front corner of his shorts, McDonald's mindset in day three of his first spring practice session at Northgate was no different.
'It's getting guys where they need to be, I think,' he said. 'A guy's playing one position, but he can help you at another. The goal is to get your best 11 on the field so that's you're mixing so trying to make sure you've got everybody right where they need to be. Sometimes you know that in two days, sometimes it takes two months.'
An allotted period of 10 practices, especially in a transition year after McDonald was hired only in mid March, seems like only a small sampling of what may be needed.
But much has been done in only a short time.
'It's been great so far,' he said. 'They've done everything we've asked. It's a similar mindset of what's been going on, but there's been some differences here and there.'
McDonald, who spent last year at East Coweta working with head coach John Small after leading Newnan to 56 wins and six state playoff appearances over eight seasons, went through mat drills with a new staff that's as much a hybrid that includes nine Vikings assistants that have helped lead all or at least parts of the most successful five-year stretch in program history.
Added to that group are four former Newnan assistants that have been reunited with McDonald including offensive coordinator Kenny Morris and defensive coordinator Lavarett Pearson. Doug Giaccone and Paul Pickett, who were at Newnan in 2016, also join the new staff. Northgate will play Newnan for the first time since 2003 this fall with the two county programs meeting on 'A little bit old, a little bit new. It works out,' said McDonald with a smile. 'There were some real good coaches here and we were lucky to add a few. It turned out good.'
While their position coaches haven't changed much, the Vikings will use the spring to get up to speed on some definite changes. A 3-5 defensive scheme used at Newnan during McDonald's tenure beginning as a coordinator under 300-plus game winner Robert Herring was already in place at practice. Offensively, comes a bigger shift away from the wing-T that had been a standard at Northgate since Tommy Walburn's hiring prior to the 2010 season.
The Vikings won 52 games over the span including a trip to the 2015 Class AAAAA Semifinals. Adding last year's 6-4 record in Kesley Dalrymple's lone season as head coach following a promotion, Northgate has posted a winning record in each of the last four years.
The 2018 season included an influx of youth. It will now create a large crop of juniors heading to this fall after carrying 20-plus sophomores a year ago.
The Vikings, though, will equally be hit hard by departures including those to graduation, none maybe more significant than three-year starter Kyle McLaren at quarterback.
In a run-first offense, McLaren threw for over 2,500 yards over his final three varsity seasons while responsible for all 723 from Northgate in 2017.
It's just one area that McDonald and the Vikings staff will have to evaluate while using a pair of intersquad scrimmages, the first of which on Saturday, to aid in the process. The other comes next Friday to conclude spring practice.
'We've got to get a look at them in a scrimmage setting. Some areas we have some depth and some areas we don't. Some areas we're very young, some we're not. It's spring football,' he said. 'They didn't have [a scrimmage game] scheduled, but that's OK. We need to worry about Northgate. I don't need to worry about anybody but us.'