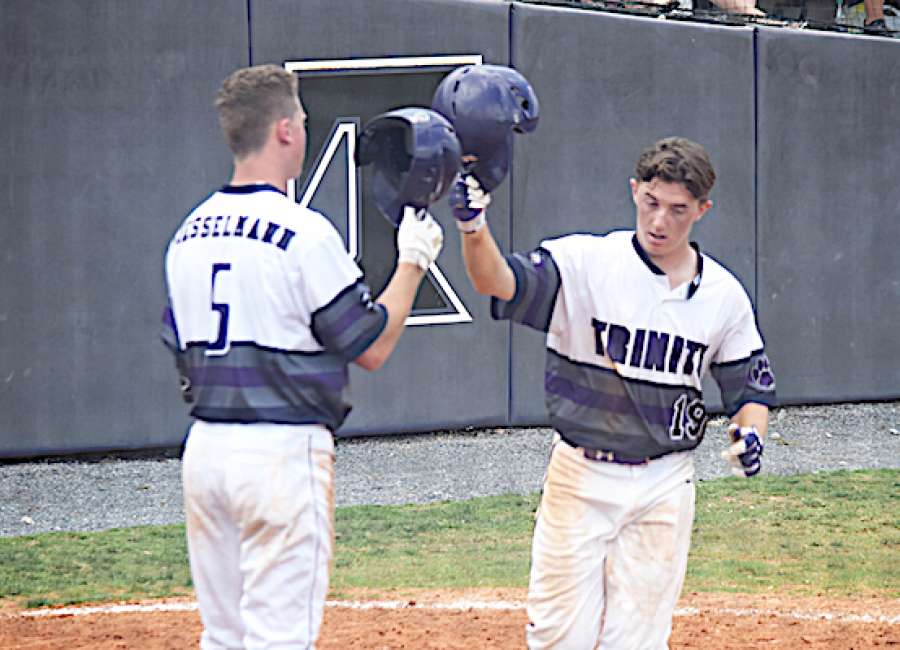 The Trinity Lions baseball team punched its ticket to next week's GISA Class AAA baseball championship at Mercer University with sweep on Saturday of a team with a similar sounding name-Trinity-Dublin.

They will now play Frederica in the best-ofthree GISA Class AAA series.
Like it's done all year, the Lions used the long ball to put runs on its half of the scoreboard in both games. Trinity-Sharpsburg finished with four home runs in both the first and second games.
The Lions had to rally a couple of times in the first game before winning the slugfest 13-9, but woke up in the second game to sweep the series with a 16-5 victory in game two.
In game one, Thomas Cordier finished with two home runs and Calin Smith and Maury Weaver had one each.
The Lions aren't used to playing from behind, but had to on a hot and muggy day when they fell behind 3-0 after two innings in the first contest.
Cordier and Weaver sparked the secondinning comeback with solo home runs to cut the Dublin lead to 3-2.
Alex Williford kept the rally alive with a double and scored on Smith's RBI single to tie the game at 3-all.
The Lions momentum was short lived as the Crusaders scored twice in the top of the third and led 5-3.
Cordier's three-run homer in the bottom of the inning helped the lead change hands again, giving the Lions a 6-5 lead.
After holding the Crusaders off the scoreboard in the top of the fourth, the Lions opened an 11-5 lead when it sent 10 runners to the plate and scored five times. Smith got into the home run act with his shot over the outfield fence.
The Crusaders made one la st comeback attempt when it cut the lead top 11-9 with four runs in the top of the fifth, but the Lions scored twice in the bottom of the inning.
Jake Estes was the game one winner, finishing with two strikeouts. The Lions took early control of the second game, building a 7-2 lead after three innings.
Shep Hancock blasted a three-run homer as part of the Lions' five-run second.
Weaver had the hot bat in the second game, picking up his third hit of the game and driving in a run to increase the contest 8-2 The Lions opened the offensive floodgates in the sixth inning with three homers including a two run-blast from Alex Williford and Jake Estes and a three-run shot from Brenan Burks to give the Lions a 16-5 lead.
Hancock struck out three to pick up the win in game two.