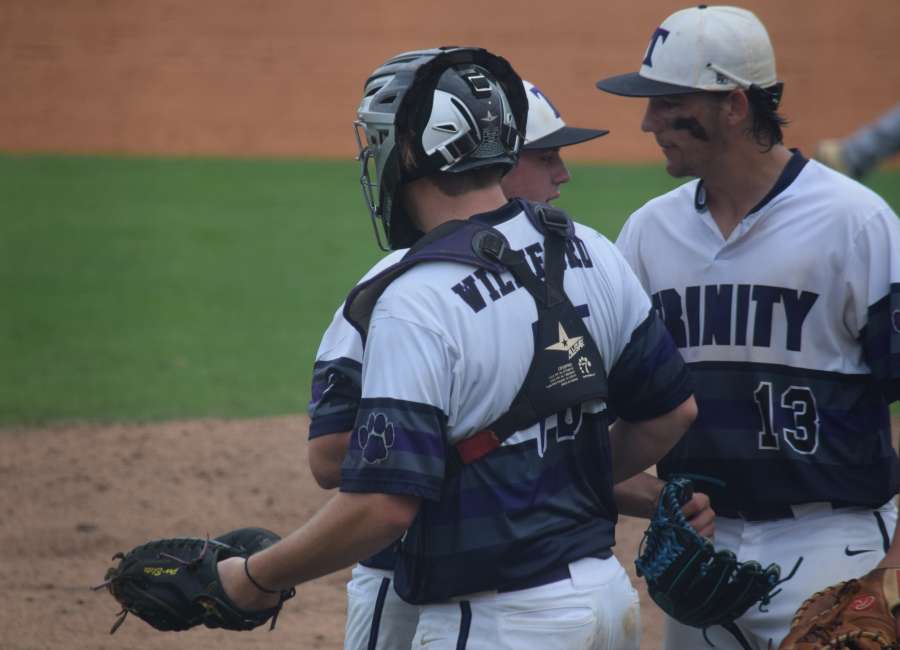 MACON—The Trinity Lions and the Frederica Knights have a little more work to do before deciding the GISA Class AAA baseball champion.

Saturday afternoon the two teams split a doubleheader at Claude Smith Field at Mercer University, forcing a third-and-deciding game Sunday at 1 p.m.
Trinity won the first game 5-0, but couldn't finish off the Knights in the second game after Frederica rallied for a 13-5 win.
The Lions are playing in the Class AAA state title series for the second straight year.
Last season, they fell to John Milledge Academy to end their season.
In the first game, the Lions took control of the contest early and never looked back.
The Lions outhit the Knights 6-4, getting doubles from Thomas Cordier and Shep Hancock.
Cal Smith also had a triple.
Trevor Crews pitched the Lions to a complete-game shutout in the first game, allowing just four hits, while striking out eight and walking one.
Brenan Burks drove in  Hancock with the first run of the game and the Lions pushed the lead to 2-0 with  Cordier's RBI double.
Chase Metcalf added the third run of the game when he scored on Alex Wilford's fielder's choice.
Smith unloaded with an RBI triple for the fourth run of the game and Kyle Riesselmann drove in the final run of the contest.
In game one, Frederica had it's best chance to score in the top of the third inning after loading the bases, but Crews struckout the side to keep the Knights off the scoreboard.
With Trinity one win away from the state title, the Lions jumped on top of Frederica 2-0 in the top of the first of game two, but the Knights tied the game with two runs of their own in the bottom of the inning.
After the Lions pushed two runs across the plate in the top of the second to take a 4-2, leading, the Knights seized the momentum with a a five run bottom of the fourth to go ahead 7-4.
Frederica added six rus in the bottom of the seventh to build a nine-lead.
The Lions score one last run in the top of the seventh, but the short rally ended when the Knights recorded the final three outs.
Trinity was out hit 8-5 in the second game.
Smith, Stephen Spurgeon, Riesslemann, Burkes and Hancock had RBIs in the loss to the Knights.