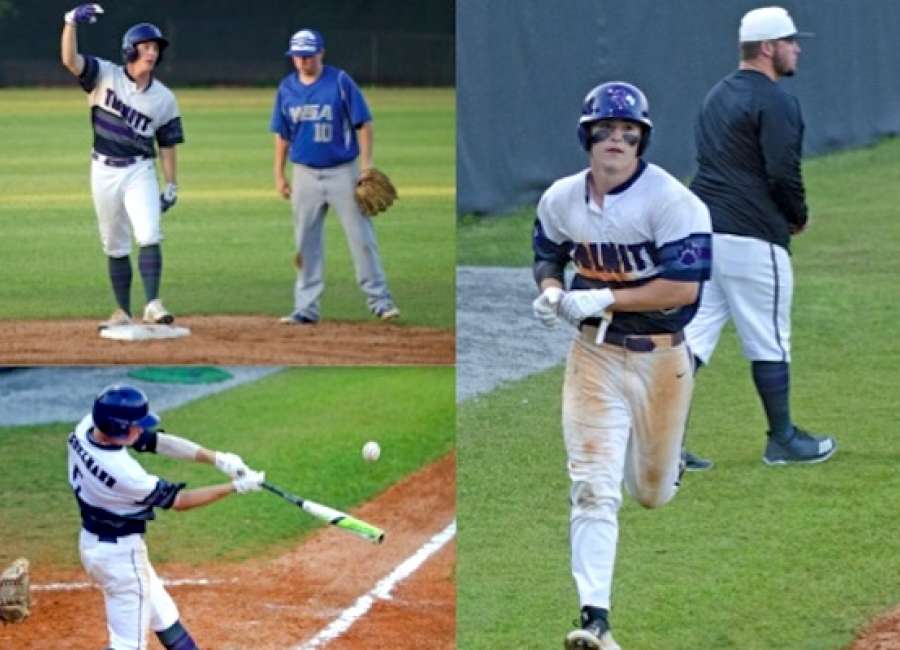 By CHRIS GOLTERMANN, CowetaScore.com
Coaching transitions can be tricky, especially when it comes with a team so close to achieving their ultimate goal. For Trinity Christian, it couldn't have been any closer last spring.
A runner-up finish in GISA Class AAA certainly didn't sit well with the Lions. So motivation was the least of the worries for first-year head coach Blake Austin.
Expectations aren't something Trinity's baseball team has discussed, even while heading into this week's quarterfinal round. A best of three series at home begins Friday against Pinewood Christian at 6 p.m.
'We don't even talk about expectations,' Austin said following Friday's first-round sweep of Westminster-Augusta in consecutive 17-5 and 10-0 victories. 'We talk about how we do things and if we don't do them right, you're not going to play for us.'
Austin arrived just prior to the start of the 2017 high school football season while reunited with his former coach Kenny Dallas from alma mater Landmark Christian.
The 2018 baseball season has been a mirror image, with the Lions winning its first Region 1-AAA title in program history while poised to make a run much like the football team's effort to reach the state finals.
'A lot of Coach Dallas rubbed off on me from football season,' Austin admitted. 'It's hard not to when you're around him that much.'
Trinity's football team adopted the motto 'Preparation and Brotherhood' during its run, with several members of the baseball roster contributing to an 11-3 season that ended all too similarly at Mercer University in more ways than one.
At 18-1-1 on the diamond, the Lions would like nothing better than to close out the school's tenure in the GISA by exorcising demons in Macon that have also seen boys and girls basketball and girls soccer come up short in Final Four appearances at Mercer over the past two school years.
Getting there again in baseball, however, means winning four more games while building on a ninegame unbeaten streak that began with Trinity's only loss of the season - one that Austin called 'a big check yourself.'
'That was the turning point. I had told them if we don't do things this way, this is what's going to happen. And it happened, and since then the kids have just been two feet in,' he said. 'We had a week off in there and it's been different ever since.'
Pinewood, this year's Region 2-AAA runnerup behind Frederica, is faced with trying to quell a Trinity lineup that has outscored opponents 139-15 since a 9-8 loss to Dominion Christian on April 10.
The five runs Westminster scored in Game 1 - four of which came in the second inning - were the most allowed over the span. Trinity yielded 13 baserunners between walks, errors and hit batsman, but also were given 12 of their own over the three categories.
Six homers from the Lions were as much a difference maker, however, while adding to a team total of 46.
'We gave them 13. We had 12. So we're evening out there and then we got the home runs,' Austin said. 'We just don't want to play station to station. We don't have enough speed for that.'
There is a definite surplus in power and the Lions have taken full advantage. By putting senior catcher Alex Williford's bat in the leadoff spot, Austin can take full advantage of a courtesy runner when Williford reaches base.
'I was learning as we were going. I thought from our talent level if we could get Alex Williford on the bags, pinch run for him, it evens out,' Austin said. 'He's got like a .600 on-base percentage. We're getting the same amount of at-bats throughout the lineup. So to me, our leadoff guy needs to be someone who can drive a ball and get on the bag.'
Trinity's top-five batters now have at least three home runs this season.
Behind Williford, Cal Smith and Kyle Riesselmann each have doubledigit totals, with Smith connecting for one in each first-round playoff victory over the doubleheader sweep.
Cleanup hitter Shep Hancock connected on his seventh double of the season in the series to go with seven homers. Add that to arguably the team's hottest hitter, Brenan Burks in the No. 5 spot, and the Lions aren't giving opposing pitchers any breaks.
Burks belted home runs No. 3, 4 and 5 over Friday's doubleheader while continuing an impressive surge since the loss to Dominion.
It hasn't been limited, however. Trinity's philosophy since day one has been to stay aggressive at the plate. In Burks' final at-bat that produced a homer on Friday, he worked an 0-2 count full before turning on a Westminster pitch.
'That's what we're trying to do. The approach is simple. We're trying to attack guys early. See stuff up. Make sure we can pick out a ball that we can drive,' Austin said. 'It was a philosophy change to let the kids go [swing]. We spent probably the first three weeks of just getting the kids to buy in and understand why we're doing it. That's the transition time. That was the turning point. I had told them if we don't do things this way, this is what's going to happen.'
Even while hitting two homers in the loss to Dominion, Austin felt it was a learning tool in a game where Trinity jumped ahead 2-0 in the first but didn't score again until the fifth after Dominion rallied back.
'The failures got the kids to buy in more,' Austin said. 'I told them if you want to win a state championship, you're going to have to go through that team or a team like that. Everybody's holding each other accountable. After the Dominion [loss] it became 'hey coach what can I do for this, coach how can I do this, why am I doing this?' That's the change because they felt the loss. They weren't invincible anymore.'
By the time the two teams met again in a rematch at Trinity, the Lions had reeled off four consecutive region wins while outscoring
opponents 62-9, with none of the four going the full seven innings.
The Lions needed just five to defeat Dominion 12-0 to clinch the region title.
'It was simple. We just told them it's your choice to make going forward and we're going to find the right nine [players],' Austin said. 'We're competing daily.'
Senior starting first baseman/pitcher Jake Estes has joined Hancock, Trevor Crews, Chase Metcalf and senior Charles Fuller in creating as much depth on the mound as there is in the lineup.
'Thomas Cordier is coming along big. Marshall Carson can be a guy who can help us,' Austin said. 'Charles Fuller comes in [Friday] with a grand slam.'
The hope for the Trinity coach, should his team be able to push through four more wins to reach the finals, that the coaching staff can sit back and watch the Lions much as Austin did as a spectator while watching last year's Class AAA finals from the stands.
'We've got some ways to go and the guys know it. There's going to be a point where we're going to let the boys play and they can be accountable.' he said. 'We're not there yet, but we're close.'