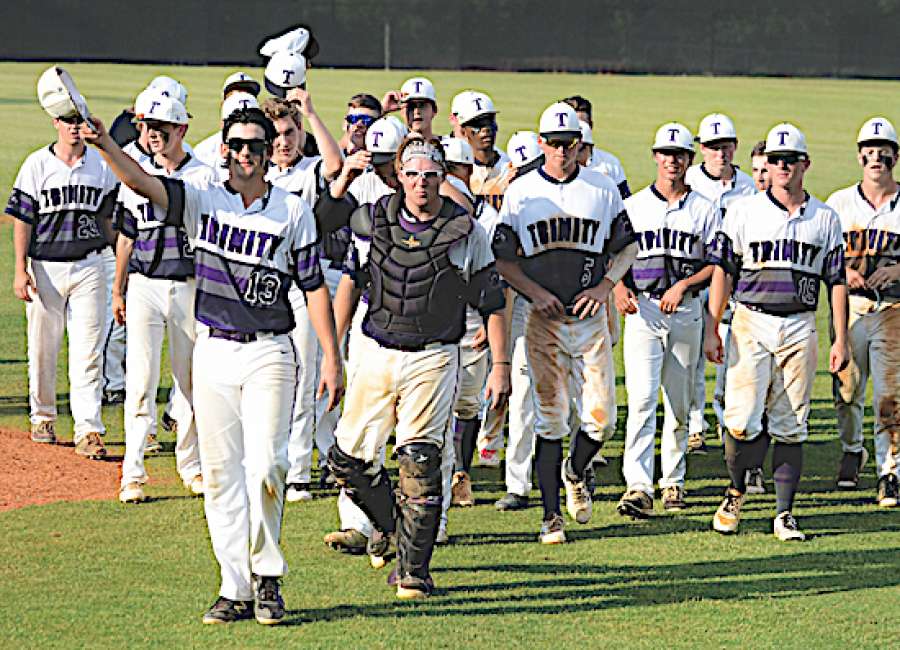 By CHRIS GOLTERMANN, CowetaScore.com
It was a long offseason for the Trinity Christian baseball program. At least longer than most.
It began last Memorial Day weekend with the pain of watching John Milledge celebrate a Class AAA championship that the Lions felt was in their grasp.
A best of three series wasn't decided until the bottom of the seventh of a deciding Game 3 in a walkoff loss.
Trinity players lingered at Mercer University's Claude Smith Field in stunned silence that sunny Saturday afternoon as an underdog run as a No. 3 seed from Region 1-AAA came up just shy at the finish.
"It got to me a bunch," admitted senior catcher Alex Williford.
It's as much a reason why a Lions team with a large nucleus of returning players from last year's state runner-up weren't going to be satisfied with anything but a return trip to Macon.
Trinity is back this weekend after winning six consecutive playoff games.
The Lions (22-1-1) will face Region 2 champion Frederica (22-6).
A best of three series starts tonight at 7:30 p.m., back at Mercer, with Game 2 set for Saturday at 1:30 p.m.
Game 3 would be Saturday at 7:30 p.m., with Trinity hoping not to be in the same situation as last year's finals.
"You're sitting there after the game and sitting there thinking if this or this or this had happened we have had the game," Lions senior pitcher/first baseman Jake Estes said. "So we had all year to think about that all the way until right now."
It carried into the preseason in January when the Lions got into the weight room with first-year head coach Blake Austin. The result has been a 22-1-1 season where Trinity has averaged over 12 runs per game and belted 61 homers.
"I remember in January being in the weight room giving them the speech that there's no way I should have to motivate you. If you think that we feel sorry for you or John Milledge feels sorry for you, you've got another thing coming," Austin said. "I think it burns. Being an underdog seed, having to travel all the time and then you're there, you've got it and it just get ripped from you."
It's also why the Lions don't need any rah-rah speech when heading back to Mercer today and Saturday in a return trip to the Class AAA finals this year.
Trinity, which played all three prior playoff series at home as opposed to the road during last year's GISA tournament, faces Region 2 champion Frederica, which swept Region 3 winner TiftArea in the semifinals.
The Lions continued to power past playoff opponents in their sweep through the Final Four, defeating Trinity-Dublin 13-9 and 16-5 while hitting four homers in each.
Where pitching and defense played much bigger roles last postseason in three series victories on the road to get to the finals, the Lions have overpowered opponents at the plate and have yet to be held to fewer than five runs outside of four time-limit exhibition games during a trip to the Perfect Game complex at LakePoint in mid March.
"Last year we relied on our defense a lot. We were more of a defensive team not allowing runs, manufacturing a few to get a win," Estes said. "This year we're just pounding the ball, taking batting practice every day."
The approach under Austin has more than rubbed off, with 61 doubles and 61 homers over 24 games.
"I think it just set in," Austin said. "Those guys are just fighters."
At the root of the success has been Trinity's current No. 2 and 3 hitters — junior outfielders Calin Smith and Kyle Riesselmann — both of whom have been dominant while batting over .550 with double digit totals in homers.
Smith hasn't gone without an RBI in a game since April 5 after driving in a pair of runs in both victories against Trinity-Dublin. The Mississippi State commit has batted .558 with 10 doubles, 12 homers and 42 RBIs.
In Trinity's six postseason victories, Smith has batted 14-for-23 (.609) with four doubles, three homers and 13 RBIs.
Riesselmann got off to a torred start at the plate with six homers in his first seven games in a Trinity uniform after arriving from nearby McIntosh. He leads the Lions with a .567 average, 13 homers and 43 RBIs.
Teams have tried to pitch around him in the order, however, with the center fielder walking at least nine times this postseason. Trinity-Dublin pitchers gave Riesselmann five free passes in Saturday's doubleheader.
But it's been hard for opponents to avoid a hot bat in the lineup.
The current batting order starts with five Lions all hitting .369 or better starting with Williford (.420, 9 doubles, 6 HRs, 33 RBIs) in the leadoff spot.
Sophomore cleanup hitter Shep Hancock has six doubles, eight homers and 25 RBIs while batting .369. Junior Brenan Burks has equally settled into the No. 5 hole since mid march while now batting .468 with eight doubles, seven homers and 24 RBIs.
Burks has four home runs and 15 RBIs since the start of the GISA state playoffs.
Against Trinity-Dublin, Thomas Cordier (.317), Estes (.363) and shortstop Maury Weaver (.383) also added to the home-run total.
"It's hard to pitch to a team like that," Estes said. " I think that has a lot to do with our success."
Frederica hopes to slow Trinity with dominant pitching that was at the heart of its semifinal series win over TiftArea, winning games 1-0 and 5-1 at home.
Trey Thompson pitched a complete-game, four-hit shutout in the opener for Frederica, striking out two and walking two in a game that was decided on teammate Ded Jernigan's solo homer in the bottom of the third.
The Knights (22-6) then built a 2-0 lead through four innings of Game 2 before doubling their lead in the fifth.
Eric McCall went 5 ⅓ innings while allowing an unearned run on three hits with five strikeouts and four walks. Thompson closed out the sweep while pitching 1 2/3 shutout innings with two more strikeouts.
Jernigan went 3-for-4 at the leadoff spot.
While Mercer's facilities have provided a first-rate setting for GISA semifinal and final rounds, they haven't been gracious when it comes to positive outcomes.
Trinity Christian heads into its final weekend as a GISA member having gone winless in trips to the girls and boys basketball semifinals, last year's state football championship and consecutive Final Four appearances by the Lady Lions' soccer program.
"I don't believe in it," Estes said of any Mercer curse on Trinity. "We've got a job to do and we're going to do it. We're going back and winning. We want that ring."