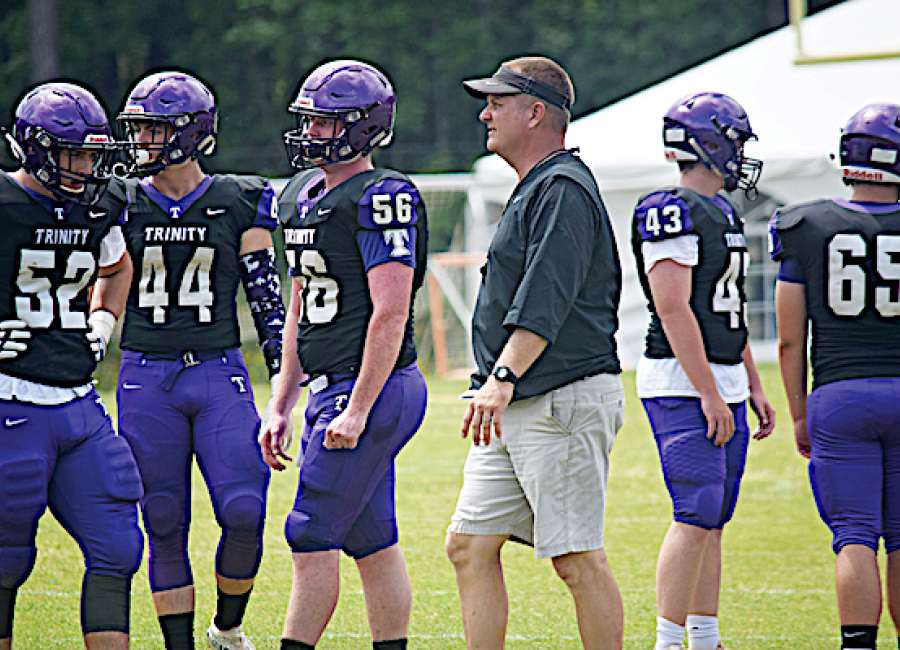 When  Trinity Christian football coach Kenny Dallas speaks about working at the school in Sharpsburg, his voice has an enthusiastic ring to it.

Although Dallas has only been at Trinity since last year, his love for the Lions goes past the football locker room and how the scoreboard reads each Friday night in the fall.
He truly feels he's at Trinity for a reason.
"God has put in my heart to build a championship program and build Godly men," Dallas said.
He also knows he's there at an exciting time.
The private Christian School in Sharpsburg is on the verge of some big things, including a brand new high school facility that will open on the main campus this fall, a new weight room and locker room as well as a new turf field at the football stadium.
One of the biggest changes as far as athletics goes at Trinity is the move from the GISA to GHSA beginning in August.
Trinity leaves behind some recent success in the GISA, including trips to the final four in soccer and basketball, as well as this weekend's best-of-three state championship baseball series at Mercer University in Macon.
With its move the the GHSA, Trinity was able to hold 10 days of spring practice, something it just completed Saturday with a game against Greenville, winning 34-6.
"You've  got a couple of goals in spring practice,  but you want to see what you got and the progression from last season," Dallas said.
Come football season, it will be hard for Dallas to top last year's successful first campaign with the Lions.
Trinity nearly went the distance before falling to Valwood 14-9 in the GISA Class AAA state championship played at Mercer University in Macon.
Along the way, the Lions stumbled twice in the first two games of the season, dropping contests to Deerfield-Windsor, 26-16, and Bulloch Academy 35-28 in overtime, before rolling off 11 in a row with six of those victories coming in the form of a shutout.
Two shutouts came  in the playoffs after the Lions stopped Westfield 48-0 and Southland 35-0 with their stingy brand of defense.
Trinity was equally impressive on the offensive side of the ball averaging more than 45 points per game.
Four times Trinity scored 60 or more points per game and had its biggest display off offensive firepower when it knocked off Holy Spirit 77-8.
But none of that matters now as Trinity has no choice but to put last year's impressive plays by the offense, defense, and special teams behind it.
The Lions' coach is quick to emphasis the importance of the offseason with weight training and conditioning.
"A big part of who we are is our strength and speed program," Dallas said. "We tell our kids all the time that championships are built when nobody is looking and that's the weight room and speed development."
Dallas knows a year can make a big difference in the maturation process of a high school football player.
"We work very hard in the offseason and I am a firm believer a kid can change from one season to the next and we have that. Spring practice is fun because you are able to get out there and see that," Dallas said.
Ten days of spring practice also gave Dallas and the rest of the Trinity coaching staff a chance to evaluate rising ninth graders.
"We are excited about our ninth grade class," Dallas said. "It was good to see some of those kids compete during spring practice."
Trinity's transition from the GISA to the GHSA will mean a jump in the caliber of football competition it sees.
In addition to three competitive non-region games to open its first season in GHSA, the Lions will also be a member of Region 5-A.
Region 5-A might be one of the most competitive private school leagues in the state, and one Dallas is certainly familiar with having been the head coach at Landmark for 10 years and also serving as an assistant coach at three-time defending state champion Eagles' Landing Christian before coming to Trinity last year.
Traditional power Wesleyan is also a member of the region.
Dallas knows the Lions are going to go through growing pains, but confidence is high coming out of spring practice and into summer drills.
"You achieve what you emphasize. We are excited and  honored to play against great programs. You can't beat a great program until you play them," Dallas said.
Dallas looks forward to helping turn Trinity into a state GHSA private school power.
"I wouldn't have taken the job if I didn't think we could compete. We are going to have our growing pains, but it is exciting time. There is no reason  Trinity can't become one of the best private Christian schools in the state," Dallas said.
AN INSIDE LOOK:
Something different: Trinity doesn't have a long football history compared to some of the other programs in Coweta County. Starting with playing in an eight-man league, Trinity moved to the 11-man GISA action in 2011 where it enjoyed its most successful season last year finishing as the Class AAA runner up against Valwood. Now, the Lions are on the move again, and will join the GHSA Class A division starting in the fall when head coach Kenny Dallas returns for his second season.
Coach's Familiar foes: With its move to GHSA, Trinity will join Region 5-A. The private school league is full of GHSA heavyweights and includes two programs the Lions head coach knows well—Landmark Christian (Oct. 5) and Eagle's Landing Christian (Sept. 21).
Dallas had worked the sidelines at both schools, serving as a head coach at Landmark for 10 year and then working as the defensive coordinator at Eagle's Landing Christian until getting the job last year at Trinity.
Long-time playoff contender Wesleyan (Nov. 2)  is also a member of the league. Other new region opponents for Trinity, include Mount Vernon (Sept. 14), Strong Rock (Sept. 28), Holy Innocents (Oct. 19), Our Lady of Mercy (Oct. 26).
Baseball rules: With Trinity getting ready to play in the GISA state championship baseball series in Macon starting Friday, a handful of players who play both football and baseball were unable to participate in the school's first ever, spring football practice, including Shep Hancock, Kyle Riesselmann, and Stephen Spurgeon.
Are you ready for some football?: Trinity plays its first official contest as a member of the GHSA on August 17 when Northeast Macon comes to town.