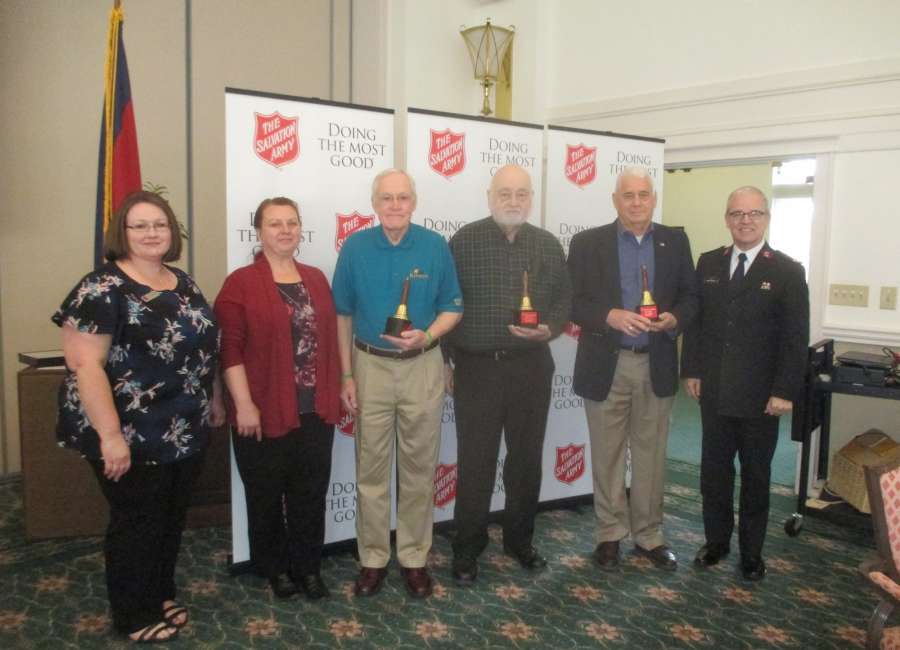 The Salvation Army's middle name is the key to understanding what the international movement does – and why.

Major Bob Parker, general secretary for the Georgia Division and area commander for the Metro Atlanta Command, explained that concept at the annual Community Appreciation Luncheon for the Newnan Service Center.
Parker spoke of "the Salvation Army being international, being evangelical" and added that the ministry's purpose is "not just to ring bells or sell clothes, but a mission to preach the gospel of Jesus Christ and then to meet human needs in his name without discrimination."
The meeting included installation of local advisory council officers for the year, and recognition of bellringers and the volunteer and employee of the year.
Parker said the day of the luncheon, held at Wesley Woods of Newnan-Peachtree City on March 16, was his first time visiting Newnan. His wife, Kathy, also a Salvation Army officer, accompanied him.
"Kathy and I are thrilled to be here," he said. "We've heard amazing, wonderful things about Newnan – the community and the work and ministry of the Salvation Army here. … You can sense in this room an energy."
He noted "the list of community partners" who work with the service center, describing that list as "so inspirational."
Parker said his middle name is one he did not like growing up and does not use. 
"That middle name – it I didn't define me really. It didn't have much meaning to me," he said.
Parker is one of four generations in his family who have been part of the Salvation Army. He started work with the Army, ringing bells at Christmas when he was 13 in Durham, N.C.
He recalled being in a meeting where someone said of the Salvation Army, "Salvation is our middle name." Parker reflected, "As much as I dislike my middle name, I love our name."
Without the gospel of Christ as a foundation, "we're just a bunch of people in uniforms," Parker said, even if those people are doing lots of good things.
"Add our middle name, and everything changes," Parker said. "In fact, our middle name is the most important part of our name. It is essential in describing who we are and what we do."
He talked about the many things the Army does in Jesus' name – meeting people "in need at a moment of crisis" and striving "to save them from their circumstances." The work sometimes involves feeding someone hungry, providing clothing, helping to keep a family in their home or addressing "that pain of hunger – or loneliness."
He thanked local Salvation Army employees, advisory council members and volunteers for what they do. 
"I see men and women who have truly embraced that middle name of the Salvation Army. You've lived it out during this past year. You have brought honor to this middle name," Parker said.
Alicia Miller, a Salvationist who grew up in Coweta County, played the piano during the meal. Bette Hickman, advisory council member, was mistress of ceremony. 
Heather Creech, service center director, and Kris Carpenter, Red Kettle coordinator, recognized the three bellringers who brought in the most funds – Bill Querry, first; Bobby Langley, second; and Bill Tuger, third.
Sarita Workman, family store manager, recognized volunteers and employees. 
"We could not do what we do at the center without you," she told the volunteers. "We appreciate your dedication."
She also said the service center is "very blessed" with "a great staff."
The Volunteer of the Year was Rosie Moses, and the Employee of the Year was Mary Thrower. Workman spoke of the hard work and dedication of both.
Moses was not not able to attend the luncheon. Thrower is "a true friend to everyone she meets," Workman said. "She gives 100 percent."
Hickman recognized Workman for five years of service.
Jim Morrow, service extension director, installed the officers for the coming year: Steve West, chairman; Fred Miles, vice president/treasurer; and Lynn Skinner, secretary.
"I am certainly proud of what has been accomplished by the Salvation Army over the past year," Morrow said. "God has called each of us and has blessed our efforts."
Winston Skinner, advisory council member, and Major Larry Repass, outgoing advisory council chair, brought the invocation and benediction, respectively. Hickman thanked Parker for his words of inspiration.
"You have reminded us that we who have been given much have much to give," she said. "We are growing peace in the world."