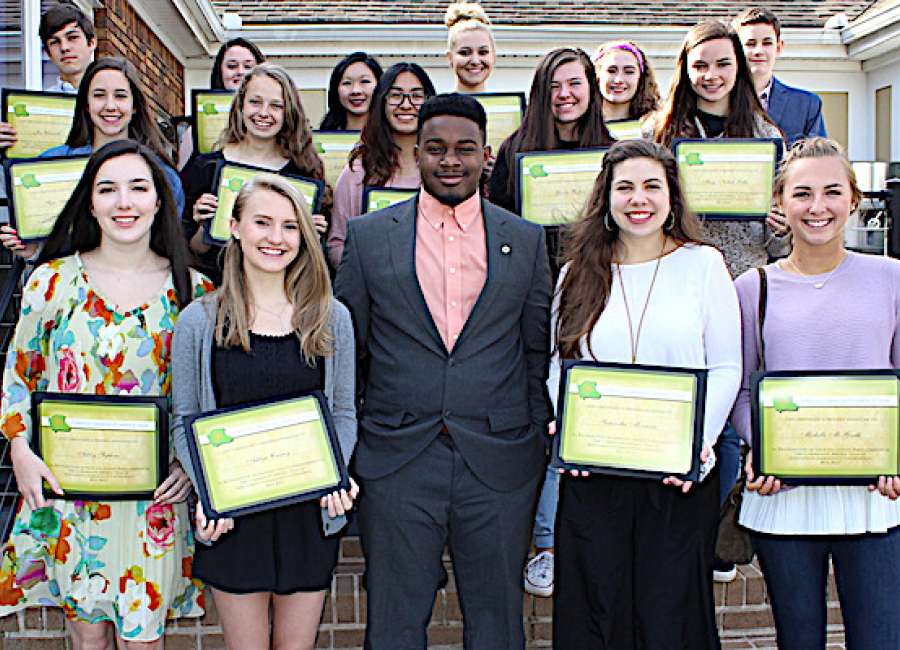 Northgate High School senior Ashley Stephens was named the recipient of the third annual Community Service Team scholarship from the Coweta Community Foundation at the group's end-of-the-year celebration at White Oak Golf Club recently.
Following breakfast, team members heard from another young leader, Sergio Wallace, who was the 2016-2017 Youth of the Year for the Newnan-Coweta Boys and Girls Club and went on to be named 2016-2017 Youth of the Year for the Boys and Girls Clubs of Metro Atlanta.
Abused as a child, Wallace was later adopted by a couple in Newnan who nurtured him and gave him the opportunity to succeed in life, he said.
Wallace told the youth about joining the local Boys and Girls Club when he was 6 and "probably the shyest kid there." It was through his experiences in the club that he overcame his fear of public speaking, he said, and ultimately was able to make a speech following his selection as 2016-2017 Youth of the Year for the Metro Atlanta clubs.
"When I knocked it out, I was so excited," Wallace said.
He went on to tell of how Rich Westerfield of Yokogawa helped him get an internship at the company in Newnan, which makes flow meters. Today, Wallace is attending Kennesaw State University and majoring in electrical engineering.
When he graduates, he plans to seek a job with Yokogawa, and he said he plans to give back to others by starting a scholarship fund.
CST member Ashlyn Carney spoke briefly about Backstreet Arts, a nonprofit that was the recipient of this year's $500 grant from the Community Service Team. Executive Director Kim Ramey accepted the award on behalf of Backstreet Arts, and she said she was surprised to learn the group has been selected since it is still so new in the community.
The mission of Backstreet Arts is "to provide a safe, welcoming, creative environment to anyone who may benefit from the healing powers of art and community," she said.
Also assisting in the day's events were Coweta Community Foundation board members, including Cynthia Bennett, leader of the Community Service Team, Laura Benz and Ginger Jackson Queener.
Stephens and Benz presented certificates of appreciation to the CST members, who include Jay Channell, Cade Barker, Sam Huynh, Jessie Himes, Sara Ashley Estes, Bailey Barnett, Michaela Fuller, Elizabeth Alexander, Michelle McGrath, Jena Patel, Gracie Martin, Mary Patten Poulakos, Lili Clark, Samantha Morrison, Mary Nichols Lollis, Amanda Bridges, Lela Daniell, Gracie Bolton, Katelyn McMath, Ashlyn Carney, Sarah Warburton, Chloe Epstein and Jakob Kerr.
Sam Huynh, last year's scholarship winner, presented the 2018 scholarship award to Stephens.
Members of the Community Service Team operate as a board and form relationships with local nonprofits. The goal is for these young leaders to have the opportunity to sit on a local nonprofit board by the time they are juniors or seniors in high school, according to organizers.