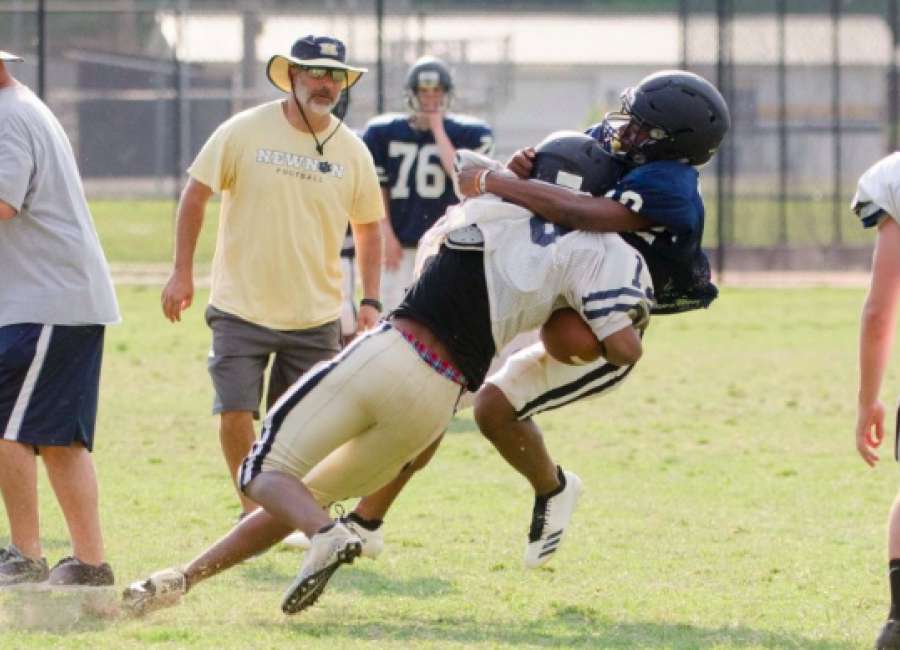 By Chris Goltermann / Coweta Score
The best thing about year two for Newnan's football program under head coach Chip Walker heading into the final days of spring practice is that it's no longer year one.
As exciting as any beginning of a new chapter can become, one of the goals of any incoming leader is to establish standards and expectations. The Cougars didn't seem to hit their stride until the Region 2-7A schedule during a 4-7 season.

But with standards and expectations now in place, and a group of eighth graders also along this spring to get a head start on freshman seasons in the fall, Newnan is no longer caught playing catch up.
"We're able to focus more on the little things this year. Last year was more culture build, build intensity, learn how to practice. We're able to get in and talk a little about fundamentals," Walker said. "You don't have to teach every play. Guys remember things from last year. So that's been real good."
Newnan put in five consecutive days of practice last week, the last time they'll get a chance in pads to go through such a stretch until a bye on Sep. 14.
"August 1st we start practice. August 3rd we start school. August 10th we scrimmage," Walker said. "So we've got what amounts to seven days of practice when we get back."
The final week of spring will conclude with a 7 p.m., home scrimmage game Friday against Troup, an opponent familiar to Walker during his final years at Sandy Creek and "a really good football team that will probably contend for a region championship and go on a deep playoff run"
Troup's roster this fall includes Auburn commit Kobe Hudson at wide receiver and Alabama recruit King Mwikuta at linebacker. 
"Early on, we want to see where we are as a group," Walker said. "There are some of our kids that we know how good they are, but we want to see some other guys, backups or guys fighting for starting jobs."

The inclusion of eighth graders last week may have equally energized practice, with offense and defense going head-to-head.
"We're teaching the young kids and they're getting a chance to see how some of these older kids attack in practice," Walker said. "I want them to see the older kids do things and then I want our varsity coaches to get a chance to work with them."
On several occasions at last Thursday's practice, returners celebrated big plays such as a catch or a caused fumble as if it were a live scrimmage.
It's a mindset that was as much a focus during the offseason when looking back on a few missed opportunities.
"One of the things we harped on in the offseason is that in the Pebblebrook game, it's 14-14. If we win that, we host a playoff game. We were that close," Walker said. "Are we going to let that happen again or are we going to make some steps in the program? In our case one quarter was the difference between hosting a playoff game or going to south Georgia."
The Region 2-7A schedule remains intact entering the GHSA's new reclassification period for 2018 and 2019, with Newnan adding five new non-region opponents in Chapel Hill, Northgate, Alexander, Griffin and Walton.
Each either made the state playoffs in their classification or finished with a winning record in the case of Northgate, which will play Newnan for the first time since 2003 while currently led by former Cougars head coach Mike McDonald and assistants Kenny Morris and Lavarett Pearson.
In turn, Vikings assistant Wes Hardin equally traded in cardinal red for navy and gold while joining Walker's staff along with former Hiram head coach Chris Brown. Both will be defensive assistants.

T.J. Barden, who played for his father Frank at Cartersville High before heading to Jacksonville State, also arrives as an assistant working the offensive line.
"I'm really excited about those guys," Walker said.
Equally, the 2018 season will be the first since 2010 since the Newnan head coach won't have one of his sons on the roster at quarterback, with Bryant leading the Cougars with 1,322 yards passing and seven touchdowns as a senior while starting all 11 games last year.
Also gone to graduation are wide receiver Peje Harris, who signed with Georgia Tech and had 32 catches for 424 yards and three touchdowns, and leading rusher Mautavier Parks (738 yds, 6 TDs).
Both positions, however, had newcomers flourish in 2017. After gaining playing time as a sophomore, Woody Waters emerged as the Cougars' top receiver with 35 catches, 478 yards and four touchdowns, all team highs last year.
Waters is rejoined by Kyle McDonald, who is expected to miss the remainder of spring practice after suffering an ankle sprain last week.
At running back, Bryson Moss thrived in his varsity debut as a freshman last fall, rushing for 621 yards and a team-high seven touchdowns on the ground.
Defensively, All-County selections Malik Hussie and San Juan Warner are among returners that are back for the fall.

"I'd say about halfway through last year we began practicing right. So now we're just continuing to work on all those same things we did last year," Walker said. "We feel like we've got things headed in the right direction physically and mentally. I'm extremely proud of how they've worked this offseason."