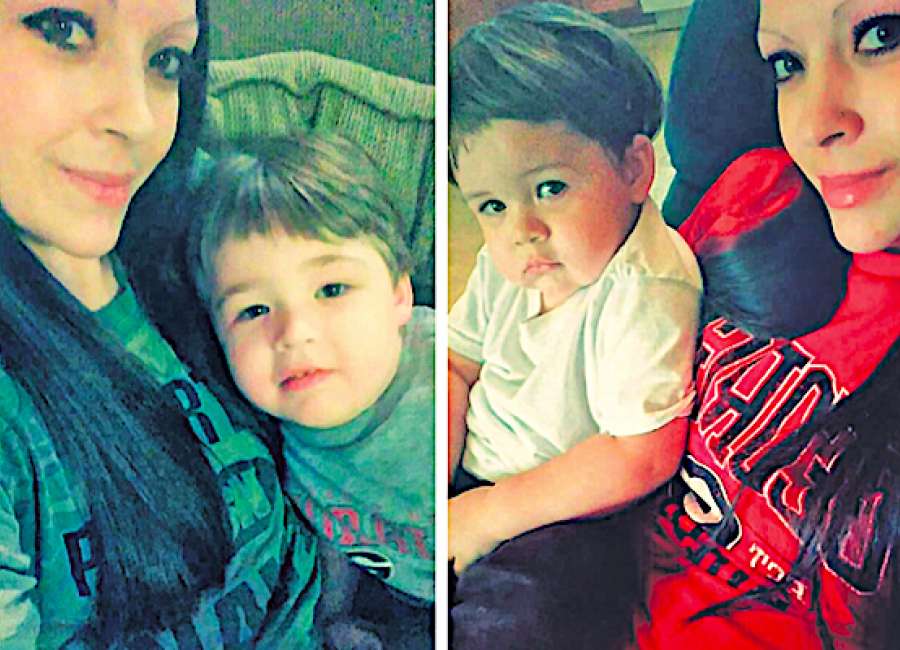 Mother's Day will be a special day for Tabitha Smith and her two sons, but it will most likely be spent at home and probably will mirror the last six years of her life.

While Smith will enjoy the day with her boys, Trent, 4 and Bryce, 1, she will also be masking the severe pain and fatigue that has plagued her since 2012.
Smith is living with Lyme disease.
A lack of energy and severe exhaustion are just some of the side effects the 35-year-old woman suffers each day.
"Typically, I wake up and I'm still tired," she explained. "I'm weak and everything hurts. My joints hurt, I have deep bone and nerve pain, I have neuropathy and anxiety issues. I have to save my energy to keep up with boys and get through the day until their bedtime."
Smith rarely has enough strength to leave her house, she said.
She's left her Newnan home only twice since January, and has not been to a grocery store in more than a year.
"Just getting dressed makes me tired. If I do overexert myself, I'll hurt for days afterward," Smith said.
"It's very depressing," she added. "I feel like I'm failing my children because I can't do the simple things with them like walk around the block or to go to grocery store."
Instead, Smith sits in a chair in her garage and wistfully watches as her sons play in their backyard.
"This disease has made me appreciate the little things in life so much more," she said sadly.
A Ticking time bomb
A relaxing evening at Smith's sister's house in 2012 turned into a nightmare a month later for the then-29-year-old woman.
Shortly after the family visit, Smith said her foot began itching and hurting.
She examined her foot and discovered a tiny tick burrowed in between two toes. Smith said she removed the parasite and thought she was in the clear. However, two weeks later, Smith said her neck became swollen, her joints hurt, she had a fever, and she was severely fatigued and weak.  
At that time, she did not connect her symptoms to the tick bite. Smith also said she never had the bullseye rash that is usually associated with Lyme disease.
The Newnan woman went to the emergency room and was given amoxicillin to knock out what doctors believed was an infection.
But Smith said six months later those same symptoms, along with new ones, came back with a vengeance.
According to Smith, she lost 50 pounds in two months and had severe bone and nerve pain.
The Newnan woman did not have health insurance and tried to deal with the mysterious illness on her own.
Then she noticed deep horizontal lines and gouges running through her fingernails and knew something was very wrong.
"I felt like I was dying," Smith said. "I hurt so bad I couldn't even get out of bed. I told my mom I didn't want to see the doctor because I thought he would tell me I was dying."
But her symptoms disappeared almost as quickly as they appeared. That's when Smith learned she was pregnant with her son, Trent.
Nine months later after giving birth, Smith said the symptoms returned. She saw a doctor and tested positive for Lyme disease.
"I was happy I finally had a diagnosis, and it was not something worse," Smith said. "I thought, I can take antibiotics and immediately get better. Then I read up on Lyme disease. What I thought would be a quick fix turned into something I could be dealing with the rest of my life. I went from being happy to being in complete shock."
Living with Lyme disease
Blacklegged ticks infected with the bacterium Borrelia burgdorferi are the culprits behind Lyme disease, according to Dr. Neha Shah with the Piedmont Newnan Infectious Disease Division.
The tiny parasites wait for their prey – human or animal – on the tips of grass and bushes, she said.  
"Not all ticks carry the disease, but the ones that do need to be attached for at least 24-36 hours to transmit disease," Shah explained. "When ticks are attached and feed, they get plumpy and large, like a jumbo raisin. If it is smaller than that, the tick likely has not been on long enough for you to catch the disease."
People can bring removed ticks to their doctors, who can then test it for Lyme disease.
Dr. Shah said symptoms of the illness include fever, headache, fatigue and a characteristic skin rash called erythema migrans, which looks like a bullseye.
If left untreated, the infection can spread and cause problems similar to what Smith experiences.
"It can spread to your joints, the heart and the nervous system," Shah stated. "If anything crops up, go see a doctor immediately. Don't wait. The earlier you get treated, the better chance you'll have for a full recovery."
Oral antibiotics are used to treat Lyme disease, Shah added.
But there is a small percentage of people who still suffer from symptoms after the initial treatment. Doctors refer to this as post-treatment Lyme disease syndrome, PTLDS,  or post Lyme disease syndrome, PLDS.
The cause of PTLDS is not known, Shah said.
Unfortunately, Smith does not know if she falls into the PTLDS category or has active Lyme Diseas, and there's nothing she can do about it, she said.
"Money is an issue," Smith said. "I have two boys, no health insurance and I'm just stuck. Without any treatment, the disease will destroy everything in my body."
It's a risk Smith said she wishes she did not have to take.
An uncertain future
Smith takes things hour by hour, and sometimes minute by minute.
She said she puts up a brave front for Trent and Bryce and tries to give them a normal life.
Smith recently has a swing set installed for the boys, but she has no energy or strength to play on with them. Instead watches her sons from afar.
"I try to hide the pain from them and not cry in front of them. I don't want them to know that I'm sick," Smith said.  
Some days are easier than others. The Newnan mom said normally her pain levels are "off the charts."
Smith said she is hoping to save enough money to have more thorough tests done for Lyme disease and any other infections. She also wants her sons tested to see if the illness was passed to them while in utero.
"Lyme disease affects so much of your body. I've been a sitting duck and my sons might be too," Smith said. "It's scary. Without health insurance, I can't get the necessary scans to see how it's affecting me or if it's affecting my boys."
Smith said she knows for her, there is no cure for Lyme disease. But she hopes there will be treatments available that will allow her to go into remission.
Smith said she wants more Mother's Day memories with her sons for years to come.
"Hopefully I'll be around long enough to see them grow up," she said.
•••
LYME DISEASE IN GEORGIA:
According to Dr. Neha Shah with the Piedmont Newnan Infectious Disease Division, there are not a lot of reported cases of Lyme disease in Georgia.
In 2016, the latest recorded data by the Centers for Disease Control showed four confirmed cases of Lyme disease in Georgia.
In 2012, the year Tabitha Smith was potentially infected with the illness, there were 31 confirmed cases of Lyme disease in Georgia, according to the Centers for Disease Control.