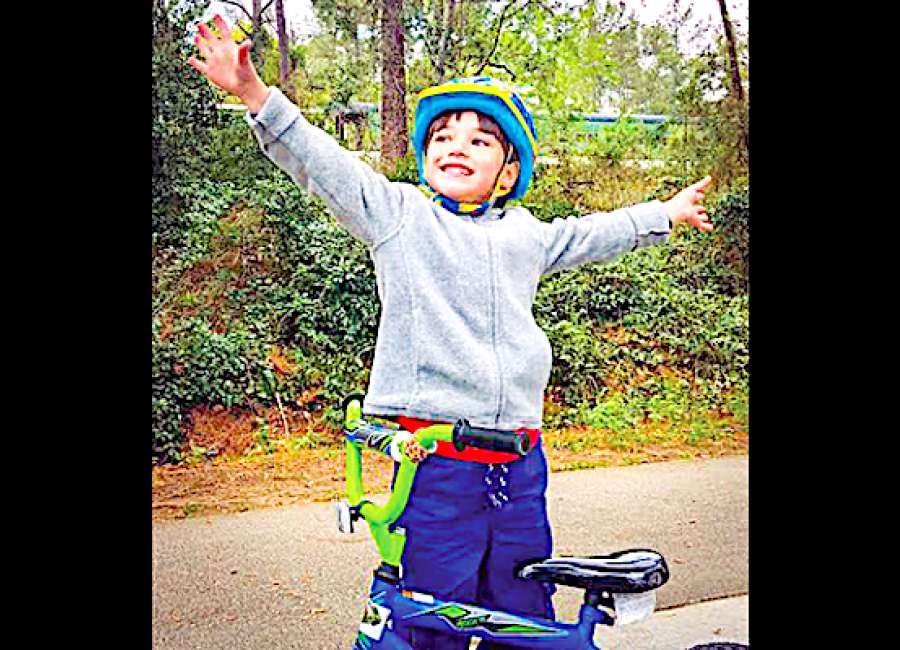 Collier Harrison, a Coweta County kindergartner, recently biked around the base of Stone Mountain.
"I was sweaty after," Collier said proudly after his April ride..
The distance around the mountain – a landmark in the Georgia city of the same name – 
is five miles, and according to Harrison's father, Micah Harrison, it took just under an hour to bike for the duo.
"That's how I got my muscles," said Collier about biking the mountain.
Collier's grandparents reside in Snellville, which means they pass the mountain on the way to visit their family members.
"Recently since he's been able to ride his bike there," said Harrison., "he's been wanting to ride his bike there. I told him we'd have to put it off and that we didn't have the time. So during spring break, back in the first week of April, I finally honored my promise that before he turned 6 that he could ride his bike there."
Father and son visited the mountain a week prior to actually biking there. Collier said he liked the cable cars, according to Harrison, who said his son recently took the training wheels off of his bike by himself.
"Last year in October I was working on my truck," Harrison said. "I heard my ratchet spinning behind me and I saw Collier taking off his training wheels. I asked him what he was doing he said he was taking off one training wheel. And I told him, "That's not how it works  – you have to take both of them off.'"
It took Collier a month to get comfortable with riding his bike without training wheels, Harrison said. He started riding his bicycle in the grass without training wheels, then on concrete.
Father and son plan to go back to Stone Mountain a few more times during warm weather.  
Harrison said Collier has a love for electronics and elevators, and he's known for sticking to his goals once he sets them.
"I was very proud," Harrison said about Collier's accomplishing his goal of riding around Stone Mountain. "I think I was prouder than he was. He kept on me about it during our routine visits with grandparents and he kept saying that he wanted to do it, so I honored that and we did it before he turned 6."
When asked if he had any more goals, Collier said, "Not really."