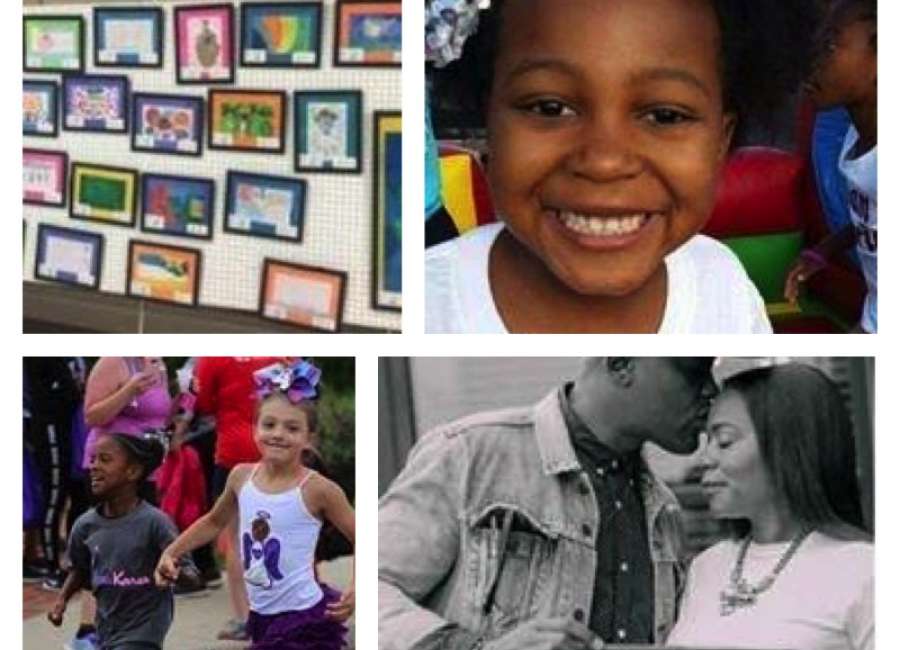 Royalty will be running through the streets of downtown Newnan this weekend in remembrance of Keris Bembry.

A self-proclaimed "princess," the little girl would be proud of all the runners and walkers who wear crowns, tiara and tutus during the fourth annual Keris Kares Royal Run on Saturday, May 19.
The event is sponsored by the Keris Kares non-profit organization and is in honor of Keris, who was 6 years old when she lost her battle with Diffuse Intrinsic Pontine Glioma, or DIPG, a rare form of brain cancer, in July 2015.
The Royal Run is always held in May, which is Brain Tumor Awareness Month, according to Deidre Bembry, Keris' mom.
"We always 'go gray in May,'" she said. "It's not just about cancer, but all brain tumors, whether they're cancerous or not."
This year, the race holds special meaning for the Bembry family.
The Keris Kares Royal Run will be held the day after the little girl's  birthday. If she had lived, Keris would be 9 years old this year.
"The event is also a big celebration of life," said Bembry. "Keris saw the inaugural Royal Run, although her tumor had come back. We held the race and two months later, she passed away."
According to Bembry, 80 percent of the proceeds will help pediatric cancer families pay non-medical bills.
"All your financial resources go to fighting cancer. Then you get behind on your car payment, your lights are about to be shut off or you learn you're about to be evicted," she said. "Pediatric cancer is draining and the bills are jaw-dropping. You can lose your solid financial foothold within 30 days."  
The Keris Kares organization works with the Children's Healthcare of Atlanta and the Georgia chapter of the Pediatric Brain Tumor Foundation to find families in need, said Bembry.
Keris' mom said this year, a portion of the Royal Run proceeds will also go towards a new project called the Keris Kares 4 the Arts program.
The nonprofit organization will create art closets filled with supplies in elementary schools throughout Coweta County this fall.
Bembry said the idea came from an art show created by the Stonebridge Early Learning Center, where Keris once went to school.
Students create artwork, display it each April and collect donations. Some of the money is given to the Keris Kares organization.
Bembry said art was also Keris' favorite way of expressing herself.   
"She couldn't play sports like her siblings because she had the tumor. She had to do more 'low key' activities and she loved art," Bembry said. "Art allows children to express their spirits and emotions. It also places a little piece of beauty in our schools. The art closets are something Keris would definitely put her stamp of approval on."
The organization aims to stock the art closets for the entire school year.
The plan is to eventually build more art closets in elementary schools outside of Coweta County, said Bembry.
The Keris Kares Royal Run will begin with a spirit night and packet pickup Thursday, May 17 at the Rednexican restaurant at 2 E. Court Square from 6-8 p.m.
Participants can also pick up packets at the Stonebridge Early Learning Center at 243 Summerlin Boulevard on Thursday from 10 a.m. to 5 p.m., or at the Dragonfly Running Company on Friday, May 18.
The Royal Run will begin with a one-mile fun run on Saturday at 7:45 a.m in front of the Alamo on Court Square.
The 5k race starts at 8 a.m.
The Royal Run will wrap up with an awards ceremony and a 'fun zone' inside Greenville Street Park. Activities will include bounce houses, a pancake station, petting zoo, massages for people and dogs, plus free ice cream.
Bembry hopes this year's Royal Run is one for the record books.
"I want people to know who Keris was and why this organization is so important," she said. "One child diagnosed with cancer is too many. My family paid a high price – we lost our child. While this work can be emotionally exhausting, doing nothing at all is not an option for us.
We don't want families to go through what we did. The more people who join us, the lighter that load gets and the more families we can help out."
Anyone wanting to sign up for the Royal Run or learn more about the Keris Kares organization can visit www.runsignup.com/keriskares or their Facebook page, www.facebook.com/keriskares.