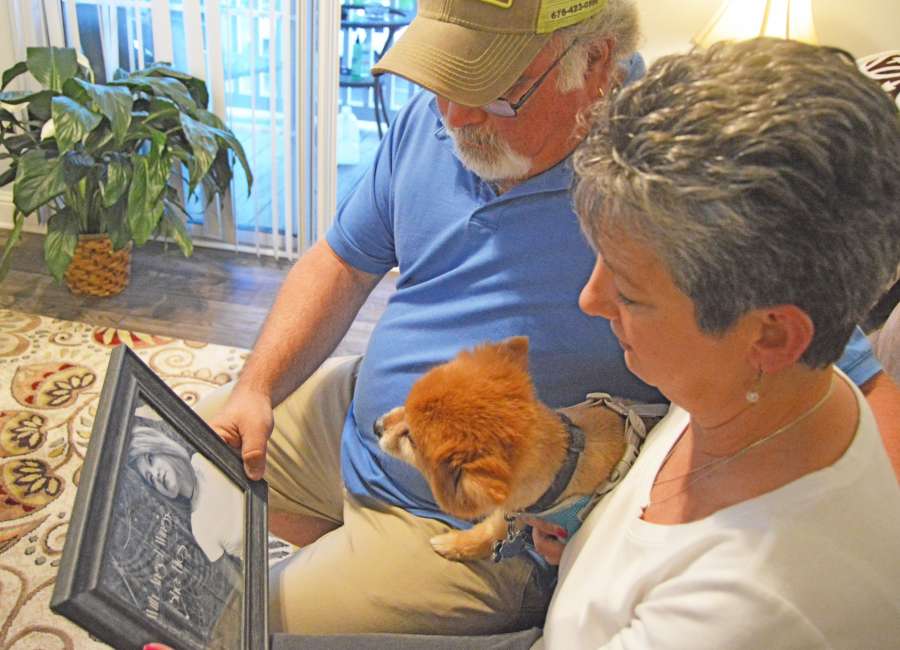 (Editor's Note: This is the second article in a series on National Donate Life month.)
During the last weeks of Kayla Stripling's life, the 28-year-old woman became an artist.
The Newnan native started freehand painting wine bottles, and then displayed her newly acquired artistic skills on canvas.
Stripling was both serious and a free spirit when it came to her artwork.
She used vibrant, splashy colors and painted everything from sunsets to peace signs and bright lips with messages on the canvas.
Stripling gave most of her paintings to family and friends.
"I knew those paintings were going to mean a lot of us one day," said George Applegate, Stripling's stepdad. "I just didn't realize it would be two weeks later."
Sadly, Stripling died on Dec. 3, 2017, while on the Georgia transplant list waiting for a new kidney.
Stripling: The 'Kidney Warrior'
Stripling was no stranger to the Georgia transplant list.
She was 2 when she was diagnosed with vesicoureteral reflux, a disorder within the kidneys that causes urine to back up into the organ, according to the National Institute of Health.
Surgery temporarily fixed the problem, said Libby Applegate, Stripling's mom.
But 10 years later, Stripling's health took a turn for the worse when she went into congestive heart failure.
She ended up in the intensive care unit at Egleston Children's hospital, now Children's Healthcare of Atlanta or CHOA.
"That was the beginning of our journey," said Libby.
"Her first night at the hospital we stayed with her the whole night," George remembered. The next morning one of the nurses said, 'That child shouldn't have made it through the night.' But she did."
Stripling was placed on a transplant list and completed home dialysis while she waited, said Libby.
Libby attempted to be a donor for her daughter, but doctors told her she was not a complete match.
Eighteen months later, when Stripling was a freshman at Northgate High School, the family received the phone call they were waiting for: A kidney was available.
The 14-year-old girl was dubbed the "Kidney Warrior" and received her new organ on January 31, 2004.
The family later learned the kidney donor was a 21-year-old man who had been killed in a motorcycle accident in Colorado.
"I celebrated for Kayla that day, but I was also so sad for the mom who lost her son," Libby said with tears in her eyes. "I didn't know that years later, I would know how that mom felt. It's like a piece of you is gone."
A second transplant, a longer wait
While Stripling took anti-rejection drugs, doctors reportedly warned the family the organ might only sustain her for 10 years.
Sadly, they were right.
Stripling went into kidney failure in September of 2014. She was immediately placed back on dialysis and on Georgia's transplant list.
Her wait for a new kidney would be significantly longer this time.
According to Libby, children are bumped up to the top of any transplant list.
The average wait time for adults 18 and older who need a kidney is 3-5 years, said Katie Payne, clinical manager of kidney and pancreas transplants at the Piedmont Transplant Institute in Atlanta.
The medical center has 1,400 patients waiting for a kidney transplant right now, Payne said.
According to the United Network for Organ Sharing or UNOS, every 10 minutes another person is added to the national transplant database.
On average, 20 people die each day waiting for a transplant, according to UNOS.
Most patients remain on a strict and painful regimented dialysis treatment until a donor is found, Payne said.
Like those patients, dialysis became a routine part of Stripling's life.
She had no choice, according to Libby and George. It was keeping her alive.
"Surgeons removed the transplanted kidney from Kayla in January of 2015. They noticed her kidneys had shriveled up," Libby stated. "She had no working kidneys at all."
Stripling went to dialysis three days a week, for 3 ½ hours per day.
The treatment took a heavy toll on her body.
"For the most part it was hell," said George. "Dialysis was debilitating for her. She'd come home, washed out with bad headaches, and would be throwing up."
"It would take her a day to recover from the treatment and then she'd have to go back and do it all over again," Libby said. "It was such a vicious cycle. She never really felt good.
"On those days, her and I would usually cuddle on the couch and binge watch Netflix shows or go to the pool," Libby added.
For almost three years, Stripling's health remained in a state similar to a roller coaster ride – a lot of ups and downs, twists and turns.
Issues with her blood pressure and other side effects made visits to the emergency room routine for Stripling, said Libby.
In the fall of 2017, the 28-year-old woman started having seizures, which restricted her hours at work and forced Stripling to stop driving.
But her days weren't all bad.
"The night before she passed away, we were watching UGA in the SEC playoffs with our neighbors," Libby remembered. "It was one of her best nights. She was just laughing and cutting up with everyone.
"That's how she was, the most bubbly, vivacious person you'd ever met," she continued. "Kayla just lit up a room. Everyone loved her."
Like her paintings, it's a fond memory Libby and George cling to when remembering Stripling. 
Little did they know that night that less than 24 hours later, Stripling would be gone.  
Remembering Kayla
A phone call from the Piedmont Newnan Emergency Room on Dec. 3, 2017 changed the lives of Libby and George forever.
"The nurse told us we needed to get there quickly, that Kayla was sick," Libby said.
Sadly, by the time the couple reached the E.R., Stripling had already passed away from a heart attack.
"I miss seeing her before I'd go to work," George said with tears in his eyes. "I'd go into her room and make sure she was still breathing. I'd call later in the day and always ask, 'How is my world doing?'"
"I miss her laugh," Libby said. "I miss laying in bed with her and watching TV."
The family held a memorial for Stripling a few days later.
They displayed a placard filled with pictures of Stripling inside the funeral home. Her friends and loved ones wrote messages of healing and hope on both sides of the poster.
Though Libby grieved for her daughter, she said she suddenly perceived the purpose for Stripling's life during the memorial service.
"I looked around the funeral home and saw dozens of people gathered in the lobby and thought, 'She touched all these people's lives, some way, somehow.' It was amazing," said Libby.
That placard is placed prominently in Stripling's bedroom, which has changed very little since the 28-year-old passed away.
Libby and George admitted they still think of it as "Kayla's room" and say they don't have the heart to change it.
The couple wants Stripling's legacy to live on inside their home – and in the community.
Kayla's legacy
George and Libby are spreading the word about organ donation.
According to UNOS, one person can save at least eight lives.
A living donor can help folks waiting for a liver or kidney on the transplant list, said Payne.
Libby hopes living donors also consider the "paired kidney exchange" system, also known as "kidney swaps."
The strategy allows people who need a kidney to receive an organ that is a better match to his or her blood type and antibodies than their own donor could provide, stated officials with the Columbia University Department of Surgery.  
The system essentially creates a chain of donors.
George is looking further into the future and hopes research on a bioartificial kidney, known as the "Kidney Project," will soon become a reality.
The artificial kidney could potentially help patients with end stage renal disease who are waiting for a transplant, said officials with the University of California San Francisco.   
According to Donate Life America, currently 80 percent of people on the national transplant list are waiting for kidneys.
Almost 80 percent of those patients need routine dialysis to keep them alive.
A similar scenario to what Stripling endured during the final years of her life, that came at a hefty price.
Libby said outpatient dialysis cost $84,000, while inpatient (home) dialysis was priced at $89,000.
The cost of a transplant and the aftercare medications can be staggering too.
"One of Kayla's anti-rejection pills was $1,500 per month. The other one was $2,500 per month," said Libby. "That's why some people go into rejection after their surgery. They can't afford the pills."
Fortunately, the Kidney Foundation picked up Stripling's insurance payments and medication costs from the day she got sick until the day she died, Libby said.
Footprints in the sand
Stripling's loved ones now say they hope to help other patients in need.
Libby, family members and several friends will walk in Stripling's honor on Saturday, May 12 during the 2018 Footprints in the Sand Kidney Walk in Cocoa Beach, Florida.
The event is sponsored by the National Kidney Foundation, which raises awareness about renal disease and money to fund research and compensate patient costs, according to their website www.kidney.org.  
"Team Kayla" had raised more than $5,500 as of Monday afternoon.  
The group held a fundraising event on ]April 29 at RPM Patio Pub & Grill off Jackson Street.
According to RPM owner Joe Rizzo, one customer donated a pair of Journey/Def Leppard concert tickets; another contributed a Fender electric guitar.
All the proceeds collected by Team Kayla will go directly to the National Kidney Foundation, said Libby.
The barefoot walk across the sand of Cocoa Beach will be more meaningful this year, Libby added.
Surfers plan on creating a "circle of life" in the water at the end of the walk.
The circle will be in honor of Stripling.
To donate to Team Kayla or learn more about the Kidney Foundation, visit www.kidney.org .