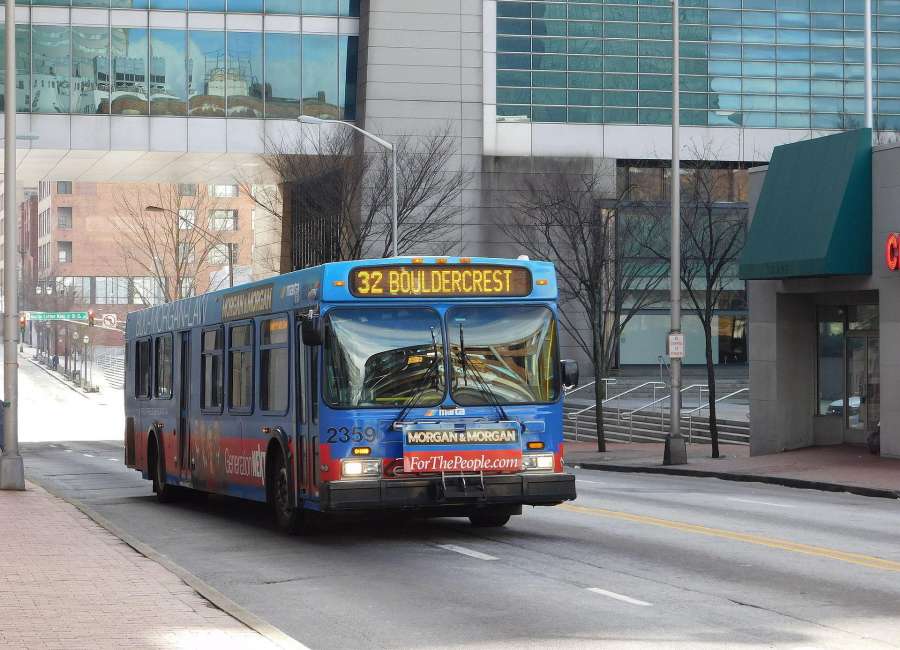 An overarching transit bill recently signed by Gov. Nathan Deal puts Coweta in one of 10 transit districts in the metro-Atlanta area.
Each district will work on its own regional transit plan, which must then be approved by the Atlanta-region Transit Link Authority – the ATL.
But while most Cowetans who commute to Atlanta head north on Interstate 85 through Fulton County, south Fulton isn't part of the same planning district as Coweta.
Instead, Coweta is being partnered with Fayette and the southern portions of Clayton and Henry county for transit planning purposes. The only part of Fulton County in the same district as Coweta is the small portion east of I-85, and around College Park. Palmetto, Fairburn and Union City are in a different transit planning district.             
House Bill 930 is 77 pages long and covers many aspects of transit funding and planning, both state-wide and in the metro-Atlanta region.
The ATL Authority only has jurisdiction over the 13-county metro-Atlanta area, including Coweta. Other counties in Georgia do their regional transit planning in their own regions, and each county in the state has the ability to impose its own transit sales tax.
Counties outside of the "non-attainment area" for air quality can do their own transit or partner with other counties for a regional transit system.
The bill allows for a fractional sales tax to fund transit projects. Much like a Special Purpose Local Option Sales Tax, the tax must be approved by voters, and, before the tax goes before voters for approval, a specific list of projects must be chosen to be funded with the tax.
Unlike a SPLOST, however, proceeds from the transit tax can be used to fund the operation of a transit project, as well as the capital expenses of the project itself. Current SPLOSTs are only for capital projects – building, expanding, or upgrading, and SPLOST money cannot pay for operations or personnel.
Also unlike a SPLOST, the tax is fractional – it can be for less than 1 percent or up to 1 percent. And it can last for up to 30 years.
Any projects in the Atlanta region to be funded with the transit tax must be part of the regional transit plan, approved by The ATL.
Coweta could do projects and implement the tax by itself, or as part of the transit district laid out in the bill.
If Coweta and the other counties choose to work together on a regional transit tax, the tax must pass in each county to go into effect – Coweta taxpayers can't be pulled into the tax because it passes overwhelmingly in other counties if a majority of Coweta voters don't vote in favor of it.
Or, the county could choose not to take advantage of provisions of the bill.
However, another portion of the bill references the Atlanta region's "Concept 3 Regional Transit Vision Plan," adopted in 2008. The bill states that the Atlanta Regional Commission and the Georgia Department of Transportation shall "utilize federal and state planning funds to continue the development" of the proposal, including assessment of potential economic benefits and the prioritization of corridors based on the highest potential economic benefit and lowest environmental impact and completion of environmental permitting."
The Concept 3 plan is a long-term massive expansion of existing transit. The plan shows several commuter rail lines, including one from Senoia to Peachtree City, Union City, Hartsfield-Jackson International Airport and downtown Atlanta.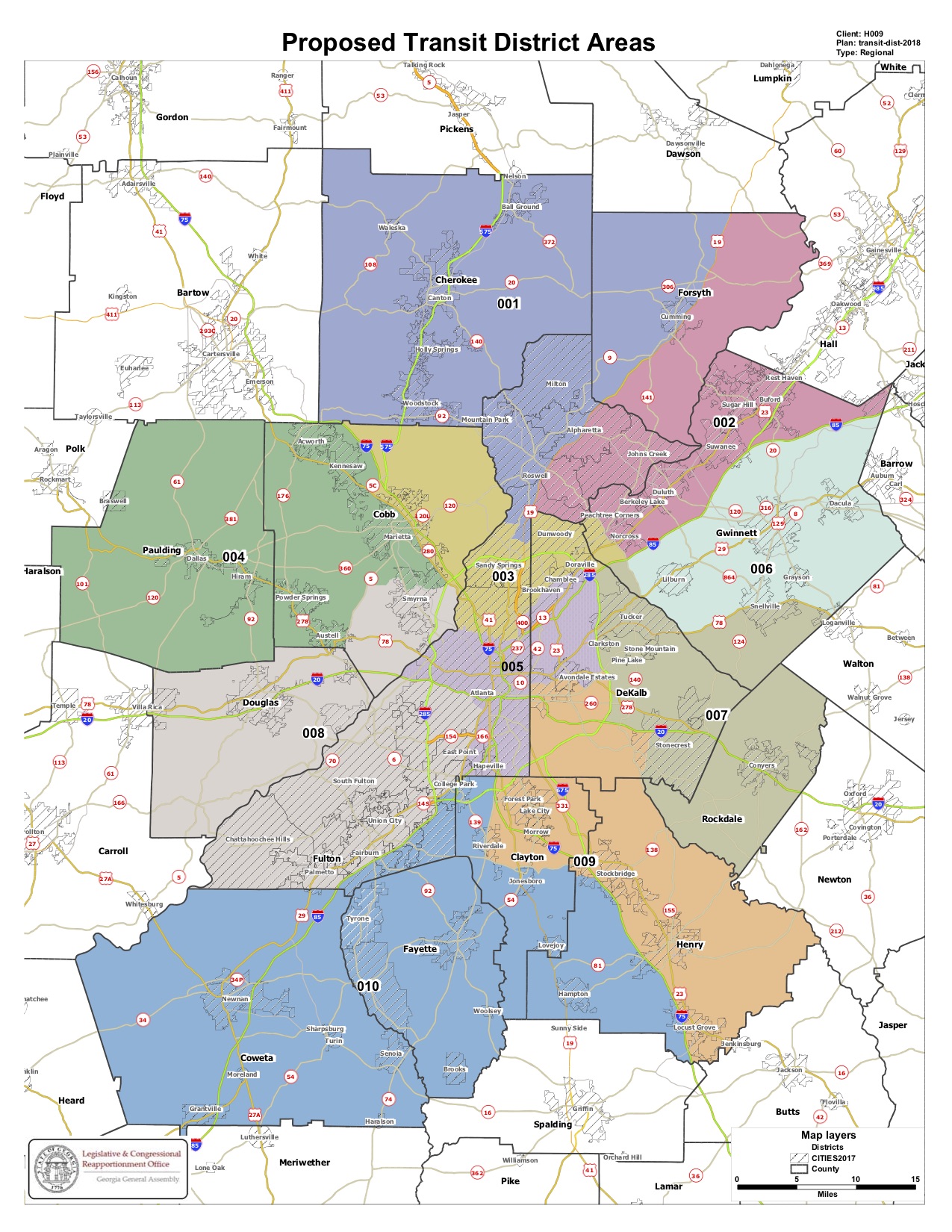 This map shows the 10 proposed transit districts for transit plannings under House Bill 930, which was recently signed into law by Gov. Nathan Deal.
The plan also shows several bus lines: an expressway bus, likely similar to the existing Xpress Bus, from Newnan to a transit center in Union City and then beyond to areas around Atlanta, a regional suburban bus line from Newnan to Union City and then connecting to various cities to the east, and two arterial rapid bus lines.
One line would be from Newnan to Peachtree City, where a transit center would be built, and then on to Fayetteville, where another transit center would be built, to a transit center in McDonough, with a stop in Lovejoy, or routes heading north toward Atlanta.
The second line would run from Newnan to Griffin to McDonough. The vision concept shows fewer bus and trail routes in Coweta than in most of the other counties in the metro-region, except for south Fulton.
In 2008, it was estimated it would cost approximately $2.5 billion annually to both fund and operate the existing and proposed new transit networks.
Under HB 930, MARTA is the only entity that can operate "heavy rail" within the ATL's jurisdiction, but other types of transit are more flexible.
The bill also contains special provisions relating to Cobb and Gwinnett county, setting out ways that Gwinnett, Cobb, or a portion of Cobb can become a part of the existing MARTA system.
Under the bill, all transit in the metro-Atlanta area will eventually be branded with The ATL logo – though the branding doesn't affect the official names or governance of existing transit systems.
After Jan. 2, 2019, any new asset purchased by MARTA that costs more than $250,000 will have to have The ATL prominently featured, and all transit vehicles – trains, buses, streetcars and the like  – in the metro area will have to have The ATL logo in 2023.
The metro-Atlanta regional is expected to add 2.4 million residents by 2040, Gov. Nathan Deal said in a bill signing ceremony on May 3. "HB 930 recognizes this growth and provides a coordinated, streamlined and unified approach to prepare for the future of metro Atlanta and the surrounding communities," Deal said.