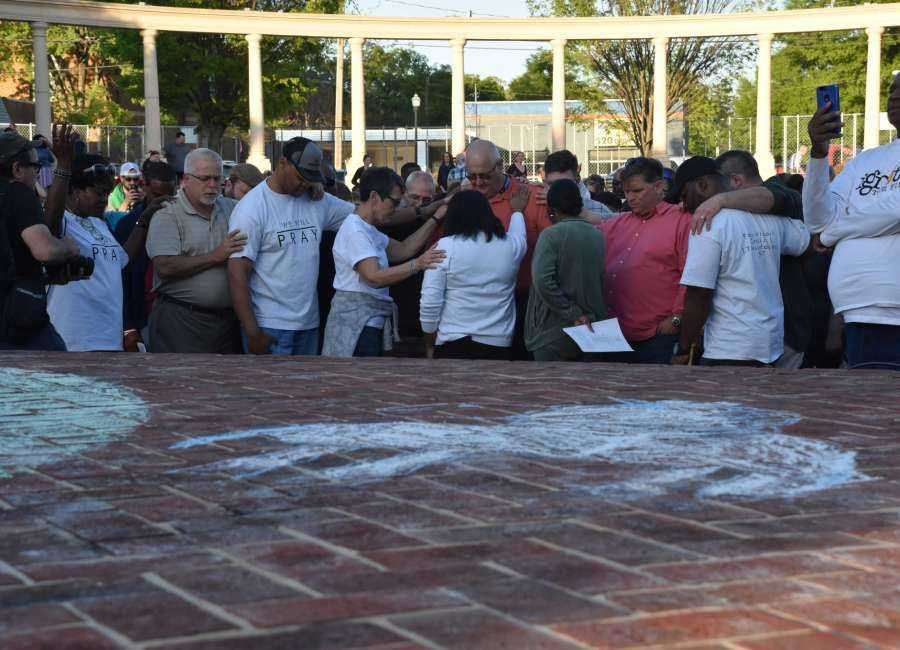 The community is invited to come together Saturday for a prayer rally focusing on local law enforcement, as part of National Police Week.
The rally, hosted by the Ignite the Fire Movement, will be from 9 to 11 a.m. at Central Educational Center, 160 Martin Luther King Jr. Drive, Newnan.
It will include a "prayer tunnel" of people praying over law enforcement vehicles as they drive through. The prayer tunnel will be done near the end of the rally, likely after 10 a.m., said Debra Harris of Ignite the Fire and Kingdom Connected Ministries.
Ignite the Fire is a group of local churches – both black and white – that have come together for prayer and outreach. The group holds several prayer rallies a year, in Newnan and surrounding communities.
"We consider ourselves to be a community of churches that is working together for the cause of unity and love," said Harris said. "We just want to bring people in so that they can become a part of a community of churches… We can all work together and show the people that it's possible," she said. "It's possible and it doesn't really matter about the denomination or the culture or anything like that."
The focus on law enforcement for National Police Week came about through talks between Harris and Sergeant Ryan Foles with the Coweta County Sheriff's Office.
Foles had participated in several of the Ignite the Fire prayer rallies, and was asked to be a speaker for the March 24 rally. He talked to Harris about creating the prayer tunnel for officers.
"They could just pull in around a body of believers if they wanted to be prayed over," he said.
Ignite the Fire believes in the power of preventive prayer. The organization decided to hold a prayer rally April 20, the night before the white supremacist National Socialist Movement came to Newnan for a rally.
"Prayer is so necessary in this day and hour," Harris said. "Our goal is not to wait until something happens but to continue to pray so that when something of this nature comes to us, we're going to already be prepared, prayerful and spiritually, to handle whatever comes to us. I really believe that is one of the reasons why everything went so well," she said. "I believe God just guided them through that.
"Even though April 21st is over, we can't stop praying. And we can't stop doing what we need to do in order to bring about the love and the unity that we represent," she said.
The April 20 prayer rally was a great thing, said Newnan Police Chief Douglas "Buster" Meadows.
"You couldn't ask for better. People were there in one accord," he said.
And moving forward, that can continue.
"I think it's good for people to come together and pray," Meadows said.
Foles particularly likes the interracial and interdenominational aspect of the prayer rallies.
"There is no division between the white and black church" at the rallies, he said. "For decades in this county, in this state and in this country there has always been a division. As a Christian myself, I look at that and say – that is not biblical," Foles said. "Jesus didn't say go hang out with your own people or your own kind. He said go to the ends of the earth."
Different denominations are involved but there is not a theological debate.
"We may disagree on little things, but the core is all about Him," Foles said. "Knowing that Jesus was who he says he is, he was sent here by the Father, and we all have that common belief."