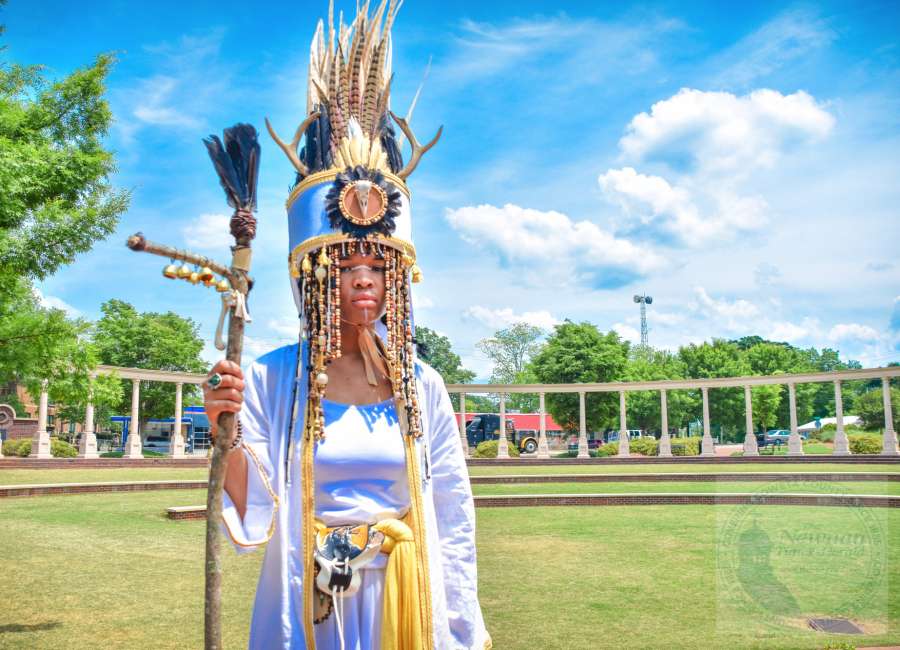 Plenty Raven Feathers is a local shaman who can be seen around Newnan restoring positive energy to the earth.
If you were for some reason needing rain, you might want to thank Plenty Raven Feathers. On Monday afternoon, she danced to welcome rain at Greenville Street Park. Weather forecasts now predict that parts of Georgia will receive rain well into next week.
"It's time for rain, and I feel like the rain is going to continue to renew energy that is here," said the shaman, referring to the rallies that took place in and around the park in April.
She defined shamans as "basically spiritual beings who have one foot in this world and one foot in the next."
According to the shaman, the spirits told her that Monday was "a very important day."
Plenty Raven Feathers has been a shaman for two and a half years now. She didn't plan to be a shaman, she said – she was called to do so. In fact, Plenty Raven Feathers – who got her name from her Cherokee mentor – wanted to be a "regular practitioner."
"I didn't think this was going to be my path, but the spirits have been with me my entire life," she said. "They were just waiting for me to go through my problems."
She said she knew accepting that path would change her entire life.
Helping people through their spiritual walks is what Plenty Raven Feathers does. Between helping people, she performs ceremonial dances for various causes.
One of the causes includes listening to the earth's energy.
"Sometimes it's the earth calling out to us saying, 'How come you can't feel me? I'm hurting too,'" said the shaman. "Sometimes we forget about the earth."
When it comes to how the community receives her, Plenty Raven Feathers said she gets mixed messages.
"I usually get one extreme or the other," she said. "A lot of times it has to do with people's spirit. I am a reflection, a lot of times, of people's spirits. Either people fear me or people come to me with the understanding that they need help or they find that within their spirit that they want more from themselves."
Plenty Raven Feathers donned a beautiful headdress on Monday – white and gold, with massive feathers on top of it. She said the headdress took 200 hours to make.
"My headdress represents a couple of things," she said. "The gold and white is for renewal, purity and good energy. And some people are very fearful of the raven's head that's on it. It's a skull, of course, and it stands for death. I teach about life and death, and people who fear death fear living. I want to change that."
As she spoke with a visitor at Greenville Street Park, three ravens circled in the sky.