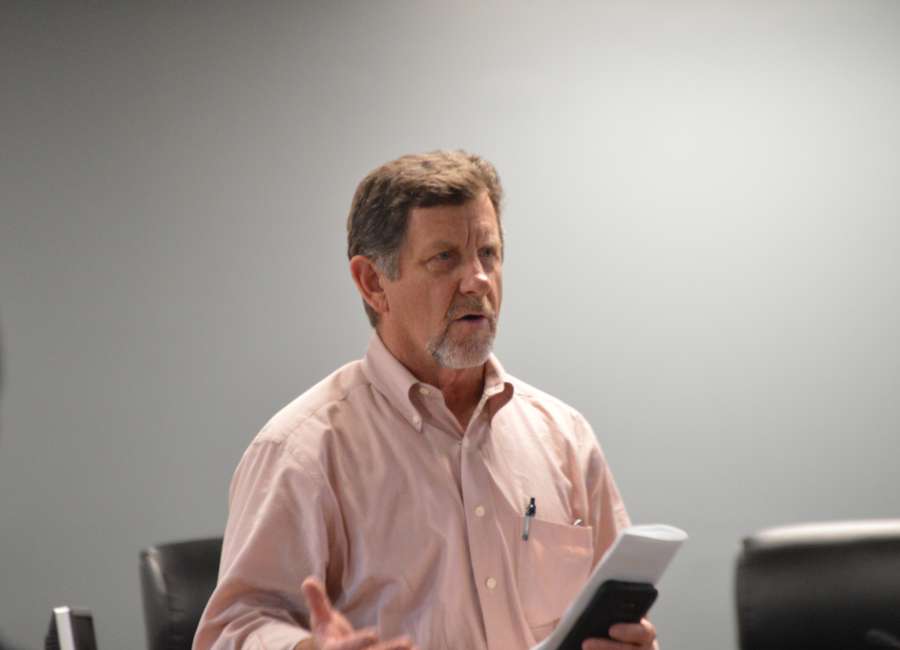 Proponents of pickleball courts, an aquatic center and a skatepark spoke to the Coweta County Recreation Task Force at the group's second meeting.
The task force, with members from Coweta County, the Coweta County Board of Education, and Newnan, Grantville, and Senoia, is tasked with reviewing Coweta's recreation offerings and making recommendations for any changes or additions.
Several speakers appeared before the task force during the public comment period, following presentations from representatives of the four local recreational baseball associations.
• Billy Perkins and Jill McKnight talked about pickleball and asked for some pickleball courts.
Pickleball is a relatively new, popular sport that combines elements of tennis, badminton and table tennis. The sport can be played on a tennis court with special markings, but that is not ideal. "It is very difficult to play pickleball on a tennis court," Perkins said. Tennis courts also can be converted for pickleball. Some Coweta Recreation Department tennis courts, as well as courts in Grantville, have been striped for pickleball.
Spalding County has built a multi-million dollar indoor facility, Perkins said. Two local private golf clubs have converted some of their tennis courts to pickleball courts.
Pickleball became popular as a sport for senior citizens, but has grown into something for all ages.
"We would like to get more facilities that are public, not just private," Perkins said. Perhaps pickleball courts could be built at the Madras Community Center complex.
Perkins said he would like to give a fuller presentation at a later meeting.
Pickleball is a little easier on the body than tennis, said Jill McKnight. She said though she's a senior citizen, she's not ready for bingo and quilting. But tennis "is a little too hard on us now."
McKnight, who is married to Coweta Recreation Director Carl McKnight, said pickleball fans aren't asking for a grand new facility but instead "taking the tennis courts that are not being used as much," and converting them to pickleball courts. One or two tennis courts would make five or six pickleball courts, she said.
• Aisha Samuels is the head swim team coach at East Coweta High School.
"I have noticed a desperate need for Coweta County to have an aquatic center. Not just for the three high schools but for the community in general," she said. Douglasville has an aquatic center where high schools have their swim meets, and Carroll, Fayette, and Troup counties also have aquatic centers, Samuels said.
"Troup is significantly smaller than Coweta, so I was kind of surprised that Coweta County doesn't have an aquatic center," she said.
Currently, high school teams use the pool at the Summit YMCA for practice and meets. Samuels expressed concerns about high school students changing in the dressing rooms at the YMCA with adults.
There are only two "long pools" – Olympic-sized –  in the area, in Columbus and Jonesboro, she said. "If we built an aquatic center that could host long-course meets," there would be regional competitions held there, she said. The pool could also be used for therapy. The only indoor pools in Coweta belong to gyms that require a membership fee. An aquatic center would be open to anyone who paid a small daily fee.
"I don't want to be a member of the Y. I want to go and swim laps," Samuels said. "So I take my money and I take it to Kedron," located in Peachtree City.
Newnan City Manager Cleatus Phillips said that, when the city was considering building a sport complex, an aquatic center was one of many things that was researched.
"There were several people pitching exactly what you were pitching," Phillips said. "We understand the lack of an aquatic facility. It was brought up over and over what the situation was."
What it boiled down to is a first-class aquatic facility costs several million dollars.
The city's position at the time was, "While there is probably a need, it is not solely the city's responsibility to build an aquatic center," Phillips said. Building one would take participation from the entire community.
• Kurtis Kornacki is leading efforts to have a concrete skatepark built in Coweta.
"I would like to say our community has plenty of baseball fields, plenty of soccer fields and mixed-use fields," he said. "Plenty of tennis courts and public pavilions. And zero skateparks."
Kornacki said one the biggest hurdles is overcoming the negative perceptions attached to action sports.
Liability is a frequent concern. Kornacki said he has talked to officials in several cities that have built skateparks, and their insurance costs have not gone up. Having youth hanging around schools, government offices and other places creates more liability than a skatepark with proper signage, Kornacki said. Most cities and counties don't supervise their skateparks, because with supervision comes added liability, he said.
The selection of skateboarding as one of of several new sports to be featured in the 2020 Olympics is "proof positive that action sports are a favorite activity among our upcoming youth," Kornacki said. Skateboarders, BMX riders, incline skaters and scooter riders are in tremendous need of a place to participate in their sport, Kornacki said.
Kornacki has been in contact with several skatepark companies, and a representative from New Line Skateparks came to Coweta and prepared a report with some suggested sites.
Grantville has a small pre-fab skatepark, which can only handle a few skaters at a time, and is a long drive from Newnan and neighborhoods to the north and east. Peachtree City recently built a new concrete skatepark for $115,000.
Kornacki mentioned the city of Newnan's plans for a 6-acre dog park.
"A skatepark doesn't need an acre. It doesn't even need a fourth of an acre," Kornacki said. And it won't cost millions.
"We're just asking for a space a little bit bigger than this room," he said of the commissioner's meeting room.
The next task force meeting will be Wednesday, May 23, at 6 p.m. in the Coweta Commissioner's meeting room, upstairs at 37 Perry Street. Representatives from the soccer and softball associations are on the agenda, and there is also a time for public comment at each meeting.