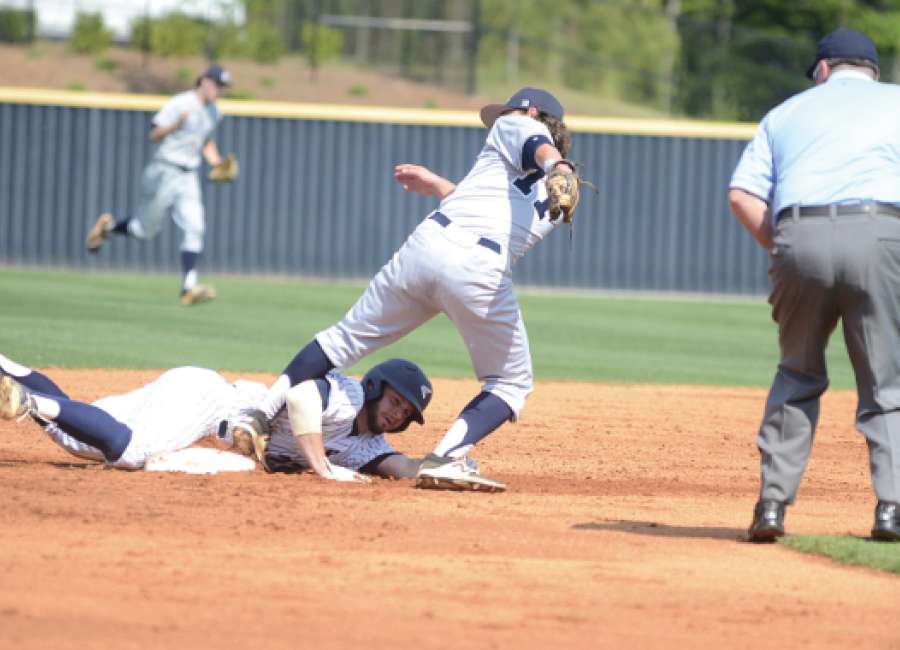 By Chris Goltermann / Coweta Score
Timely hitting and a shutout on the mound were again a part of playoff victories at Newnan High's Joe Pope Field for the second consecutive week.
But unlike the first round, they came from the folks in the visiting dugout as North Paulding once again found a way its way back to end an opponent's season on the road.
The Cougars were unable to avoid elimination in consecutive 12-0 and 6-4 victories, the latter just as Newnan was poised to send a second straight best-of-three series to a Saturday matinee.
It ended Newnan's season with a 25-11 record following both its first region title and trip to the second round of the GHSA playoffs since 2011.
After shocking Region 4-7A runner-up Walton in a three-game series where it rallied for four runs to send Game 3 to extra innings, North Paulding again wouldn't go away after falling behind 4-0 to the Cougars.
The Wolfpack stormed back with five runs in the bottom of the sixth to pull ahead and then was able to end the game and the series with a double play.
Early on, though, it seemed like Newnan would be able to battle back to force a deciding third game for the second consecutive series after dropping its opener.
Senior Will Wilbanks, whose two-run double in Game 3 produced the game-winning runs in Newnan's three-game first-round win over Roswell, energized the home dugout following a frustrating three-hit effort against North Paulding starter Zach Maxwell in Friday's opener.
Maxwell struck out 10 over 6 ⅓ innings and had plenty of support in a 17-hit outburst by the Wolfpack starting with a five-run surge in the top of the first against Newnan left-handed ace Jaxon O'Neal.
Cole Dunn led North Paulding with a 4-for-5 outing to go with 3 RBIs, while teammates Griffin Zito, JoJo Kelliher, Nick Colina, Peyton Moseley and Mikade Johnson adding two hits in the Game 1 onslaught.
In a matchup of teams with similar qualities, Newnan used the same blueprint with a first-inning rally to jump ahead in Game 2.  
A two-run blast by Wilbanks, a Columbus State signee, with the Cougars acting as visitors in the nightcap gave Newnan its first lead of the doubleheader.
They then padded it with two more runs in the third in a one-out rally that began with consecutive singles from Woody Waters, who was moved up to the No. 2 spot in the order, as well as Wilbanks and senior Hamilton Schubert, who had at least one hit in all four of the Cougars' postseason games.
The latter by Schubert on a line drive up the middle to center pushed a three-run lead before senior Jacob Blair squeezed home Wilbanks with a sacrifice bunt.
Junior Jake Martin, who struck out six in five-plus innings, battled his way into the sixth, allowing a solo homer to North Paulding's Collin O'Neal, but keeping Newnan's lead at three runs with four outs to go.
But needing just one more to get out of the sixth with a runner on first, the Wolfpack made its move with four hits including a pair of two-run doubles from Kelliher and cleanup hitter Mickey Maguire to close out a 3-for-4 effort in Game 2 while finishing the doubleheader with four hits and a team-high 6 RBIs.

North Paulding turned to Zach Bright to finish out both victories while retiring two batters in Game 1 and two more in the seventh inning of Game 2.
The losses ended the varsity careers of a dozen Newnan seniors that were a driving force to snapping East Coweta's six-year stretch of consecutive region titles in a rebuilding year for the Indians.
The Wolfpack returned to the Class 7A quarterfinals for the second consecutive year and advanced to face Region 6 champion and No. 1 state-ranked Mill Creek.
Brookwood faces Lassiter in the other quarterfinal matchup on North Paulding's side of the bracket. The Elite 8 includes defending champion Etowah, which held off Region 1 champion Colquitt in three games. The Eagles face Region 7 champion and No. 2 state-ranked Parkview.
The other quarterfinal is a clash between respective Region 4 and 7 champions Woodstock and Grayson.