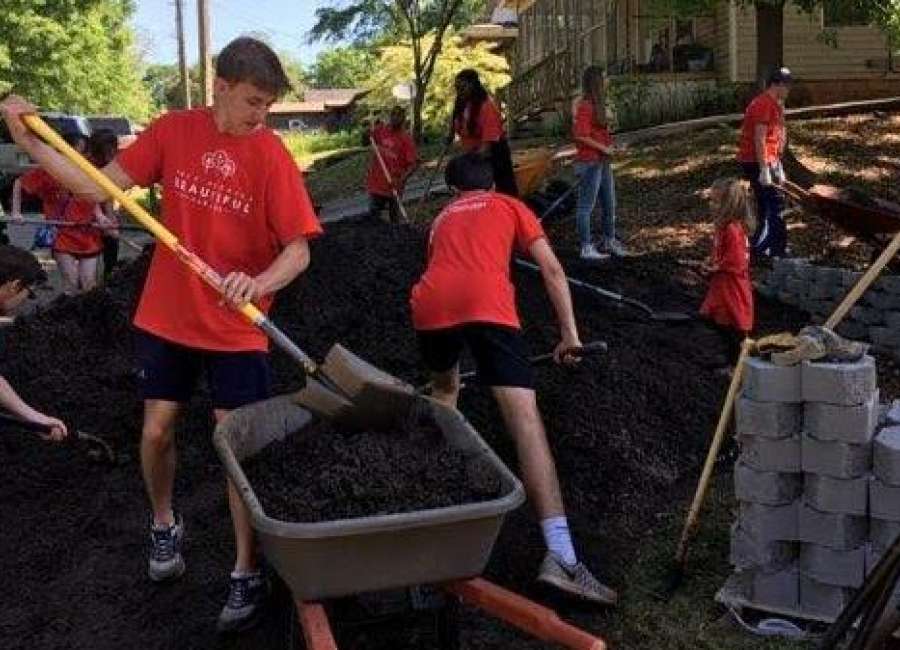 A vacant lot on the corner of Spring and Wheat Streets on the west side of Newnan is slowly being transformed into a bountiful garden oasis.
The orchard is the latest project for Keep Newnan Beautiful and dozens of volunteers.
The group, headed by KNB Executive Director Page Beckwith, has already planted muscadine vines, blueberry bushes and plum trees, plus built a stone retaining wall around one side of the lot.
Their hard work has already proven "fruitful."
"There are blueberries on bushes and plums on the trees," said Beckwith. "The muscadine vines are growing, although the fruit won't be ready for another year or two."
Beckwith said she wants the neighborhood to start enjoying the orchard soon and plans to plant more vegetables, herbs, bushes and flowers in the coming weeks and months.
"I'm going to plant some cherry tomatoes, orange bell peppers, garlic, pineapple sage, peppermint and spearmint, marjoram, rosemary, chives and lavender," she said.  
Beckwith and volunteers will add in hydrangeas to the orchard, plus bushes and roses on the front side of the lot.
Area businesses are also pitching in with the Spring Street project.
According to Beckwith, UPS is a partner with Keep Georgia Beautiful and is helping locally.
Newnan Utilities placed an underground water source at the orchard and Avalon Health and Rehabilitation will be donating a bench for people to sit and enjoy the greenspace, Beckwith added.
"I would like the orchard to be a safe, pretty place for the neighborhood to enjoy, a place for people to sit and watch the birds," she said. "I want kids to pick vegetables and fruits. I hope the orchard provides opportunities they might not have … they can pick a plum and see where it comes from. It gives them fresh fruit that they might not otherwise have access to."
Beckwith and volunteers will go door to door next week, meet neighbors and provide them with information about the orchard.
"I hope it encourages people to take pride in their community," Beckwith added. "That it will be a clean, fun, area that becomes a gathering spot for the whole neighborhood. The orchard is across from Avalon Health and Rehabilitation, so hopefully patients and their families will also visit and enjoy it."
Beckwith hopes residents will eventually claim the orchard as part of their neighborhood, and step up to continue keeping the lot clean, plus plant new flowers, vegetables, fruits and trees.
Neighbors will be able to apply for grants for whatever they need through Keep Newnan Beautiful, Beckwith said.  
It will be another year before signage is added to the Spring Street orchard.
By then Beckwith hopes to be transforming another empty lot into something beautiful.   
"I'm hoping this idea spreads like wildfire and we'll be able to put more orchards in other parts of the city and county," she said.