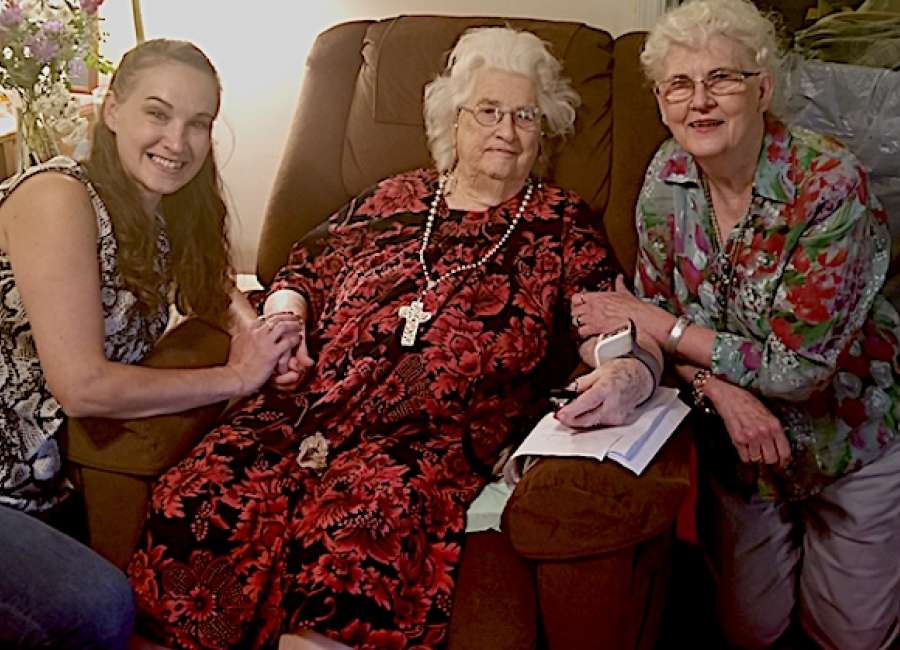 Sue Adams McDaniel recently turned 102 years old and enjoys the memories of her family and her historical home in Senoia.

She celebrated her birthday on Tuesday, May 22 – her actual birthday – with a open house and reception all day at her home. McDaniel had visitors throughout the day to bring her flowers and other gifts.  
McDaniel was married to her late husband, Olin McDaniel, for 70 years before he passed at the age of 94. McDaniel said she gave her original wedding band to her daughter, Barbara Ray, but she still wears a wedding band. The McDaniels also have a son, Olin.
The couple met in Sue's home state of Mississippi while Olin was in the military.
"He told me he wasn't going back to Georgia without me and he didn't," Sue said. "He was a wonderful husband and wonderful father. He wrote poetry for every occasion. He would tell everyone he met in the military during our military years that if they wanted a good lady to go to Mississippi.
McDaniel said her family traveled all over the world with her husband's military career.  Her husband retired from the military in 1957. 
As far as her historic home, the movie "Fried Green Tomatoes," was filmed at her home near downtown Senoia around 1990. The movie tells the story of a Depression-era friendship between two women, Ruth and Idgie, and a 1980s friendship between Evelyn, a middle-aged housewife, and Ninny, an elderly woman. The movie stars Kathy Bates.
McDaniel recalled speaking with actor Chris O'Donnell on her front porch on set. O'Donnell was an extra in the film and only working in the movie to pay for law school at the time.
"I told him to not go to law school and  stay in the movies, that's where the money is," Sue said. "That's what he did. He was kind of thinking about it. I told him he was so good-looking and had a great personality. Whenever he makes a movie in the area, he stops by to see me."
McDaniel has also received unexpected visits from tourists from all of the world to see the home. 
Ray said her mother's sister lived to be nearly 103 years old.
"She died one week shy of her 103rd birthday," Barbara said. "So next year, mom will be the longest-living Adams ever."
McDaniel credits God with her good memory and decent health.
"Thank goodness I didn't get Alzheimer's," she said. "I never did drink and I never smoked. The only problem I had was skin cancer because I enjoyed gardening, golf, swimming and fishing."
Elizabeth Hale has been one of McDanie's CNA caregivers for about two years.
"Her memory is sharp and she keeps me on my toes," Hale said. " She doesn't forget anything. She is a wonderful Christian lady with some remarkable stories to tell and I think her life is a great story to tell, and she has been a great pillar to our community for many years. She makes me lists and sends me to the store. She has really made a impact on my life."
McDaniel still enjoys visits from family and friends and still writes letters to some of her friends. She has been featured in various documentaries and publications for her stories of history.