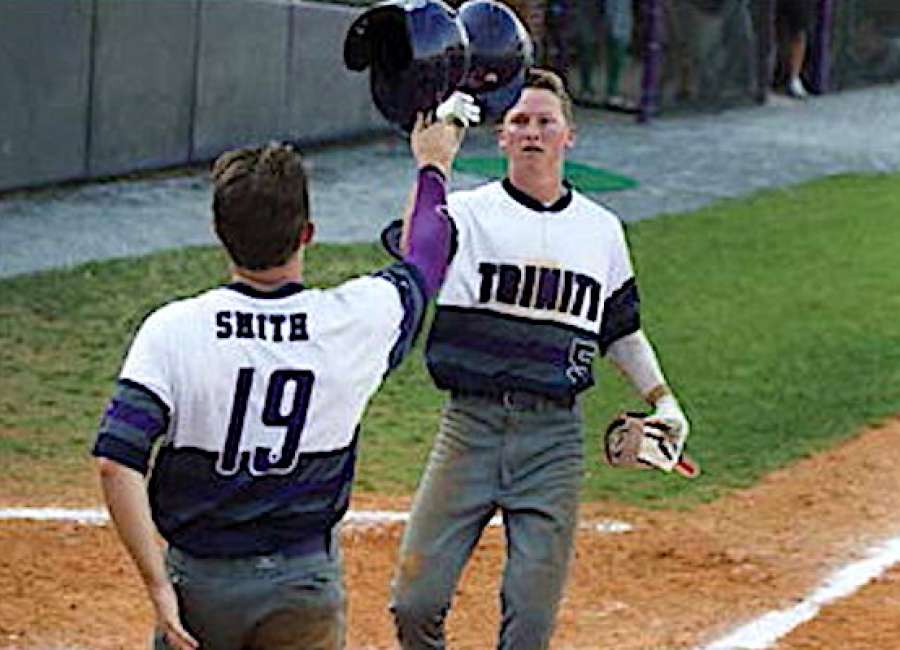 By CHRIS GOLTERMANN, CowetaScore.com
The message is clear after two rounds of the GISA Class AAA state baseball playoffs if your team is facing Trinity Christian.
You're going to have to pitch and play 'small ball' really well — and do it consistently for at least seven innings, if not longer — in order to have a chance to knock off the Lions this postseason.
If not, Trinity plans on pushing through in its hopes of securing an elusive state title by continuing to aim for the fences.
The Lions took another big step, sweeping visiting Pinewood, the No. 2 seed from Region 2-AAA.
Trinity belted seven more home runs over the two games to give this year's lineup a combined 53 during the 2018 season while improving to 20-1-1 overall.
The Lions followed up an 11-5 win in Game 1 with a 9-3 victory on Saturday that started with an immediate three-run rally in the top of the first.
Shep Hancock struck out nine over 4 2/3 innings to earn the win in the finale while getting plenty of support.
Kyle Riesselmann began Game 2 with his second home run in 24 hours after providing one of four by the Lions on Friday. The opener saw Trinity rally from a pair of early two-run deficits before taking control of the series.
The Lions came out swinging with three consecutive hits for extra bases starting with back-to-back doubles from Alex Williford and Calin Smith.
After Pinewood closed to within a 3-2 deficit, Trinity tacked on an insurance run in the second, followed by two more in the third.
Back-to-back homers from shortstop Maury Weaver and Williford highlighted a three-run fifth that put the game and the series away.
The Lions took control of the series in the fourth inning of Game 1 and never gave up the lead again.
Riesselmann's first homer of the series on Friday was part of a six-run outburst in the fourth that put the Lions ahead for good and included four doubles and a triple by Williford, who went 3-for-5 with 2 RBIs in the opener.
Pinewood did enough early in Game 1 to give itself a chance, taking an immediate one-run lead and twice pushing it to at least a pair of runs through three innings.
"It's just the timing of those free bases," Trinity head coach Blake Austin said. "The coaching staff has to adjust that and we need to stay on them."
No matter. Once the Lions began connecting consistently against the Patriots, there wasn't anything Pinewood could do to keep up in another double-digit effort on the scoreboard that put this year's Region 1-AAA champions in the driver's seat heading into the final day of the best of three series.
The Lions connected for six runs on seven hits in the bottom of the fourth, the last five all coming with two outs, allowing Trinity to roar back from early 3-1 and 4-2 deficits against Pinewood starter Wade Durrance.
"That kid was good. He was downhill and he had a short release and he gave plenty of our guys problems," Austin said of Durrance. "He could throw two pitches for strikes and he was down in the zone and didn't really give us anything to hit."
Still, Trinity found a way, working counts and making the most of what was offered, creating the turning point of the game in the fourth.
Williford's triple to right-center with help from a misplayed ball tied the game after scoring fellow senior Jake Estes, who hit the latter of consecutive doubles with Thomas Cordier to open the inning.
Smith followed with his second double of Game 1, sending a pitch the opposite way to left to give Trinity a lead for good while setting up Riesselmann's nine-pitch at bat that resulted in a two-run homer.
"Calin Smith did two things that I really, really liked," Austin said. "They gave him nothing to drive with authority. That's a credit to the pitcher. So he took two base hits over [to left], one off the fence and the other down the line. That's why he's a Mississippi State [commit]."
A single by Hancock was followed by an RBI double from Brenan Burks and suddenly Trinity had a comfortable 8-4 advantage.
Burks, who had three homers in the Lions first-round sweep of Westminster-Augusta, stayed hot at the plate along with senior Thomas Fuller as the duo hit back-to-back blasts with two outs in the bottom of the sixth.
Durrence managed to navigate through three innings while allowing a double to Smith in the first and Trinity's initial home run, a solo blast by Hancock in the third.
At shortstop, Weaver came up with defensive stops in each of the last three innings to help limit the Patriots to just one more run the rest of the way in Game 1
All but one Lions starter posted at least one hit in the opener, with Smith, Hancock and Burks all finishing 2-for-4 with an RBI.
Of five runs allowed by Crews over 5 2/3 innings, only two were earned, finishing with four strikeouts and two walks.
Game 2
Lions 9, Patriots 3
Trinity Christian 302 030 0 — 9 11 1
Pinewood Christian 200 001 0 — 3 6 3
WP — Shep Hancock
2B — Kyle Riesselmann, Calin Smith, Alex Williford
HR — Kyle Riesselmann, Maury Weaver, Alex Williford
Game 1
Lions 11, Patriots 5
Pinewood Christian 102 101 0 — 5 7 6
Trinity Christian 101 612 x — 11 11 3
WP — Trevor Crews
2B — Calin Smith 2, Thomas Cordier, Jake Estes
3B — Alex Williford
HR — Brenan Burks, Charles Fuller, Shep Hancock, Kyle Riesselmann