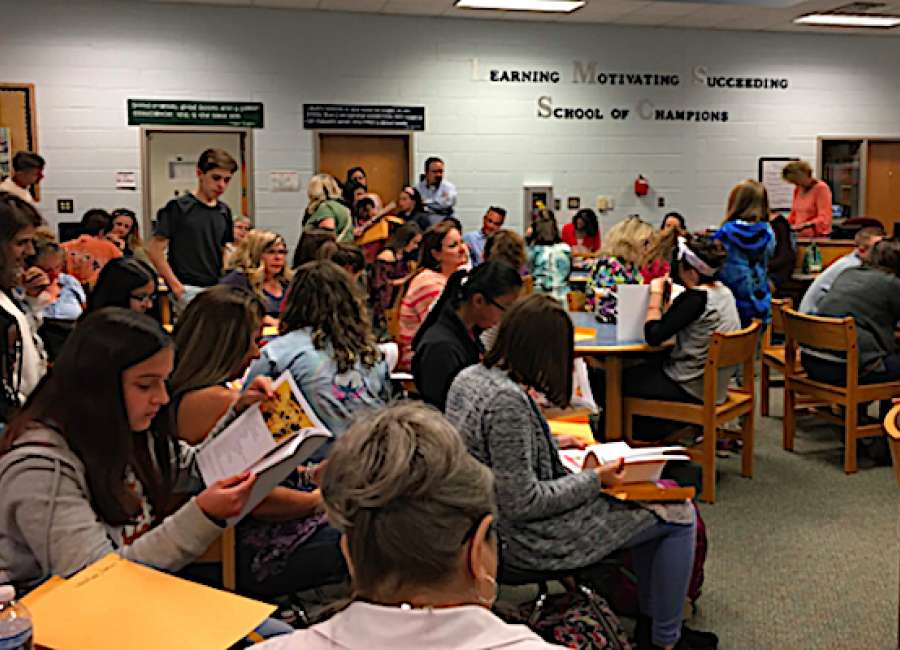 What began as a 2015 Coweta-Fayette EMC Bright Ideas Grant entitled "Read, Write, Create!" by Jennifer Doonan, has become a "Howl"-ing success.
Lee Middle School's literary magazine, Howl, has gained a national ranking and now commands standing room only at its May publishing parties. The goal of the original 2015 grant was for students in all three grade levels at Lee to augment reading and writing skills.
Through the process of first reading current examples of professionally published literary magazines such as Cricket and Cicada and then writing original works for publication in a school-based literary magazine, sponsors say they hoped to spark students to new levels of achievement.
Currently, Lee Middle hosts a bimonthly club meeting for all students who are interested in writing and publishing, and from that club, many of the magazine's poems and stories are selected.
Literary pieces for the Howl publication are also selected from the school's English language arts classes as well as cross-curriculum collaboration with the social studies classes. The school's visual arts students are given the opportunity to engage creatively and to submit original pieces for publication in the magazine while working with the art teacher in class or during the school's Da Vinci Art Club.
Howl has been recognized for the last two years by the National Council of Teachers of English for producing this exemplary literary magazine, and the publication currently holds a rank of Excellent in the NCTE program.
This year's edition of the magazine will be submitted for the annual competition in June, with the school's new rank published in January 2019. Howl sponsors include art teacher Crissie Singleton and English language arts teachers Carrie DeBilzan and Jennifer Doonan.
Digital copies of Howl's previous publications can be viewed on the Lee Middle School website at http://www.cowetaschools.org/lms .